If you're in the gym and working hard, sometimes you need an energy boost. That's where protein bars come in. They're an easy-to-consume form of energy and protein to help you push further.
With these healthy recipes, you can make your own bars at home and keep them lactose-free – great for vegans, people with allergies and intolerances or those just cutting down on their dairy intake.
What you'll need for the dairy-free protein bars
A lot of the protein in protein powders comes from milk. We've got lactose-free and vegan protein powders as great alternatives. Add in some oats and you've got a great mix of carbs and protein in your workout snacks.
Soy Protein Isolate: This dairy-free protein powder is made from soy beans and can be used in a variety of recipes, including protein bars.
Pea Protein Isolate: Made from peas and free of gluten, lactose and cholesterol, this vegan-friendly protein powder is the perfect dairy-free alternative for protein bars.
Instant Oats: These slow release carbs can be mixed with water instead of milk or simply added to your protein bar recipes to give them some dairy-free bulk.
CarniPro: A hydrolyzed beef protein that's full of all the essential amino acids (EAAs) with a super-high protein content. It comes in chocolate brownie flavor, too. This one isn't vegan, but it's great for people with dairy allergies and intolerances.
Making dairy-free protein bars
Protein bars are a great snack that'll keep your muscles supplied with energy throughout the day. Make your own with these tasty protein bar recipes.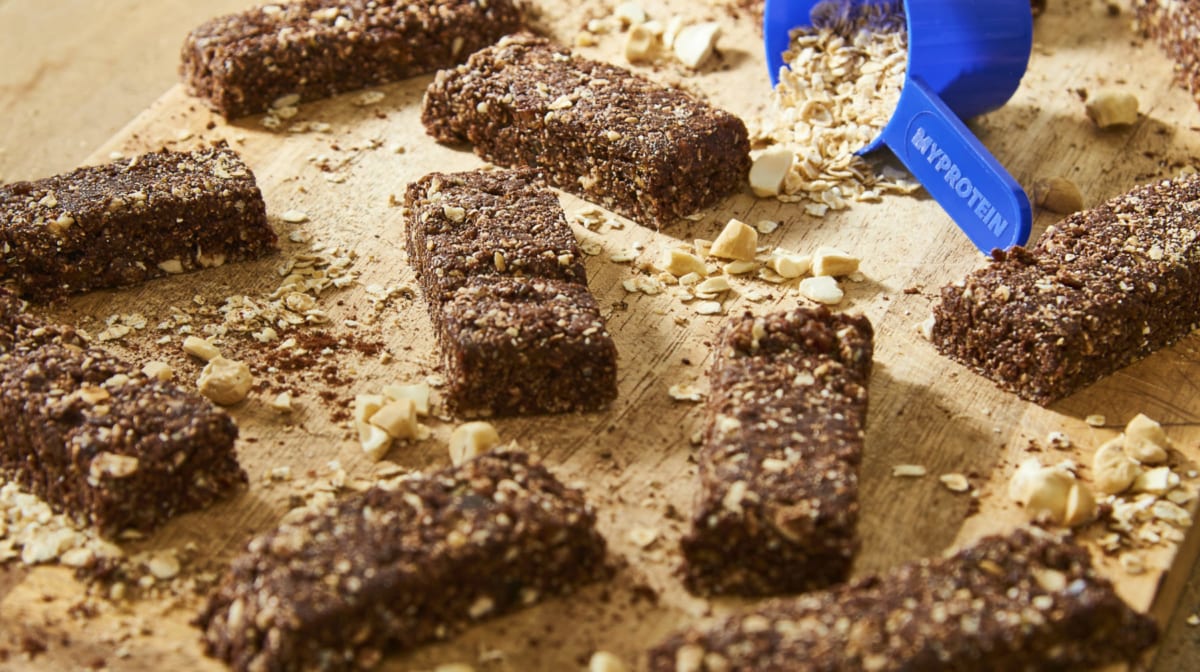 1. Double Chocolate Chip
Ingredients:
1 cup Instant Oats
1 cup CarniPro (chocolate brownie flavor)
1/2 cup milk (of choice)
1/4 cup coconut oil (melted)
1/2 cup chocolate chips
How to make Double Choc Chip protein bars… In a food processor, simply mix the oats and CarniPro and then add the coconut oil. Gently blend together until you've got a nice dough. Sprinkle in the choc chips, mixing well. Take this mixture and press it down firmly into an 8×8-inch square baking tin lined with saran wrap. Chill in the fridge for 10-15 minutes before cutting into bars once set.
2. Cranberry and Dark Chocolate
Ingredients:
5 cups Instant Oats
4 tbsp. cashew butter
1 cup Soy Protein Isolate
1/3 cup dried cranberries
5 cups almond soya milk
8 squares dark chocolate (at least 70% cocoa) – use vegan chocolate if you want to make vegan-friendly protein bars
How to make Cranberry and Dark Chocolate protein bars… Use a food processor to blend all the ingredients together, and then pour into an 8×8-inch square baking tin lined with saran wrap. This recipe needs chilling overnight in your fridge. Cut into eight pieces and top each of them with a square of chocolate.
3. Chocolate Orange
Ingredients:
3/4 cup Soy Protein Isolate (chocolate smooth flavor)
3/4 cup Instant Oats
1/3 cup cacao nibs
1 orange
3 tsp. coconut oil (melted)
1/4 cup soya milk
1 cup dark chocolate (at least 70% cocoa) – use vegan chocolate if you want to make vegan-friendly protein bars
Making Chocolate Orange protein bars… Blend the oats, Soy Protein Isolate, cacao nibs and orange zest in a bowl. Once all mixed together, slowly add the coconut oil and milk until it forms a dough. Press this into a saran wrapped 8×8-inch baking tin and chill for an hour. While it's in the fridge, melt the chocolate. Pour the melted chocolate over the cooled protein bar mixture and decorate with some more orange zest. Chill for a further 30 minutes.
---
Enjoy these dairy-free protein bar recipes? Check out more tasty fitness recipes.