A milkshake that tastes like you're at the movies? Sign us up. This Protein Popcorn Milkshake from ambassador Justin Dom uses the new Impact Whey Jelly Belly Buttered Popcorn flavor to give it a buttery, delicious taste. With 19 grams of protein per serving, you'll hit your macros while snacking on this sweet treat—the perfect way to end your night. Let's check out the recipe.
Serves 1
Ingredients
-Milk -Buttered Popcorn Impact Whey Protein  -Whipped cream -Popcorn -Sugar-free syrup
Blend your milk, whey protein, and sugar-free syrup together. Add whipped cream and a handful of popcorn on top and enjoy!
Want more recipes?
TRY THESE NEXT: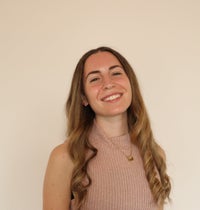 A Rutgers University Honors graduate, Jamie grew up on the Jersey shore and double majored in Comparative Literature and Anthropology in college. Jamie is an experienced writer in the health and wellness, biotech, and eCommerce fields. She loves writing with a purpose and has even written for the Department of Justice.
Jamie became drawn to exercise during her time in university and began to notice the physical and mental benefits of moving your body daily. Today, Jamie enjoys Pilates, light weight training, and going on long walks in nature daily.
Jamie is also passionate about eating right and prioritizing gut health and immunity. She is always trying the next innovation in health and wellness. When she's not writing articles, Jamie enjoys reading, playing guitar, and finding dogs to play with.