Looking for a protein-packed breakfast to kickstart your morning? This High-Protein Pancake recipe from Myprotein ambassador Ben Chidiebele will give you all the fuel you need to smash your workout and your day. These pancakes are packed with over 50 grams of protein and under 500 calories— now that's a macro-friendly meal. Let's check it out.
Ingredients
60 grams Kodiak pancake mix
1 scoop Cinnamon Cereal Impact Whey protein
desired amount of sugar-free syrup
2 strips of turkey bacon
1 egg
handful of blueberries
measure of water
dollop of whipped cream (optional)
Instructions
1.
Turn on your stove to medium heat.
2.
Combine the pancake mix with the Impact Whey protein in a bowl.
3.
Crack your egg and add it to the mixture. Add some water as well.
4.
Take two pans and put them on the stove. Spray them both with avocado oil cooking spray.
5.
In one pan, start frying your turkey bacon. In the other pan, add your pancake mix to start cooking pancakes.
6.
Add your desired amount of blueberries to the pancake mix on the stove.
7.
Cover the pancake mix with a pan cover and leave it cooking for a few minutes.
8.
When the pancake looks ready to flip, uncover the pan and flip. Let the pancake cook for a few minutes on the opposite side.
9.
When your pancake is done cooking, place it on a plate and drizzle on your sugar-free syrup. Add whipped cream too if you like. Enjoy!
Nutritional info per serving:
| | |
| --- | --- |
| Calories | 470 |
| Total Fat | 13g |
| Total Carbohydrates | 34g |
| Protein | 54g |
Watch how it's made here.
Want more recipes?
TRY THESE NEXT: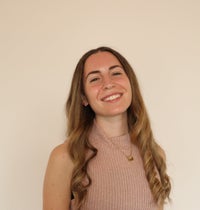 A Rutgers University Honors graduate, Jamie grew up on the Jersey shore and double majored in Comparative Literature and Anthropology in college. Jamie is an experienced writer in the health and wellness, biotech, and eCommerce fields. She loves writing with a purpose and has even written for the Department of Justice.
Jamie became drawn to exercise during her time in university and began to notice the physical and mental benefits of moving your body daily. Today, Jamie enjoys Pilates, light weight training, and going on long walks in nature daily.
Jamie is also passionate about eating right and prioritizing gut health and immunity. She is always trying the next innovation in health and wellness. When she's not writing articles, Jamie enjoys reading, playing guitar, and finding dogs to play with.