When it comes to working out, boredom is one of the biggest barriers to progress. Luckily, the world of fitness is constantly evolving and adapting, meaning there's always a new workout trend you can try out.
But which fitness trends have swept the nation, and which ones have we left behind? Using Google Trends, we analysed search data to see which workouts have seen the biggest increase or decrease in popularity over the last 12 months. We also teamed up with Myprotein PT Tom Hall to predict how we'll be working out in 2023.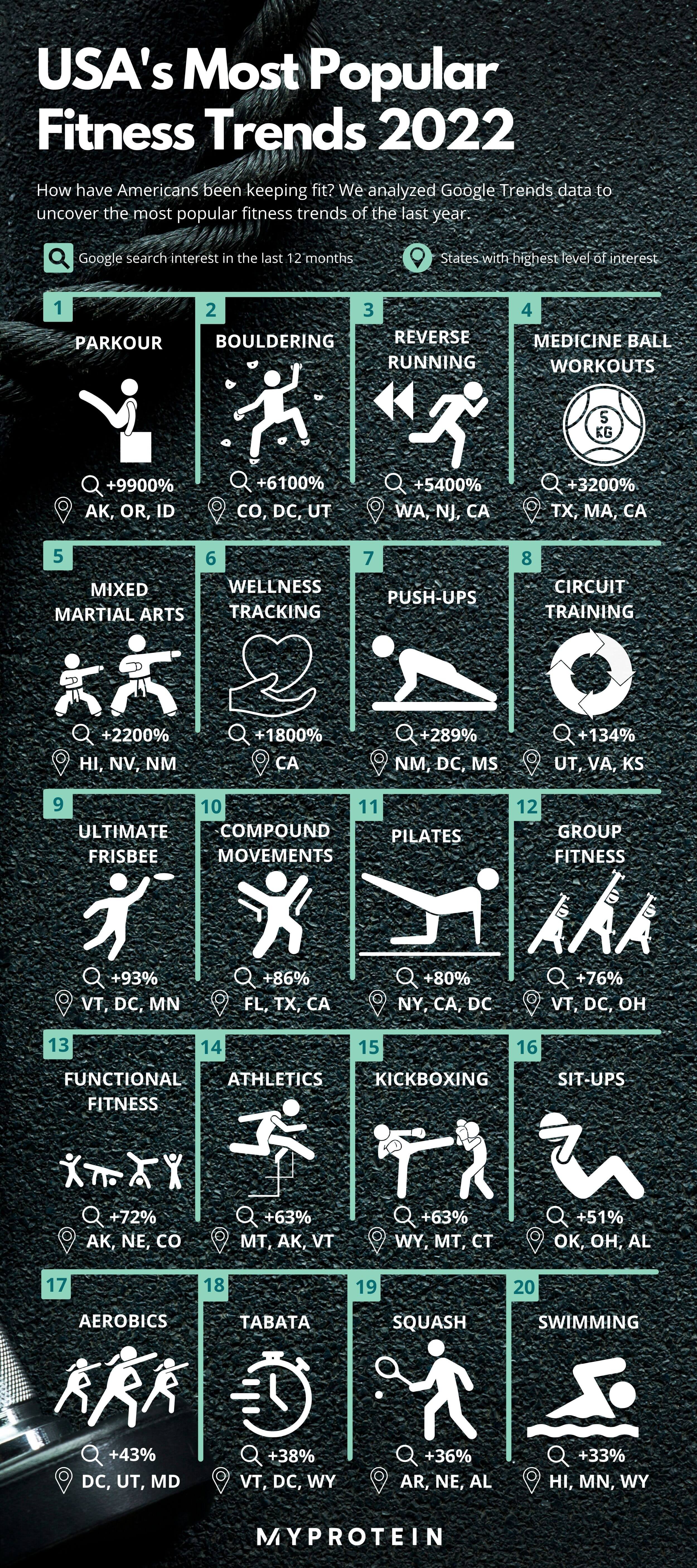 Functional, alternative and group workouts on the rise
Top of the list is parkour, having seen an incredible 9900% increase in interest since this time last year. The alternative sport, which is all about getting from one place to another using a range of movements such as jumps, twists bends and rolls, has seen an explosion during the last year thanks to games like Overwatch 2 and Dying Light 2.
Second on everybody's minds has been gym hygiene, which admittedly may not be a workout trend, but is definitely something that's shaped how we all approach our time in the gym this year. By practising good gym hygiene habits, we can take control over our worry of covid and other viruses that may be lurking about, and feel more confident and focused during our workout.
Other alternative workout types proving popular with Americans include bouldering (+6100%), reverse running (+5400%), mixed martial arts (+2200%) ultimate frisbee (+93%) and kickboxing (+63%), suggesting people are looking to freshen up their existing routines to engage in exercise that feels purposeful and thrilling.
Compound movements (+86%) and functional fitness (+72%) have been a huge pull for many, suggesting we're also looking to get more out of our workouts for less. While compound movements work several muscle groups at once, functional workouts help prepare your body for movements you're likely to experience in everyday life – both of which are incredibly helpful in today's busy world.
Group fitness has also seen a 76% rise in interest, reflecting our even stronger desire this year to get out and about and enjoy working out with others, rather than confined to the isolation of our living rooms.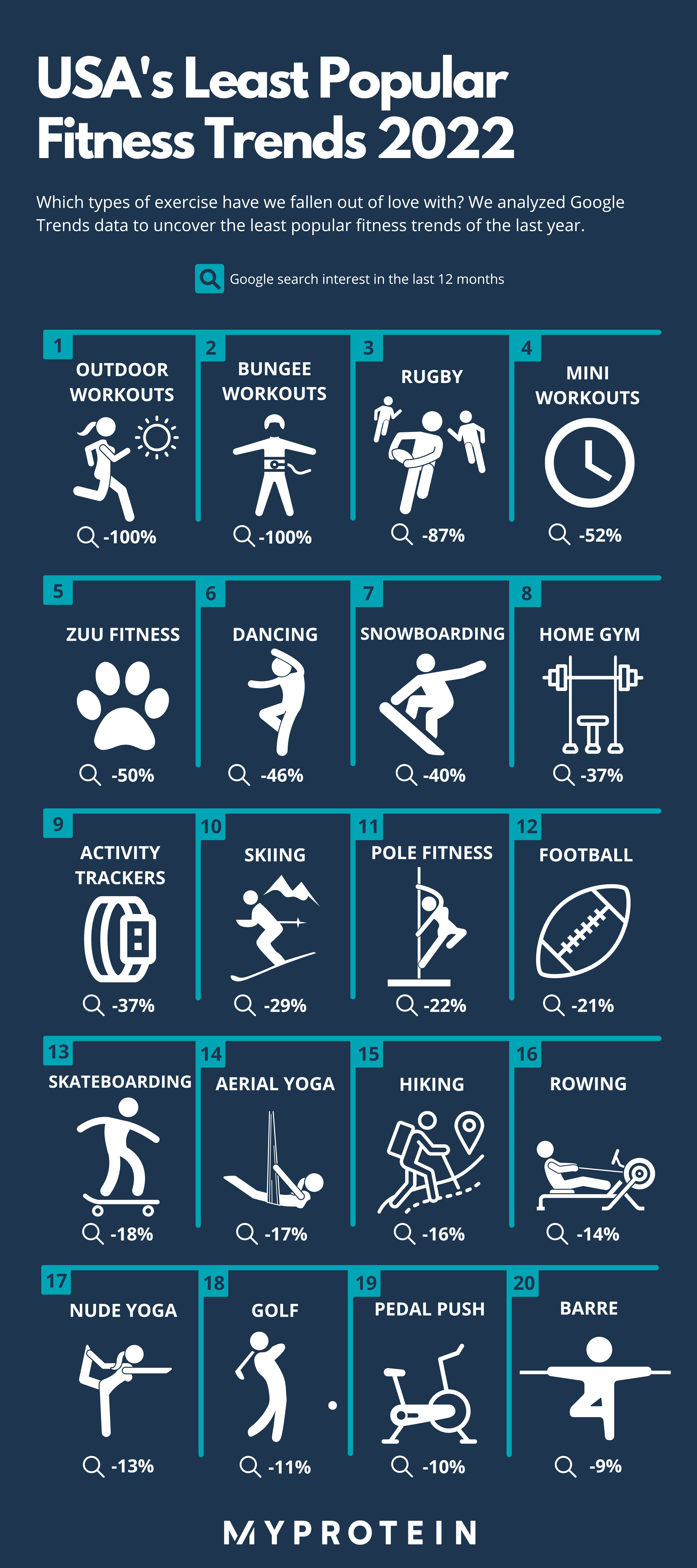 Saying goodbye to high intensity & solo workouts
Unique workout trends like Zuu fitness, aerial yoga and nude yoga seem to have had their day in the spotlight, seeing a decline in interest of 50%, 17% and 13% respectively. Sports that require a fair bit of expense to participate, such as snowboarding, skiing and golf, have also taken a hit, suggesting that people are looking for more affordable ways to keep fit.
Interest in home gyms has also dropped by 37%, reflecting the newfound popularity of getting out of the house to work out. Interest in activity trackers have also dipped by the same amount, suggesting we're becoming less obsessed with tracking numbers and metrics. At the same time, interest in wellness tracking has risen by 1800%, which could mean we're measuring health from a more holistic perspective and not just by how many calories we've burned.
How will we be working out in 2023?
So, now we know how the US has been working out over the past 12 months, what does the future hold? We teamed up with Myprotein PT Tom Hall to make some predictions about some of the fitness trends we might see in 2023.
1. Functional fitness
No secret to fitness enthusiasts, functional fitness is the high intensity interval training that's been growing fiercely in popularity over the last two decades.
As well as incorporating functional movements you'd use in your everyday life, Tom believes that its biggest attraction is something most people are craving right now – community.
"Functional workouts have obviously been around for years now, but the variety and community aspect is fantastic," he says. "The coaching is getting better too, after a few years of taking some inspiration from the world of sports strength and conditioning. It's great for beginners as well as seasoned athletes."
2. HYROX (or equivalent)
For those not in the know, Hyrox is a competitive indoor fitness race where anybody can compete against themselves or anyone else in the world. Participants race in the exact same format, which includes a 1km run and a functional movement, repeated eight times.
Tom says: "I think these guys are onto something. What's great about training for something like Hyrox is that it takes little skill, unlike a sport. This gives the ability for it to be open for all.
"Also, differently to crossfit, it joins up eight different strength endurance exercises that are very simple and can be done in most gyms with a load of running. This is the new age of cardio."
3. Wearables
Though search interest in activity trackers was down 32% in 2022, Tom still doesn't think wearable devices are going anywhere. Instead, he reckons that it might just come down to the type of device, and the quality and relevance of the metrics to the user.
Tom says: "Every year, wearables get better and better. You've got Aura for everyday, Polar, Garmin for the tech wizards and simple Myzone to add heart rate community.
"I have also seen a push for VBT (which is velocity-based training) – something that I have used a lot over the last year. This is technology that tracks the movement speed of an exercise. It may take the place of Strava mapping or HR Myzone cardio workouts, but apply the same thing for resistance training."
4. Walking
With our collective desire to get outside, spend time with others and also balance out any high intensity workouts, it's natural that walking could fit the bill perfectly.
Due to its high accessibility, low cost and low skill required, Tom predicts that this simple act of movement will be another big focus in 2023.
5. Keto and/or Fasting
While some may believe diet trends like keto and intermittent fasting are on their way out, Tom believes this is far from the case. While keto may have lost its initial 'buzz' (seeing an 18% drop in interest over the last 12 months), fasting has gained popularity, with a 33% increase in interest (+61% for intermittent fasting).
"As a rule of thumb, fitness tends to trend in cycles," Tom explains. "So I'm going to predict that certain dietary approaches like Keto or fasting come back. The WIM HOF method might also stick around; outdoor activities such as bouldering will make a return and lastly, I believe people will reach out to have an expert in their corner – an online coach or some sort of programming to get them on the right path."
And what impact, if any, could the cost of living crisis have on our fitness habits?
"I can foresee a fair few similarities between 2022 and 2023, as the world hopefully continues to recover more from Covid," Tom says. "But we also have to be aware of the perhaps financial implications for the fitness industry, and the reality that a gym membership may be one of the things people decide to ditch.
"However, I am pretty positive these trends will continue to grow (and that TikTok will continue to play a key role in shaping them)."
Take Home Message
However you prefer to work out, it's reassuring to know that there's always a type of movement out there that will suit your style. Whether you're looking to change up your current routine or need new inspiration to get you up and moving in 2023, endless options await to fit around your unique needs and circumstances, as well as pre-workout supplements and protein snacks to help you on your way.
Methodology
We compiled a list of over 80 different workout trends, before using Google Trends to track their search interest over the last 12 months. We then looked at the increase or decrease in search interest over that period to uncover the most and least popular fitness trends.