Protein baking is a great way to not only get more protein into your diet, but also cure cravings for unhealthier alternatives and aid your training by simply thinking outside of the shake.
A lot of people are put off trying out protein baking because the first few attempts can turn out as disasters if you don't follow a recipe! Baking with protein is very different to normal baking, especially baking with whey protein powder because it causes the baked items to become dry if not counteracted with other ingredients.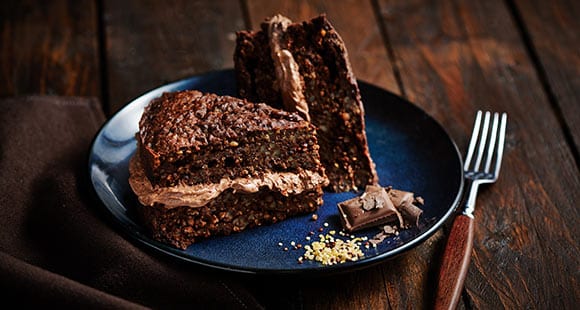 Gluten-free chocolate cake with Impact Whey Protein
You can bake with any type of protein, whether it's whey protein, casein, a protein blend of milk and egg or even vegan proteins such as rice, pea or hemp. In these cases the outcome is likely to be more successful than whey as they're not as dry when baked, and a simple rule is that you can replace some of the flour in a normal recipe with these proteins.
---
A General Rule for Protein Baking
As a general rule, if you are baking with protein, if you have a larger amount of the other dry ingredients to the protein, it will be more successful. It's also really important to include some wet ingredients to add moisture, especially when baking with whey which absorbs the liquid used in the recipe. These can include things like Greek yogurt, quark, canned pumpkin and fruit purees.
You can then use other ingredients like in any other baking from flours, baking powders, eggs or other binders, sweeteners as alternatives to sugar, nut butters, butter or coconut oil.
---
Being Healthy Doesn't Have To Be Boring!
Protein Cheesecake with Impact Whey Protein
Protein baking definitely proves that being healthy doesn't have to be boring as you can make sugar-free, totally macro-friendly sweet treats packed with nutrition that can fit into your diet easily – and not only that, but the added protein makes them more satisfying than the unhealthier version!
---
Protein Baking Cupboard Essentials
So what should be in your protein baking cupboard to get you started?
Depending on if you can have dairy or not, a vanilla and chocolate whey protein powders are good starters, or vegan blend if you're plant-based, as with these two flavors you can then adapt them to make other flavors when baking. To vanilla you can add cinnamon, ginger or fruity flavors, and to chocolate you can add orange, mint, nuts, or coconut, for example, so there is no need to go out buying lots of different ingredients to create different flavored protein items.
Next would be your flours. Start with oat flour which can be made simply by grinding oats in a food processor. For a lower-carb option you can use ground almonds or coconut flour but both of these make the whole baking process very different – especially coconut flour as it absorbs all of the liquid like whey does, so adds to the drying effect even further.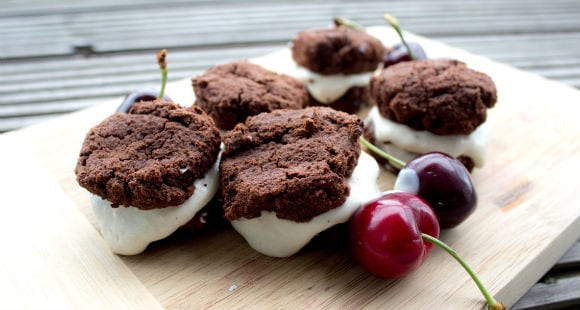 Oreo Cookies with Impact Whey Protein
Then eggs or flax for binding depending on your dietary preferences.
Baking powder.
Milk of choice, can be dairy-free such as almond or coconut milk if you prefer.
Wet ingredients to counteract the protein absorbing the liquid such as Greek yogurt, fruit puree, quark, cream cheese, or canned pumpkin.
Sweetener such as Xylitol, Stevia or FlavDrops if you are wanting to go sugar free. Coconut sugar and honey also bake really well but add more calories and carbohydrates.
Additional add-ins to create the flavors of your items such as chocolate chips, chopped dried fruit and nuts, frozen or fresh fruit, citrus fruit juice and zest.
Coconut oil, butter or a nut butter as a source of fat, not always necessary but fats do add flavor to baking.
Getting started with protein baking is always made easier when you follow recipes so you can get to know how baking with protein works first before getting inventive – get some ideas from The Zone!