Summer is almost here, and what better drink to refresh and revitalize you on the hot days to come than Clear Whey Isolate? If you're a fan of our light alternative to traditional whey protein, you're going to love these new summer flavors.
Our Clear Whey formula is made using high-quality hydrolyzed whey protein isolate for a light and refreshing drink— that's more like juice than a milky protein shake.
Coming in July, Clear Whey Isolate is back with some of our best Jelly Belly editions, including a brand-new flavor! Next month, Green Apple and Very Cherry Jelly Belly Clear Whey Isolate are making a reappearance, and now there's a new flavor you can get your hands on— Berry Blue!
These limited-edition flavors will brighten up any summer day, giving you protein shakes that are bright red, green, or blue. And with flavors that taste like your favorite candy, getting your nutrition in will feel like a treat.
These fruity Jelly Belly editions of our popular Clear Whey Isolate will bring you back to childhood while you hit your macros. With 20 grams of protein per serving, plus naturally occurring BCAA's and glutamine, you'll gain optimal nutrition to grow muscle mass and boost your immunity. The protein-packed formula will also help you stay hydrated throughout the day and feel full for longer.
See how our ambassadors are taking advantage of Jelly Belly Clear Whey Isolate: 
Take Home Message
Summer is coming, and it's bringing along some irresistible Jelly Belly flavors of Clear Whey Isolate. Get ready to try Very Cherry, Green Apple, and the new Berry Blue coming in July and optimize your nutrition this summer.
Want more like this?
READ THESE NEXT: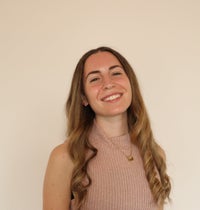 A Rutgers University Honors graduate, Jamie grew up on the Jersey shore and double majored in Comparative Literature and Anthropology in college. Jamie is an experienced writer in the health and wellness, biotech, and eCommerce fields. She loves writing with a purpose and has even written for the Department of Justice.
Jamie became drawn to exercise during her time in university and began to notice the physical and mental benefits of moving your body daily. Today, Jamie enjoys Pilates, light weight training, and going on long walks in nature daily.
Jamie is also passionate about eating right and prioritizing gut health and immunity. She is always trying the next innovation in health and wellness. When she's not writing articles, Jamie enjoys reading, playing guitar, and finding dogs to play with.