This protein overnight oats recipe is the perfect grab-and-go healthy breakfast.
If you're looking for an ultra-quick and nutritious breakfast, then give protein overnight oats a try. This tasty breakfast can be quickly prepped at night, so by the time you wake up, all you'll have to worry about is the eating.
Oats plump up when left in liquid for a few hours, which makes them super-creamy and filling. They're a great source of complex carbohydrates and fiber, and provide a slow release of energy and increased satiety (fullness) due to their beta-glucan content. They're also incredibly low in sugar – great for when you're trying to slim down.
Why add protein powder to overnight oats?
Adding protein powder to your overnight oats is a great way to increase your satiety and keep you full until lunch time, as dietary protein stimulates the release of a number of satiety hormones. Also, if you're looking to maintain and/or gain muscle mass, you need to consume enough protein every day to support muscle growth.
Click to jump straight to the macros.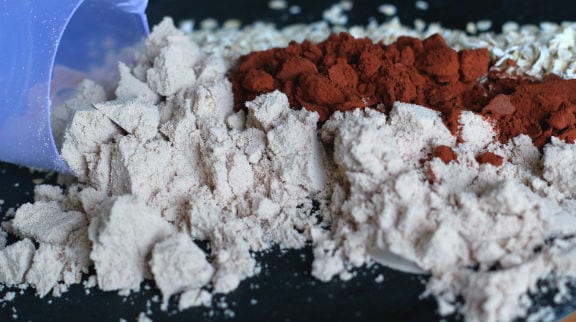 Don't forget to check out more delicious and healthy fitness recipes.
Makes: 1 portion
Ingredients
Method
1. Start by mixing your protein powder, cacao powder and Greek yogurt, until few lumps remain.
2. Next, stir in your milk of choice.
3. Mix in the rolled oats and pour into a dish. Cover with a lid or cling film and place into the fridge for at least 2 hours or preferably overnight.
4. Once the oats have plumped up, remove them from the fridge and enjoy as a grab-and-go breakfast.
---
Enjoy this protein overnight oats recipe? Check out more delicious and healthy fitness recipes.