Losing body fat looks different for everyone, but for the majority of people, it takes effort and discipline. Like anything else, you have to put the work in to see results. The good news? Myprotein ambassador Cohnan Kotarski is here to give us four tips to make losing body fat easier and more attainable. If your goal is to reduce your body fat, check out these four tips from the pros.
1. Walk 10,000 Steps a Day
Walking may seem too easy, but it's a great, low-impact way to get your body moving. According to Cohnan, walking provides an excellent way to stay active and burn extra calories throughout the day without impacting your joints/connective tissues too much. Plus, it's pretty much accessible to everyone. All you need is a pair of shoes, so you have no excuses.
2. Resistance Train 3-4x a Week
In addition to cardio, resistance training can be super helpful for losing body fat. This is because it will help you preserve your muscle, so you lose just the fat. As Cohnan explains, when you're losing weight, you want to minimize muscle loss and focus on losing primarily fat. Consistency in your workouts will help you preserve that lean muscle mass.
3. Eat More Fruits & Vegetables
You've heard it before, but eating fruits and veggies can definitely help keep you on track when trying to shed some pounds. To lose body fat, you have to be on a calorie deficit—there's no way around it. Fruits and veggies are great because they're super filling and are very low in calories. As Cohnan points out, this will make sticking to your calorie deficit a lot easier. And as an added bonus, fruits and veggies are beneficial for your health and will help boost your overall well-being.
4. Eat At Least 1g of Protein Per Pound of Bodyweight
When trying to reduce body fat, protein is your best friend. Cohnan tells us that protein is not only important for building muscle, it's also a very satiating macronutrient. Protein takes a bit longer for your body to break down and digest compared to carbs and fats, this will help you feel fuller for longer, making it easier to stay in your deficit.
Take Home Message
If you're getting overwhelmed at the thought of losing body fat, don't give up. Incorporating these tips into your routine can make a huge difference. Remember, consistency is key. You got this.
Want more from Cohnan?
READ THESE NEXT: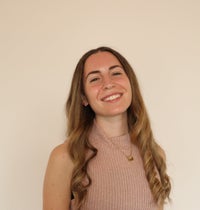 A Rutgers University Honors graduate, Jamie grew up on the Jersey shore and double majored in Comparative Literature and Anthropology in college. Jamie is an experienced writer in the health and wellness, biotech, and eCommerce fields. She loves writing with a purpose and has even written for the Department of Justice.
Jamie became drawn to exercise during her time in university and began to notice the physical and mental benefits of moving your body daily. Today, Jamie enjoys Pilates, light weight training, and going on long walks in nature daily.
Jamie is also passionate about eating right and prioritizing gut health and immunity. She is always trying the next innovation in health and wellness. When she's not writing articles, Jamie enjoys reading, playing guitar, and finding dogs to play with.