It's April, which means it's officially Earth Month. Earth Month is all about putting in that extra effort to raise awareness around environmental issues and do positive things for mother nature.
This Earth month, we've been challenging all gym-goers, including our ambassadors, to take on the #WheyForwardChallenge. If you haven't heard of Whey Forward, it's our most environmentally friendly and sustainable protein. Using fermentation instead of farming, Perfect Day creates dairy-identical protein which delivers the same nutrition as our standard whey, but it's totally animal-free.
And compared to whey protein from cows, Whey Forward uses up to 99% less water and 60% less non-renewable energy, while creating up to 97% fewer greenhouse gas emissions. Now that's a win for the planet.
The Whey Forward Challenge is simple: only consume Whey Forward as your primary source of protein for the entire month of April. Let's see how our ambassadors are doing.
Fitness trainer Cohnan Kotarski has been taking on the Whey Forward Challenge after recently getting his wisdom teeth removed, ouch. But there is no better time to start drinking liquid protein, right? Remember, Whey Forward delivers the same nutrition as traditional whey protein, including 20 grams of protein, 4.7 grams of BCAAs, and zero sugar.
Check out Cohnan's challenge below:
Fitness coach and trainer Mandi has also been up for the challenge this month. Mandi explains that it's super hard for her to get all of her protein in without compromising her gut health- that's where Whey Forward comes in. Since Whey Forward is free of whey, lactose, and hormones, it's easier to digest for many, while still delivering all the same macros you need. See Mandi's challenge below:
Interested in giving Whey Forward a try? We offer four delicious flavors including Cinnamon Cereal, Creamy Mint Chocolate Chip, Fruity Cereal, and Strawberry Banana.
Take Home Message
There you have it. Our ambassadors are currently going strong in the #WheyForwardChallenge and loving the benefits of this animal-free protein. Try it for yourself to celebrate Earth Month while still smashing your macros.
Enjoy this article?
READ THESE NEXT:
Our articles should be used for informational and educational purposes only and are not intended to be taken as medical advice. If you're concerned, consult a health professional before taking dietary supplements or introducing any major changes to your diet.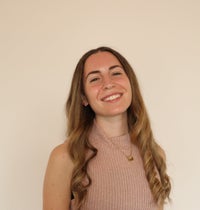 A Rutgers University Honors graduate, Jamie grew up on the Jersey shore and double majored in Comparative Literature and Anthropology in college. Jamie is an experienced writer in the health and wellness, biotech, and eCommerce fields. She loves writing with a purpose and has even written for the Department of Justice.
Jamie became drawn to exercise during her time in university and began to notice the physical and mental benefits of moving your body daily. Today, Jamie enjoys Pilates, light weight training, and going on long walks in nature daily.
Jamie is also passionate about eating right and prioritizing gut health and immunity. She is always trying the next innovation in health and wellness. When she's not writing articles, Jamie enjoys reading, playing guitar, and finding dogs to play with.