Ever wonder why we are able to bend, move, and stretch so well while we're young but not so much as we get older?
While it's no problem in your twenties, flexibility and mobility only get worse with age. So how can you combat this? How can you take action to reverse the aging process?
The answer may lie in a protein found in your bones and muscles.
Introducing our 100% hydrolyzed Collagen Protein designed to stimulate collagen production and help you build muscle, recover quickly, and stay looking young.
Lactose and gluten-free, Collagen protein may be beneficial for your nails, hair, skin, bones, muscles, and joints whether you're on a keto diet, a paleo diet, or just wanting to switch it up.
Now, let's learn more about our Collagen Protein.
How to Use Collagen Protein
Available in powder-form with 18g per serving and zero carbs, our Collagen Protein shakes-up just like traditional protein powders.
Simply sip on this shake to not only fuel muscle growth, but also to support your bone health, joints, hair, nails and skin.
This is the perfect protein for those looking for something low in calories and fat in order to get lean muscle fast.
So you can have full control, Collagen Protein is unflavored giving you more versatility in how you enjoy your protein.
Add it to your morning shake, your post-workout recovery, or use it to make some brownies for dessert!
To explain more, we caught up with Sports Nutritionist and Certified Personal Trainer, Adam Bender, to talk about the features and benefits of this new innovation.
Adam, who had a hand in the product's development, will take us through some of the features and benefits of this innovation.
Collagen Protein vs. Whey Protein
Wanted whey, but need a milk-free alternative?
Our Collagen Protein is derived from grass-fed cattle making its protein content very high, very natural and, as Adam points out, collagen may be the best protein for weight training.
Adam explains "Collagen is the major protein found in our muscles and is thought to be the primary load-bearing protein within them. Collagen production can support muscle health by increasing collagen content within, the same way it does within our cartilage and bones.
Myprotein's Hydrolyzed Collagen has 18g of protein per serving and is sourced from bovine collagen peptides. Hydrolyzed collagen peptides are "pre-digested" and broken down into smaller chains that are more easily absorbed by the body."
Unlike whey protein, Collagen Protein is lactose and gluten-free, making it an ideal protein for those who have these allergies. In addition, Collagen Protein is popular for those on the keto diet.
Without lactose or carbs, your body may remain in a ketogenic state in which it uses fat stores for energy instead of sugar and carbs.
So, if you want to torch fat for swimsuit season, this protein may be the best bet for you.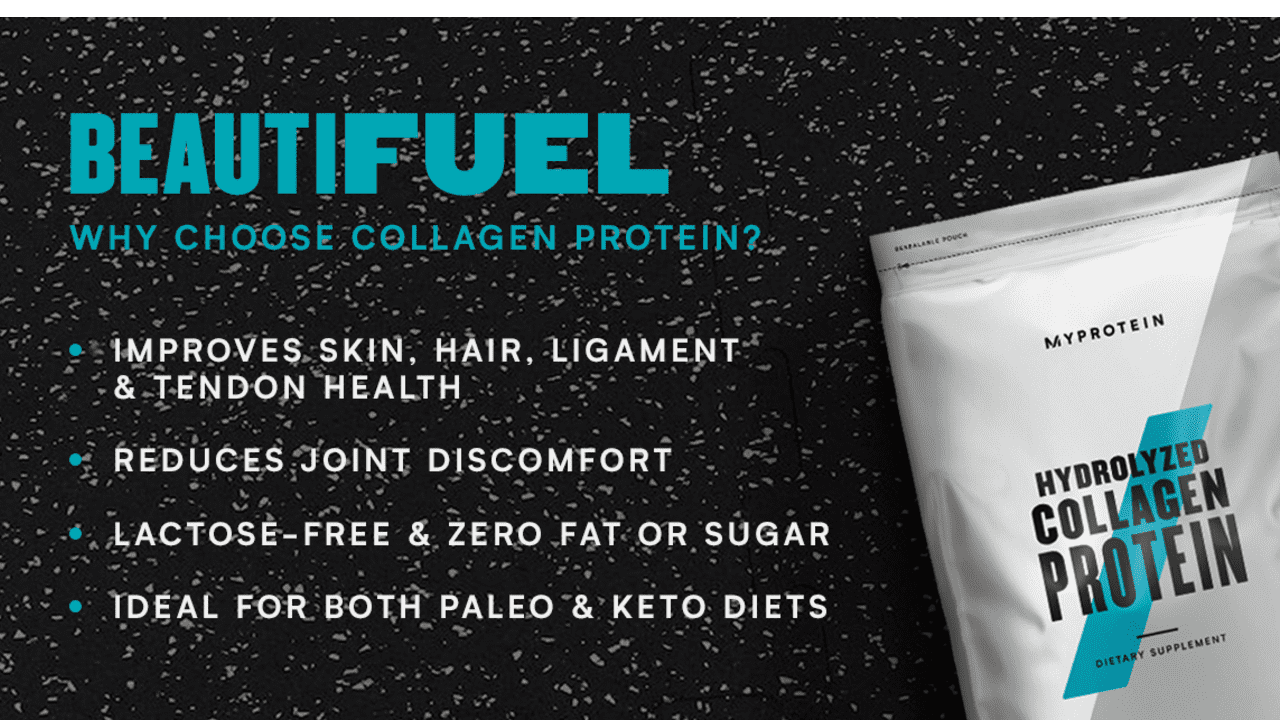 Anti-Aging Support
Collagen Protein provides your skin with the structure it needs to stay healthy and youthful.
Adam says "Ingesting collagen can stimulate growth of fibroblasts, which lead to an increased production of collagen, making the skin less susceptible to wrinkles.1
Basically, fibroblasts help form a sort of physical scaffolding for cells. Within this scaffolding, fibroblasts provide the material needed for collagen and other structural proteins to grow.
Since the skin is made up largely of these proteins, it makes sense that increased collagen production helps keep skin healthy.
Also, consumption of hydrolyzed collagen peptides is associated with increased skin elasticity and decreased wrinkle depth."2,3,4
If you want to stay flexible as you get older, Collagen Protein helps keep joints lubricated — giving you more mobility and stability throughout your workouts.
Adam explains, "The bones at our joints are covered in are called articular cartilage, a tough but flexible tissue with a smooth surface. Its properties make it well suited for absorbing shock and moving under stress, or heavy loads.

Give your bones the support they need. Our Collagen Protein is designed to give bones the strength to support weight training.
Adam says "During aging, there's an increased metabolism of collagen, disrupting the collagen network and reducing mechanical strength and elasticity within our bones.
Collagen plays a big role in the structure of our bones. It helps form the scaffolding that allows minerals like calcium and phosphorus to deposit and harden. It also helps give our bones resistance against stress from movement and loads."
Hair and nails looking weak? Sounds like they need some more Collagen Protein…
Adam says "The mechanisms behind collagen's ability to help nail and hair growth are not fully understood, but the research is promising. Studies have shown that collagen can increase the length and strength of nails and hair. [6, 7]
Collagen's ability to stimulate protein production makes it potentially therapeutic for hair loss and may contribute to stronger healthier hair."
Take Home Message
Get stronger. Feel younger.
Collagen Protein provides more benefits than traditional proteins. Unlike most proteins, Collagen Protein lubricates your joints and keeps your skin looking young.
By choosing Collagen Protein, you can maintain a youthful look, feel stronger than ever, and build muscle mass fast.
Want to learn more about Collagen Protein? This next article will take you through the benefits and side effects….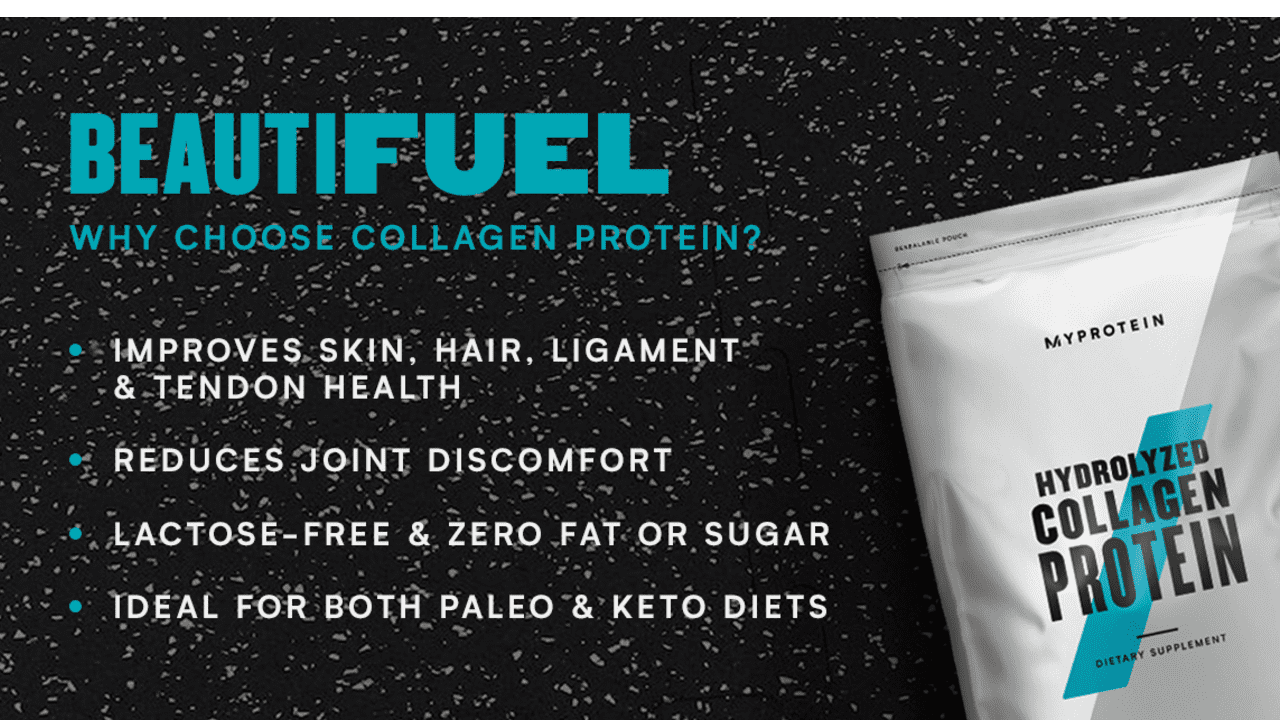 Our newest innovation and anti-aging hero.