Myprotein have just launched their new Seamless Clothing range, but what is seamless clothing and what are the benefits? Find out all about this new range and why you should be making seamless clothing part of your everyday gym attire!
---
What is Seamless Clothing?
Seamless clothing has no stitches or seams, which is a new and innovative way of manufacturing clothing. The absence of stitches and seams brings a number of benefits, especially when it comes to fitness clothing.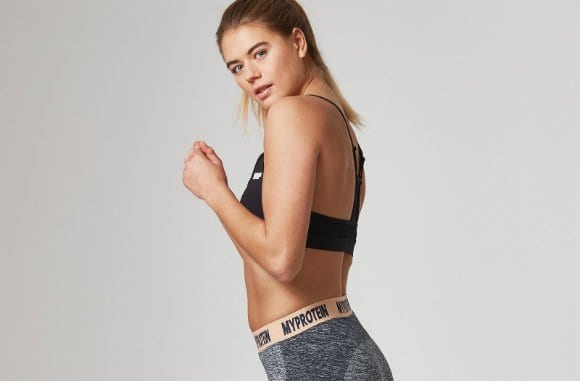 ---
What Are The Benefits of Seamless Clothing?
Let's have a look at some of the benefits that come with wearing Seamless Clothing. They include:
? Non-Chafing
Seamless clothes will not cause chafing against your skin as they reduce friction between the fabric and your body. This means you'll feel far less irritation when training. The fabric is designed to move with your body, making it the perfect attire for all gym exercises. You can literally squat till you drop!
? Improved Durability
As a result of having no seams or stitches the clothing itself is extremely durable. This is essential when you consider that gym clothing is constantly stretched and pulled when working out. How many times have you noticed the thread coming out on your clothes stitching. This won't be a problem anymore with seamless clothing!
? Flexibility
Seamless clothing will move with your body and this not only gives great comfort, but also allows provides improved flexibility. No seams and stitches means this clothing range is completely squat proof and can survive any exercise you perform in it.
? It's Light
Lightweight clothing is ideal for exercising in. The fact there are no seams keeps the weight of the clothing down, meaning it is not restricting in anyway as you exercise. It will also help keep you cool and dry even in the most intense of workouts.
? Breathable Fabric
Breathable fabric is very important for gym wear. It will help keep you cool as you train by drawing the moisture away from your skin as you begin to sweat. This helps you to continue feeling comfortable throughout your workout, so you  won't be hitting the showers early!
? Train In Style
We all know how about it is to look good in the gym these days and seamless clothing will help you do just that. Seamless clothing has been specially designed to enhance your body shape and cling to the right places. Look good, feel good and train hard!
---
How To Choose Gym Clothing For You
When choosing the right gym clothing for you think about what your training is like. You need to wear something that will allow you to carry out your training regimen without your clothing hindering you or restricting your movement.
Seamless clothing is the innovative new way to suit your training requirements, and the range has something for all.
Here are a few of our top picks for Men and Women.
Men
Women
---
Don't Forget Your Accessory Essentials!
When working out it is important to stay hydrated, so make sure you have a water bottle with you. Why not try the ½ Gallon Hydrator or even it's big brother the Gallon Hydrator to ensure you're drinking enough water not just during your gym sessions, but throughout the day. It's a great idea to add BCAAs to your Hydrator to increase protein synthesis and aid recovery throughout the day.
You should also make sure you have a protein shaker on hand to easily mix your post workout protein shake after each training session.
---
Take Home Message
The Myprotein Seamless Clothing range is a new innovative collection of gym clothing to help enhance your training sessions through increased comfort, flexibility and durability. With each item available in a number of colors there's definitely a piece or pieces of Seamless Clothing out there for you!
Save