You might have learned from the first lockdown that working out in a flat with not much space to play with makes it pretty difficult to get a good sweat on. With gyms closing their doors once more it's more important than ever to find ways to utilize whatever space you have and sweat out your stress with some mood-boosting activities. 
Our list of 5 exercises you can do with limited space not only will help you get sweaty even without a gym, but will also make sure you're doing something positive for your mind as well as your body. 
Whether you're isolating and are itching to move your body some way, or you just don't fancy going for a run on these cold winter nights, these activities could keep you ticking over until gyms re-open. 
1. Yoga
If you've never tried yoga before, you've got a whole world of relaxation and zen waiting for you. 
Start with a beginner's circuit of basic yoga poses to release your inner yogi. You'll be left not only feeling 10x more relaxed than when you started, but feeling stronger as well as you learn to hold and move through your poses. 
Starting or ending your day with yoga is ideal for those of us working from home, giving you even just 15 minutes of calm before or after a stressful day of work. De-tangling you from the day's problems and helping divide your work day from your relaxation time, something which can be so difficult when working from home. 
2. Ab work
As long as you're able to lay flat on the floor without touching any furniture around you, you should be able to get a good ab circuit in. The perfect way to get a quick 10-minute session in when you don't really feel like a full body workout, ab circuits give you the quick sweat session you need.
Here's an ab circuit guaranteed to get your core on fire.
3. Resistance band training 
You might not have the space for a barbell at home, so resistance bands will become your best friend. They can be used for both upper and lower body training, and add an extra burn to any bodyweight exercise. You should only need enough space to be able to squat a few steps around you, and maybe a door to attach your resistance band to for some cable-style rows. 
Here's one of our favorite upper body resistance band workouts.
4. Use your stairs
If you live in an apartment or a flat, jumping up and down in your bedroom to get your cardio in might not work out for you or your neighbors.
But all is not lost. Your flat should have a stairwell that can become your playground to get some cardio in. Often most people will opt for the lift, leaving the stairs open for you to take advantage of.
Whether you just want to do a few laps up and down, or you want to make things more interesting by working your way up with squat jumps, stairs are a brilliant tool to get you feeling sweaty and your heartrate up.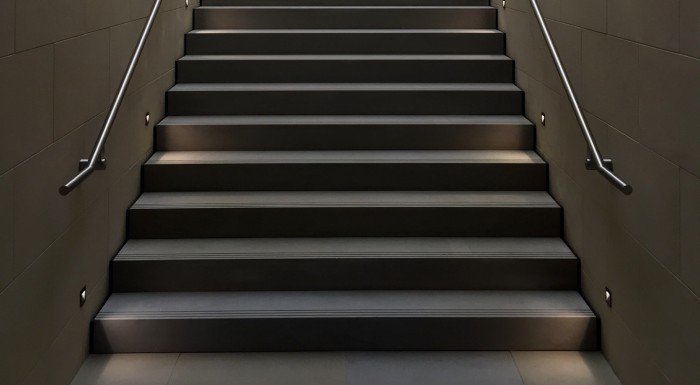 5. Stretching  
Not reserved to only before or after a workout, stretching is so important for your mental and physical health. Allowing even just a few minutes of stretching in the morning or the evening can give you those few minutes just for yourself, to clear your head or prepare it for the day. 
Especially important as we prepare for another lockdown, where our movement is likely to be more limited than normal, stretching out our muscles can keep you from feeling a little zombie like.  
Gyms will be reopening at some point and regular stretching will ensure that you maintain your flexibility and even improve it, ready to smash the gym once it re-opens once more. 
Here's a stretching routine that will leave you feeling fantastic.
Take Home Message 
Lockdown is a tough time for everyone and so doing activities that we know will boost our mood and allow us to move our bodies in some way are vital. Even if you just manage to do one of these activities, we're sure you'll be glad you did it. Keep positive with some yoga, and stay active with some resistance training, and you'll be ready for when normality resumes and our gyms welcome us back once again.