These tasty vegan Cinco de Mayo recipes will fit in perfectly with your plant-powered party.
1. Loaded Nachos with Vegan Queso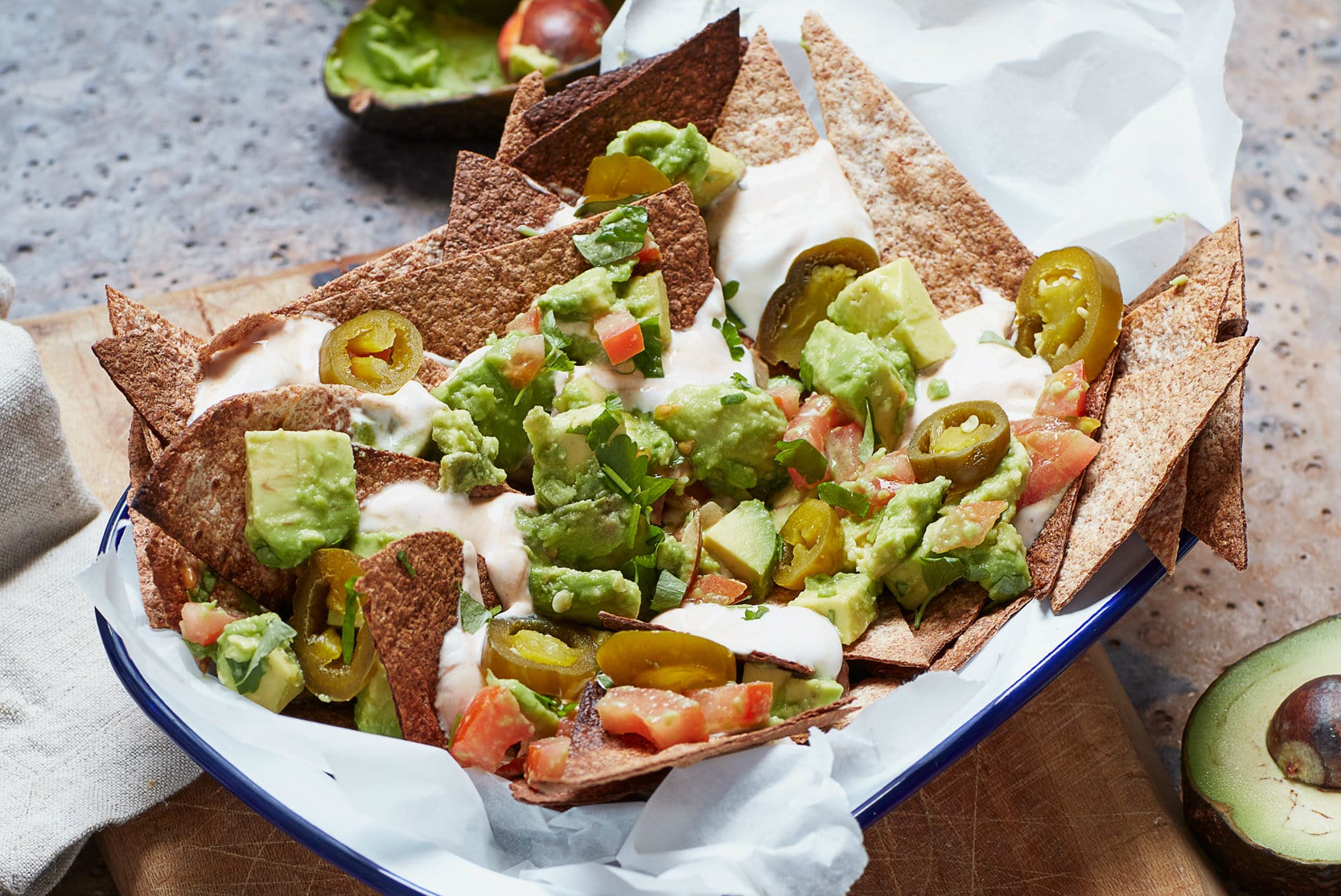 Serves: 2-4
Ingredients:
1/2 cup unsalted cashew nuts
1 cup salsa roja (red salsa)
1/2 tsp. ground turmeric
2 tbsp. nutritional yeast
Pinch salt
2 whole meal tortillas
½ can black beans
Fresh guacamole
1. Make the vegan queso by first soaking your cashews. Put them into a bowl, cover with boiling water and set aside for 1 hour. Once they're soaked, drain and combine in a food processor with the salsa roja, ground turmeric, nutritional yeast and salt. Blend until smooth and creamy. Set aside.
2. Cut the tortillas into triangles and place on a tray under the grill for around 3 minutes or until they begin to brown. Turn the nachos and grill for another 3 minutes. Add the black beans and return to the grill for 5 minutes.
3. Place the queso into the microwave to warm for around 30 seconds on high. Pour over the nachos and devour!
2. Best Ever Chunky Guacamole
Serves: 4
Ingredients:
2 ripe avocados
2 tomatoes (finely chopped)
½ red onion (finely chopped)
Handful pickled jalapeños (chopped)
1 fresh lime, plus extra to garnish (juice)
Handful of fresh cilantro, plus extra to garnish (chopped)
Pinch of sea salt and pepper
1. Cut the avocado length ways, then remove the stone and scoop the flesh out. Mash the avocado with a fork and combine with the remaining guacamole ingredients, and serve with extra cilantro and lime juice on top.
3. Fiery Five-Bean Chili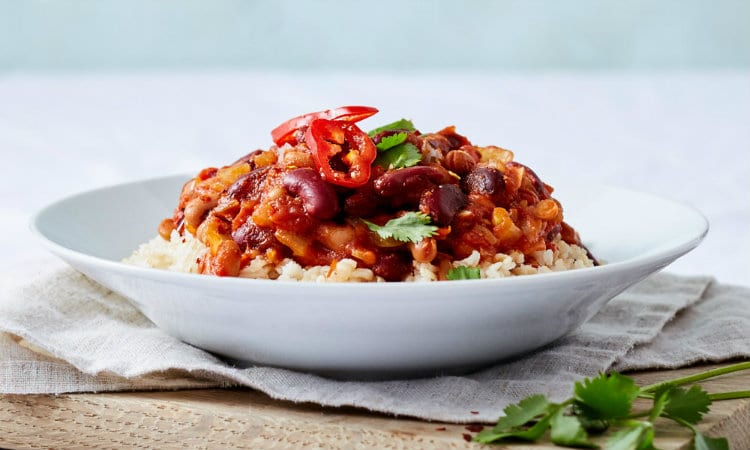 Serves: 4
Ingredients:
1 tbsp. coconut oil
1 white onion (chopped)
3 cloves garlic (peeled and finely chopped)
Spices: 2 tsp. hot chili powder, 1 tbsp. ground cumin, 1 tsp. paprika
Beans: 14 oz. can mixed beans, 14 oz. can kidney beans, 2 tbsp. refried beans (optional)
3/4 cups vegetable stock
14 oz. can chopped tomatoes
2 tbsp. tomato puree
1 lime
1. Place a large saucepan on a medium heat and add coconut oil. Once melted, add onions and cook for 5 minutes, stirring occasionally. Add the garlic and spices then cook for a further 2 minutes while stirring.
2. Add the beans, chopped tomatoes, stock and tomato puree. Bring the mixture to the boil and then cover the pan with a lid and leave to simmer for 10 minutes on a medium to high heat, stirring occasionally. Once cooked, serve with cooked brown rice and a squeeze of lime juice.
4. Spicy Black Bean & Avocado Tacos
Makes: 8
Ingredients:
2 14 oz. cans black beans
1 cup salsa roja (red salsa)
1 tbsp. ground cumin, 1/2 tsp. sea salt
1 tbsp. hot chili powder
2 avocados
1 red onion (finely chopped)
14 oz. can sweet corn
Dairy-free soured cream
8 small corn tacos
Handful cilantro (chopped)
1 lime (juice)
1. Simmer the black beans, salsa roja, cumin, salt and chili powder in a saucepan on a medium heat until warm through (around 8 minutes), stirring occasionally.
2. Fill each taco with the warm bean mixture, then top with sweet corn, chopped red onion, avocado slices, dairy-free soured cream and cilantro. Squeeze over lime juice and you're good to go.
---
Enjoy these vegan Cinco de Mayo recipes?
TRY THESE NEXT: