Stuck in an office this summer? Well, even if you can't physically be lying on a beach somewhere sunny, you can at least try spicing up your lunch break with a little taste of the Caribbean.
Our favourite kitchen extraordinaire @niallkirkland has come up with this super-simple jerk chicken meal prep box — and it's the perfect twist on chicken and rice to add a little excitement to your routine.
Makes 3
Ingredients
For the chicken:
3 chicken breasts
1 tbsp. olive oil
2 tbsp. Jerk seasoning
1/2 lime (juiced)
1 tbsp. honey
For the salsa:
4 tomatoes (diced)
1 red onion (diced)
1 tbsp. jalapeño peppers (chopped)
1 tbsp. coriander (chopped)
1/2 lime (juiced)
Salt and pepper
Extras:
1 avocado (diced)
50g peas
325g cooked rice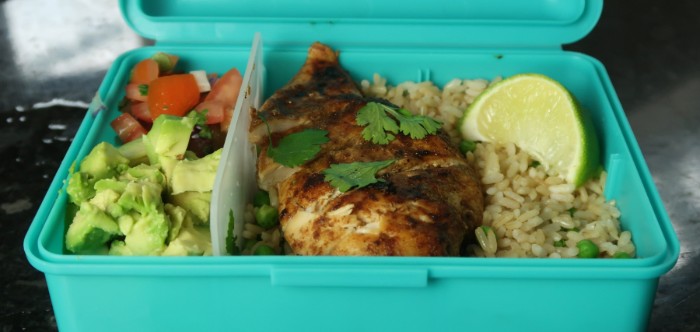 Method
1. Firstly, preheat your oven to 200°C/400°F
2. Then, use a sharp knife to score lines into your chicken breasts and transfer them into a bowl.
3. Now add olive oil, jerk seasoning, honey and lime and rub into the chicken breasts.
4. Transfer your chicken to a baking tray and bake for 20-25 mins.
5. Once the chicken is cooked through, you can broil/grill your chicken breast for five mins to achieve a crispy and darker outer layer on your chicken breast.
6. Now, prepare your salsa by adding diced tomatoes, red onion, jalapeños, coriander and lime juice to a bowl and mix together well. Season to taste.
7. Prepare your meal prep box by adding your rice and mixing your peas into the rice. Then, add the jerk chicken, salsa, and finally avocado to your box and enjoy!
Note: will keep in fridge for up to four days.