As summertime approaches, many of the world's biggest marathons are up and running (pun intended) once again. For many, a marathon is the ultimate fitness goal, a real test of physical and mental endurance.
Among those taking part in the 26.2-mile stretch will be plenty of celebrities and personalities we all know. From actors to politicians, musicians to TV stars, many of the rich and famous choose to take part in marathons across the world. But how do all these celebrities fair when it comes to speed?
We looked at the marathon times from over 300 celebrities and personalities and ranked them fastest to slowest.
The fastest celebrity marathon runners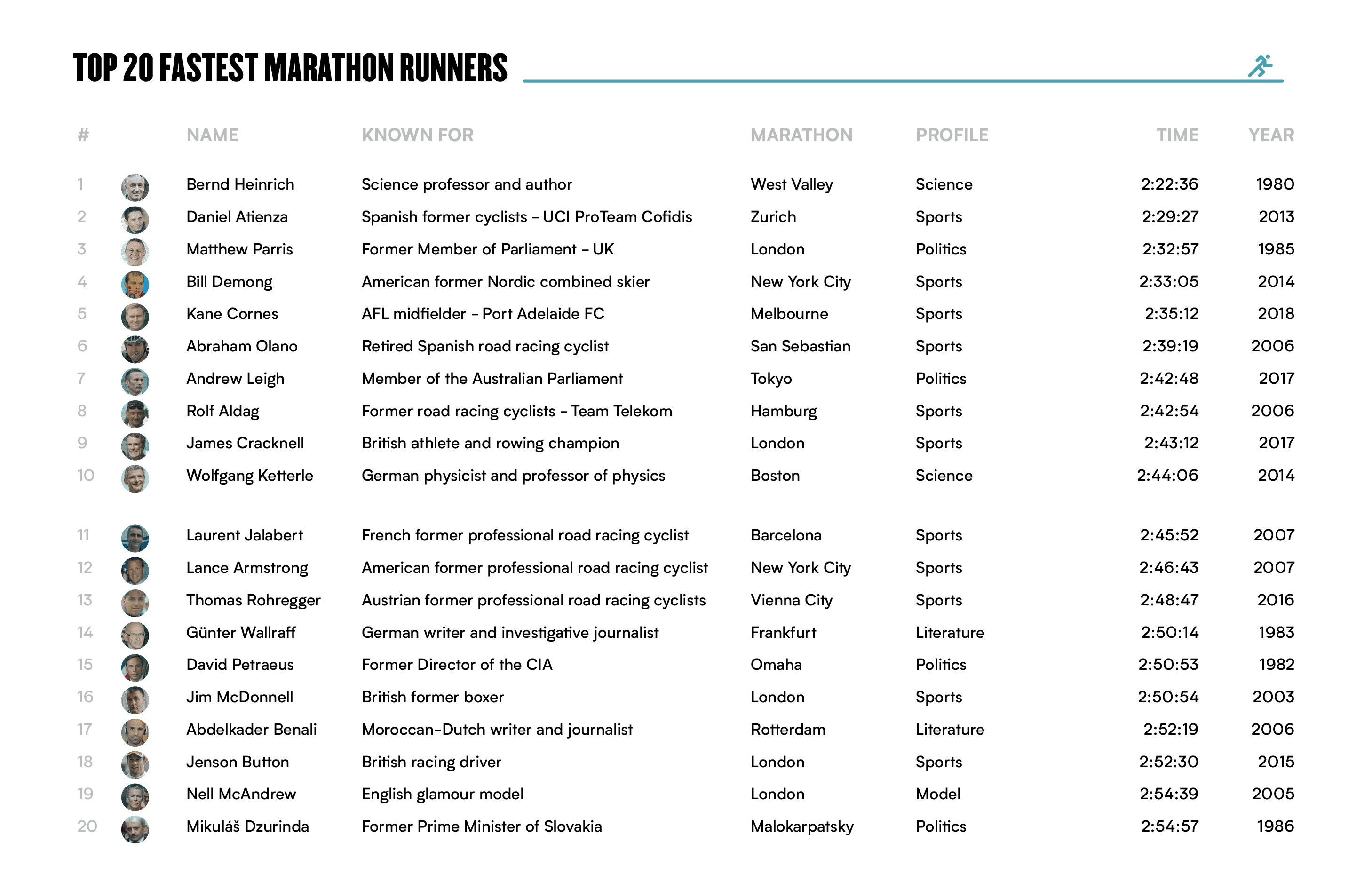 Bernd Heinrich, the science professor, naturalist and author, ran the West Valley Marathon in Utah in a time of 2 hours and 22 minutes back in 1980. Politicians, meanwhile, proved to have the average fastest times, with four of them making our top 20. The third-fastest time in the top table comes from political writer, broadcaster and former British MP Matthew Parris who ran the London Marathon in 2 hours 32 minutes. Meanwhile, Australian politician Andrew Leigh completed the Tokyo Marathon in 2 hours 42 minutes. Former director of the CIA David Patraeus and Mikulás Dzurinda, ex Prime Minister of Slovakia, also made the top 20.
While it's no great shock that just over half of the top runners are from sporting backgrounds, there are also two writers and journalists on the list, plus German physicist Wolfgang Ketterle. And we must give a special nod to super-fit Nell McAndrew who made the list with her time of 2 hours 54 minutes in the London Marathon, flying the flag for the modelling industry.
Not making the top 20, but worth a special mention for her feats of physical endurance is Pippa Middleton, who came 13th out of all the women completing the brutal course in the Great Wall Of China Marathon. She also ran the Safaricom Marathon in Kenya, so you know she's not messing about with her extreme running choices.
Famous actors who have run marathons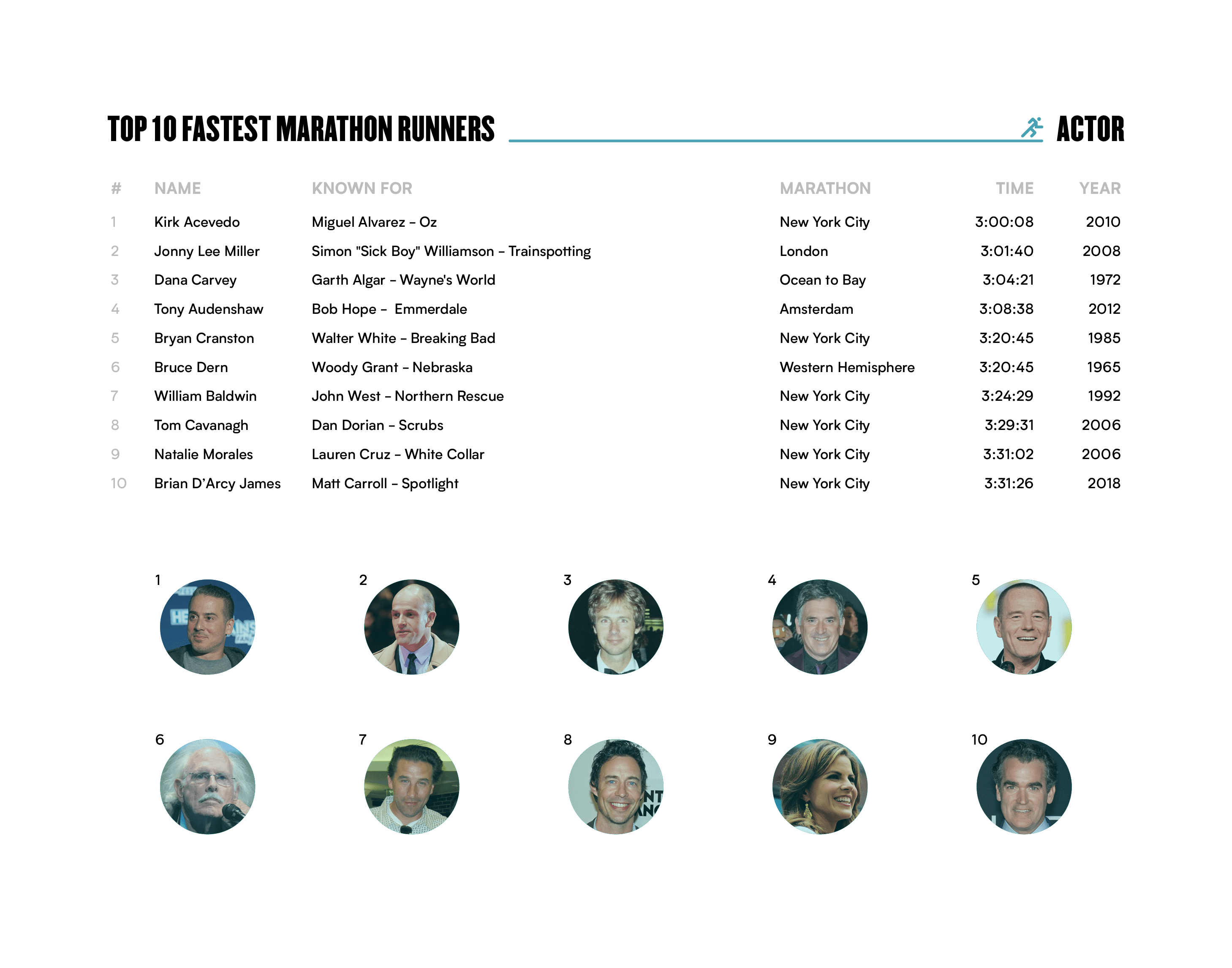 Bryan Cranston, famous for playing everyone's favorite high school chemistry teacher, Walter White, makes the list of fastest runners.
When it comes to the slower end of the scale, Freddie Prinze Jr. recorded a time of 5 hours and 50 minutes.
Pamela Anderson clearly tired herself out after all those beach runs on the hit TV show, Baywatch, as she also came in at the slower time of 5 hours and 41 minutes.
Famous musicians who have run marathons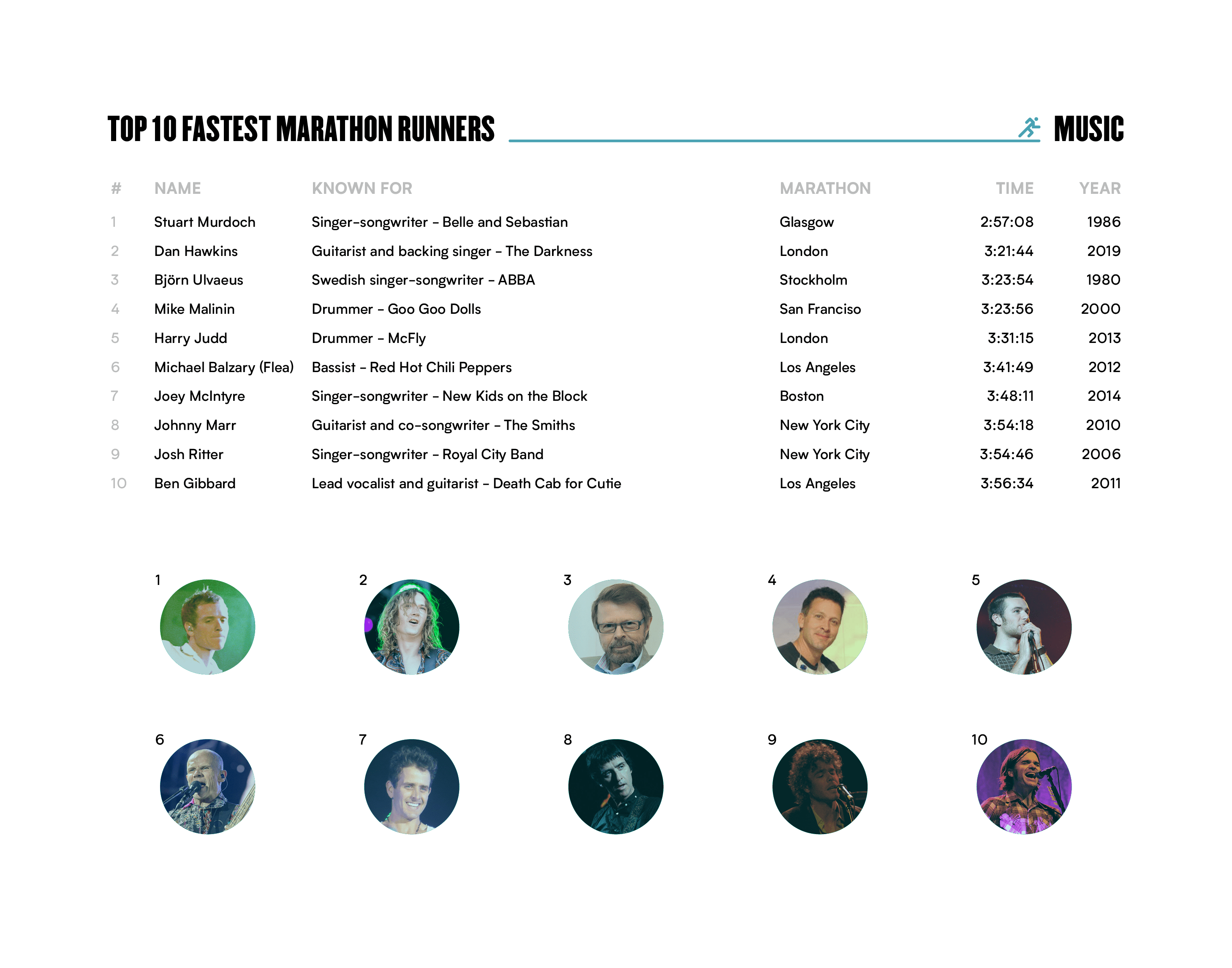 Looking for a fast musician? The rock bands have it covered. The Darkness singer, Dan Hawkins comes in second place with a speedy time of 3 hours and 21 minutes, joined by fellow band players Mike Malinin from the Goo Goo Dolls and Harry Judd from McFly.
Making it onto our slower list is Alicia Keys, with a time of 5 hours and 50 minutes at the New York Marathon in 2015, putting her insecond place after Peter Andre.
Famous politicians who have run marathons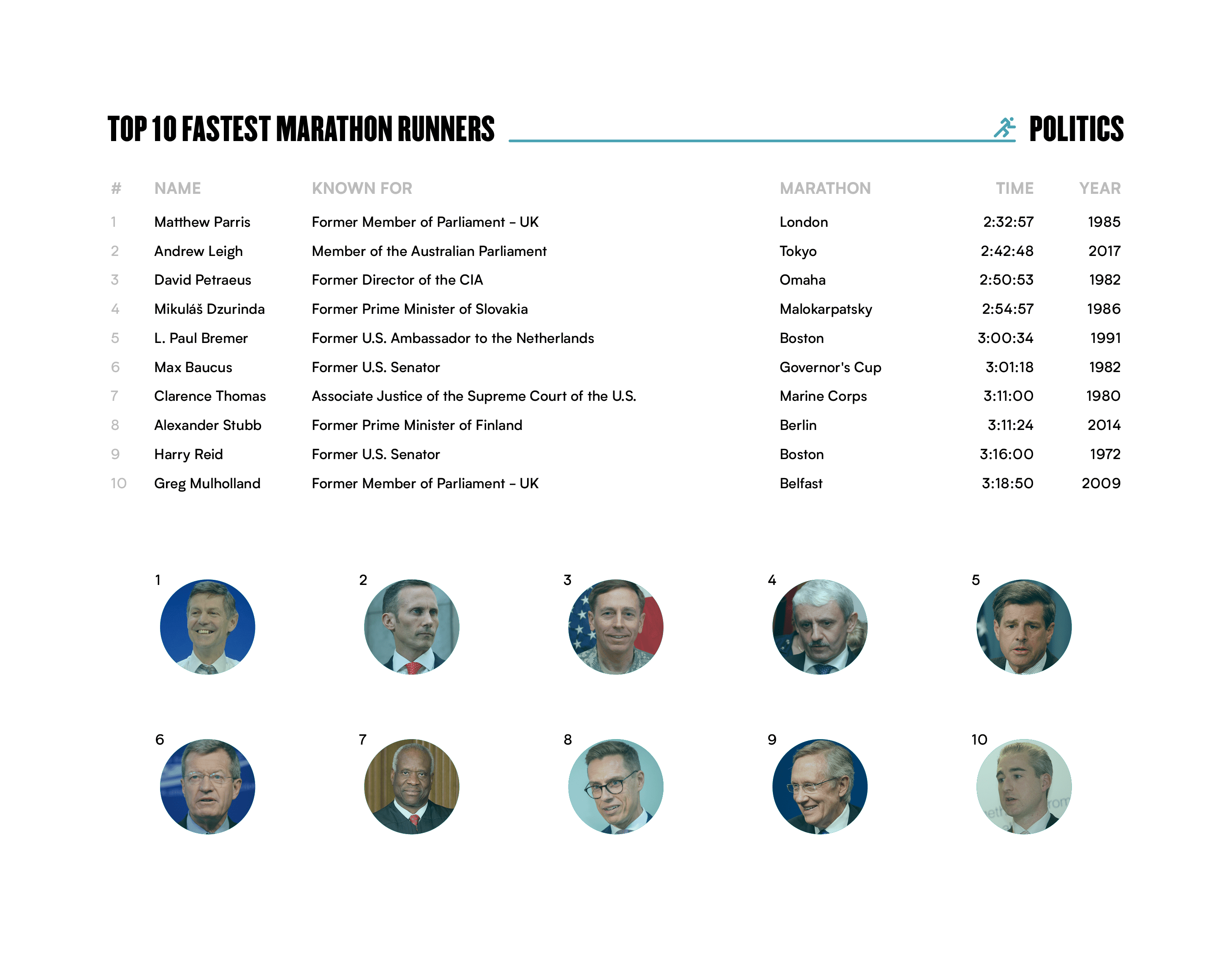 They may be used to running for office but which politician takes the lead when it comes to the world of marathons? Well, former UK member of parliament Matthew Parris takes the first spot with a time of 2 hours and 32 minutes.
Bringing up the rear is Tom Vilsack, United States Secretary of Agriculture, who ran a time of 5 hours and 28 minutes.
Famous television stars who have run marathons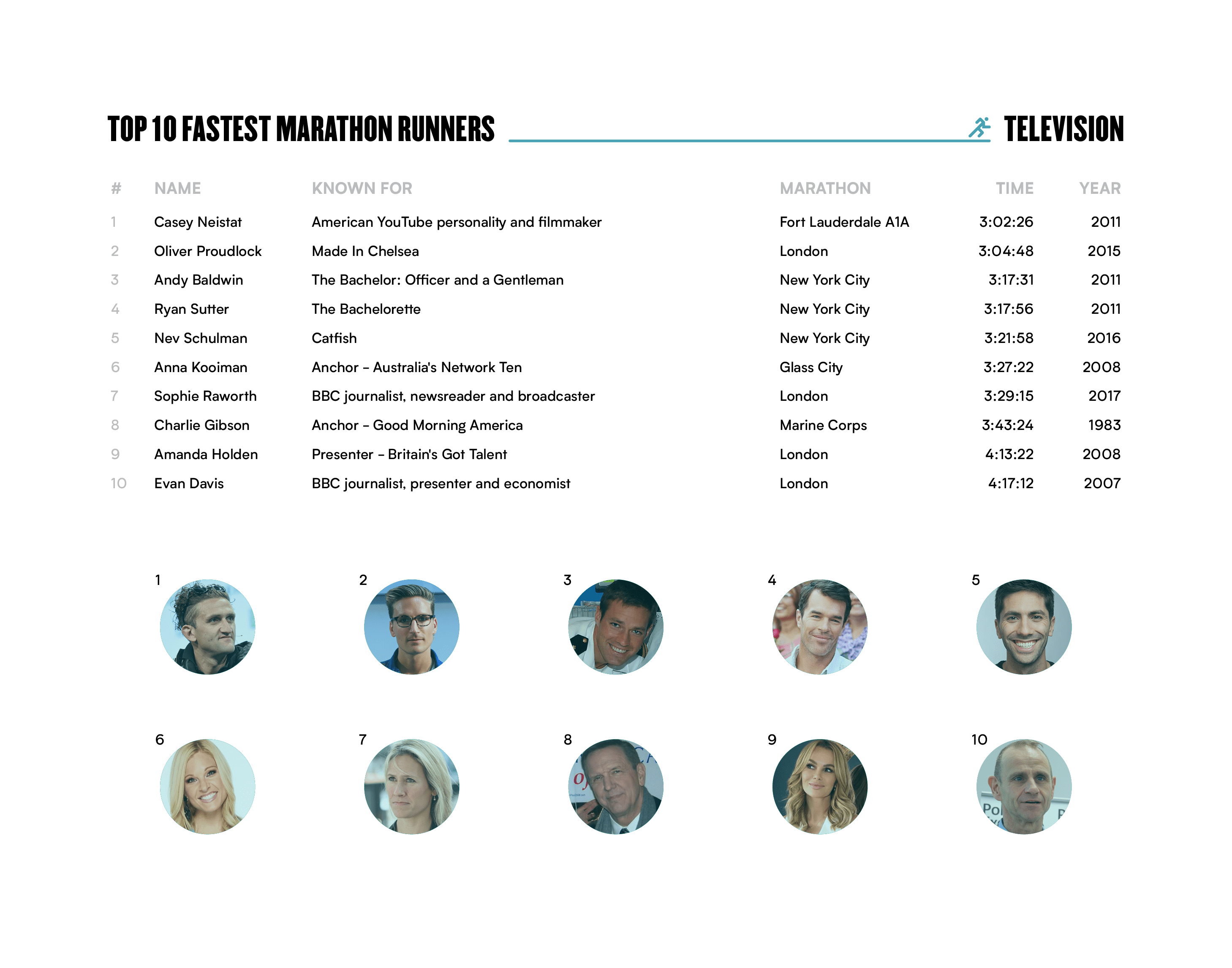 Who knew reality TV shows The Bachelorette and The Bachelor were hiding marathon superstars?
Top of the slower times list for TV celebrities is NBC's weather anchor, Al Roker, with a time of 7 hours and 9 minutes. Carole Radziill, from The Real Housewives of New York City, comes in second place with a time of 6 hours and 42 minutes.
The slowest celebrity marathon runners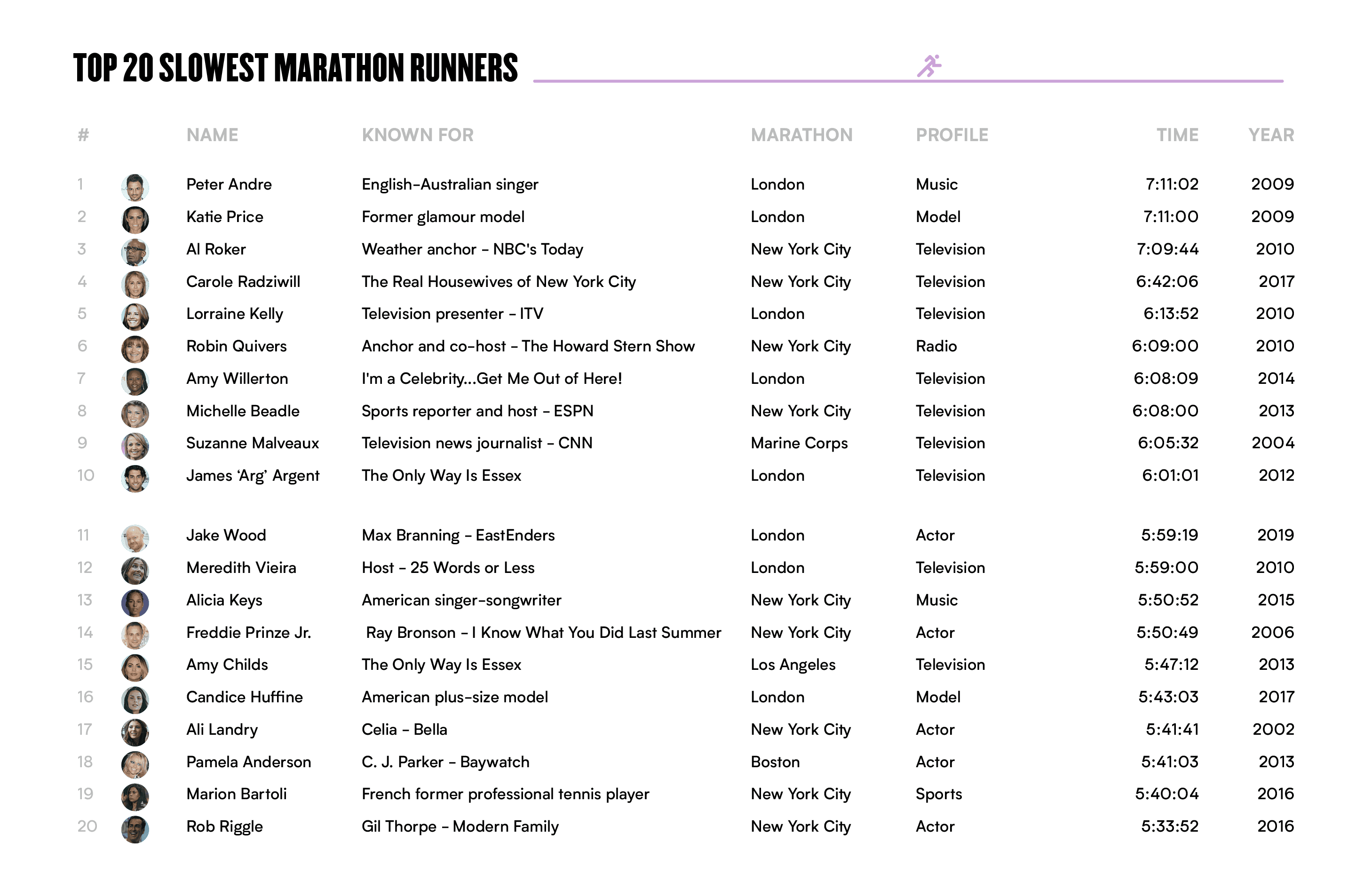 Those from the entertainment world had the slowest marathon times of all the professions covered in our research. Ex-couple Peter Andre and Katie Price top the list, both taking 7 hours and 11 minutes to complete the London Marathon in 2009.
Television stars had the lowest average time overall, with the likes of Lorraine Kelly, Pamela Anderson, and TOWIE stars James 'Arg' Argent and Amy Childs also making the Top 20 list of slowest marathon runners. In fact, 45% of the slowest times were from those who have made a career on the small screen.
Running a marathon is no easy feat so we salute everyone for completing one, no matter whether they came last or first. But if you need some tips or tricks for training for the big day, we've got you covered.
How to train for a marathon
Our in-house personal trainer, Chris Appleton, has shared expert tips for how to prepare for a marathon and become an endurance runner.
How long should you train for a marathon?
Usually, marathon training programs range from 12 to 20 weeks. If you're a beginner, in the 4 months leading up to race day, build up to 50 miles a week. 3-5 runs a week would work well, and take them at a relaxed pace.
How to train for a half marathon for beginners
Start off by building your motivation. Whether this is by dedicating it to a cause or to someone, it will give you a goal to complete and be proud of.
Set yourself a target time. This may change as you build up during your training but keep it manageable and realistic yet challenging.
Start off slow and manageable and build up through the speed and distance.
How to run a faster marathon
Professional runners and nutritionists will be perfect to gain any advice off in order to improve your preparation. Your preparation includes your training, nutrition and recovery. This needs to be set out and followed perfectly in order to improve your performance during your race. Your nutrition takes priority, if this is not being adhered to, you're undoing all your good work.
How to walk a marathon
Start by hitting a 20 mile a week target and add 10% each week.  This should include blocks of 4 miles and 1 long endurance walk. Aim for 4 walks a week ideally. This can be adjusted depending on your lifestyle and time, but you need to keep the same focus.
How to pick a good pace for a marathon
One method that can be used is, run one mile as fast as you can. Then to predict your marathon time, take your mile time, in seconds, and multiply by 1.3. The result is your marathon pace per mile.
What should I eat and drink before a marathon?
Get your carbs in before you run, this is a must! Schedule your meal in 2-4 hours before you run and keep fats restricted.  Aim for around 1 gram of fats for every pound of bodyweight.
What should I eat and drink during the marathon?
Keep your intake during the race relevant but minimal. You don't want to be over consuming food or drink while you're running and have it weigh you down and move about in your stomach. Small intakes of fluid throughout can reduce this and any effects of stitches. Take it in sips rather than gulping it down.
How to get into the right headspace prior to a marathon
There can be a number of mental preparation methods to get you in the right mindset:
Prepare your own playlist of songs that help you focus
Try splitting the race up into smaller more manageable blocks
Always anticipate obstacles
Keep a mental image of you finishing the race
Run your own race and do not worry about others
Is there anything you should give up if you want to run a marathon?
Try and quit any bad habits you have beforehand. This can include late nights and too much time on your phone before bed for example. You need to allow your body and mind to rest and this, along with your nutrition, is vital.
Talking of nutrition, cut out the bad foods. Your nutrition needs to be on point for optimal preparation but, once you have completed the race, you're allowed your favorite foods as a reward.
What's the one thing you should never do during a marathon?
Avoid fluctuation on your speeds too much. Keep it steady as you will need the energy to get a strong finish. Another thing to avoid is stopping still, this is likely to dip motivation and allow the body to start slowing down and getting stiff.
Methodology
We recorded the finish times of over 300 celebrities who have completed a marathon since 1950, from various sources including: Celeb Marathon Times, Wiki and Lets Run. Professional runners were excluded from our study. These were sorted into the following categories: Actor, Music, Television, Model, Radio, Politics, Royals, Sports, Literature and Science. Where a celebrity has completed more than one marathon we only counted their fastest time.