This week Eddie Hall reminded us exactly why he was given the nickname 'The Beast', reminiscing in an Instagram post about the time when he chest pressed 200kg for seven reps. 
Yep, that's right. His spotters loaded a 100kg dumbbell into each hand and Eddie went ahead and did a totally casual incline chest press. However according to Eddie this was light work — as he only managed seven reps, it "must've been a de-load week." 
Although we're not exactly sure of the date of this video, we can reasonably guess it was around the time of Eddie's Strongman training (when he was eating an incredible 12,000 calories a day). Now we can understand a little better how he was able to lift those weights. 
Eddie vs Thor
Now a much leaner Eddie is prepping for his first fight as he makes his boxing debut against Hafþór Björnsson, AKA Thor, in what's been dubbed as 'the heaviest fight in history' . In case you aren't up to date, catch up in the article below. 
To sum up where the fight between these two heavyweights stands, Eddie has offered a charity wager to Thor — if Eddie wins, Thor has to donate $200,000 to a charity of Eddie's choice, but if Thor wins, Eddie will donate £1,000,000 to a charity of Thor's choice. It took some time, but Thor did eventually accept the wager. 
The date for the fight isn't confirmed yet but we could be looking at March 2022 to see these two go head-to-head.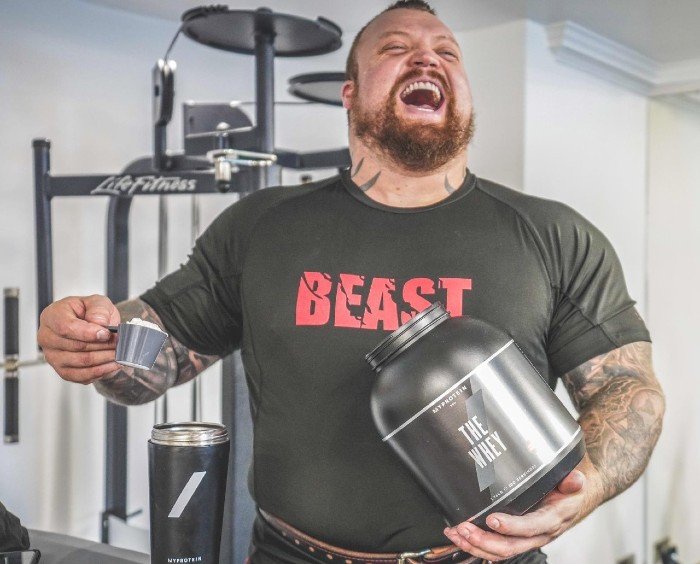 Take home message
It's no secret that Eddie Hall is a beast, but if you were in any doubt, this video is a good reminder. We can't wait to see Eddie make his debut as a boxer, and we'll be fueling him all the way with his very own Pre-Workout and All-In-One protein.