Myprotein ambassador @dr.brittani is giving us the leg day workout we all need. In her regimen, Brittani incorporates 5 Time Under Tension (TUT) exercises to work her quads and hamstrings.
TUT refers to the amount of time your muscles are under strain. And according to Brittani, focusing on TUT exercises is one way to build muscle and lose fat. Here are 5 TUT moves that will be sure to make you feel the burn.
Perform 4 sets of each exercise, taking a 60 second rest between each set and a 2 minute rest between each exercise.
1. Split Hex Bar Squats
Sets: 4
Reps: 15 (on each side)
Practice a slow movement going down, pause, and then another slow movement going up
Stay on your toes when performing this exercise
2. Pausating Split Squat Hex Bar With Forward Toe Lift
Sets: 4
Reps: 10 (on each side)
3. Squats
Sets: 4
Reps: 10
Squat down, pause for 5 seconds, and practice a slow return up
4. Romanian Deadlift (RDL)
Sets: 4
Reps: 12
Use resistance bands and dumbbells for double resistance
Lift your weights, after going back down pause for 3-5 seconds, then slowly return up
5. Seated Leg Curls
Sets: 4
Reps: 12
Follow a 10 second count when curling legs
Take Home Message
If you want to work your muscles the slow and steady way, try incorporating these TUT exercises into your next workout split. You may have trouble walking away afterwards, but your legs will be thanking you.
Enjoy this article?
FIND MORE HERE: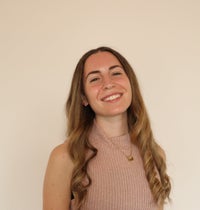 A Rutgers University Honors graduate, Jamie grew up on the Jersey shore and double majored in Comparative Literature and Anthropology in college. Jamie is an experienced writer in the health and wellness, biotech, and eCommerce fields. She loves writing with a purpose and has even written for the Department of Justice.
Jamie became drawn to exercise during her time in university and began to notice the physical and mental benefits of moving your body daily. Today, Jamie enjoys Pilates, light weight training, and going on long walks in nature daily.
Jamie is also passionate about eating right and prioritizing gut health and immunity. She is always trying the next innovation in health and wellness. When she's not writing articles, Jamie enjoys reading, playing guitar, and finding dogs to play with.