With summer upon us, it's a great time to change things up and start getting some of your physical activity outdoors. One way many get their exercise in when the weather's warm is through running. Running is one of those resolutions that doesn't always make the cut. But if you can find the time, there are many reasons why running regularly is well worth the effort. Let's check out why running is such a celebrated activity, its many benefits, and upcoming marathons you can take part in this summer to join the fun.
Benefits of Running
Running is one of the most popular activities globally, with almost 60 million people in the US participating in running, jogging, or trail running in 2017. There are many reasons why people love to run:
1. Anyone Can Do It
For starters, the activity is easily accessible to everyone. Running doesn't require any equipment and is completely free. And while many enjoy running on trails, you can really run anywhere you like, whether it's in a park, on the streets, or the sidewalk. Running also does not require advanced skills as it's a basic movement. So, anyone can try running and as long as you practice, you'll keep getting better.
2. Health Benefits
Another pro of running is that it's a great form of cardiovascular and aerobic exercise with many benefits to the body. You're probably already familiar with merits of the popular activity like boosting energy, improving endurance, and burning calories. But there are some impressive health benefits of running you might not be aware of. One study showed that even leisurely running for 5-10 minutes a day and at slow speeds significantly reduces the risk of mortality (death) from all causes and the chance of developing cardiovascular disease.
Additionally, we know that exercise is beneficial for the brain and not just the body. According to the research, running is no exception. Running has been shown to help counteract the negative effects that chronic stress has on the brain, specifically the hippocampus, the part of the brain responsible for learning and memory. Basically, running can help protect your memory. Pretty cool, right?
Running also increases bone mineral density and thus can help prevent osteoporosis (when bones become weak and brittle with age).
Along with these specific benefits, running is known to make you feel good overall and release your stress, known as the "runner's high". This makes it a great activity to try for both physical and mental well-being.
"I can't wait for a good 90-degree day to run in! There's nothing like the feeling when you finish... tired, hot, and sweaty, but knowing you just did something really good for yourself!"- 55-64 female; Myprotein user
3. Versatility
Another positive of running is that it's versatile; it can be both an indoor and outdoor activity. Some prefer running on the treadmill at the gym, while others prefer going outdoors. Whichever your preference, you can always find a place to run. In the summer, it is especially nice to run outdoors and take advantage of the warm weather. But many continue to run outside year-round. In large parks like Central Park in New York, you'll find runners enjoying their exercise through all the seasons.
4. Social Interactions
A final benefit of running is that it can be a very social activity. Many use running as a time to catch up with friends or join a group and meet new people. You can find running groups or clubs in almost any city, and joining is a great way to interact with people while you exercise and feel a sense of community. Just like training with a partner, the social aspect of running makes it easier to motivate yourself to go and get your workout in.
Marathons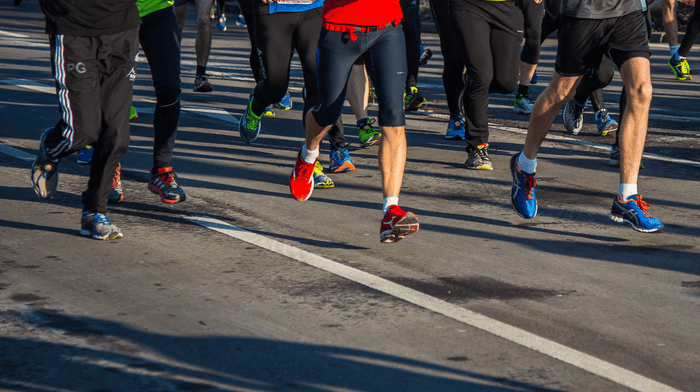 While some run for exercise, some for mental health, and others just for fun, many use their running skills to complete marathons. Marathons are races that involve running long distances, specifically 26 miles, and are an excellent way to challenge yourself physically and mentally. Marathons will test your strength and skill, but especially your endurance. Marathons require training, often for months in advance, and are no simple feat. But for many, they provide a great way to push your physical limits, gain a sense of accomplishment, and be a part of a collective.
The world's biggest marathon is the New York City Marathon, which takes place once a year on the first Sunday of November. The New York City Marathon is a full marathon, totaling 26.2 miles. But if you want to start off easy, you can try the New York City Half Marathon, which is half the distance.
See upcoming marathons and half marathons near you here.
"I've been running casually for three years but have yet to run a marathon, so my plans are leaning in that direction this summer!"- 18-24 male; Myprotein user
Take Home Message
If you're looking for a new activity to try this summer, running might be the one. With tons of health benefits and variety, running can be considered a one-size-fits-all sport that anyone can take up. Try incorporating some running into your routine and reach your goals this summer. You got this.
Enjoy this article?
READ THESE NEXT: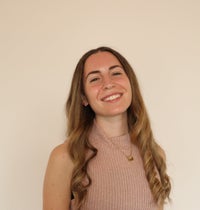 A Rutgers University Honors graduate, Jamie grew up on the Jersey shore and double majored in Comparative Literature and Anthropology in college. Jamie is an experienced writer in the health and wellness, biotech, and eCommerce fields. She loves writing with a purpose and has even written for the Department of Justice.
Jamie became drawn to exercise during her time in university and began to notice the physical and mental benefits of moving your body daily. Today, Jamie enjoys Pilates, light weight training, and going on long walks in nature daily.
Jamie is also passionate about eating right and prioritizing gut health and immunity. She is always trying the next innovation in health and wellness. When she's not writing articles, Jamie enjoys reading, playing guitar, and finding dogs to play with.