With multiple streaming platforms now offering an infinite amount of content, deciding on a movie to watch can be a daunting task. However, there's one recurring theme you can definitely count on for a satisfying watch, and that's sports.
Usually centered around a sport, athlete or sporting event, sports movies can be the ultimate tale of grit, hard work and self-belief. But which are the US' favorite sports movies of all time?
Using Google Trends data, we crunched the numbers to discover the most popular sports movie in every state.
The Most Popular Sports Movie in Every U.S. State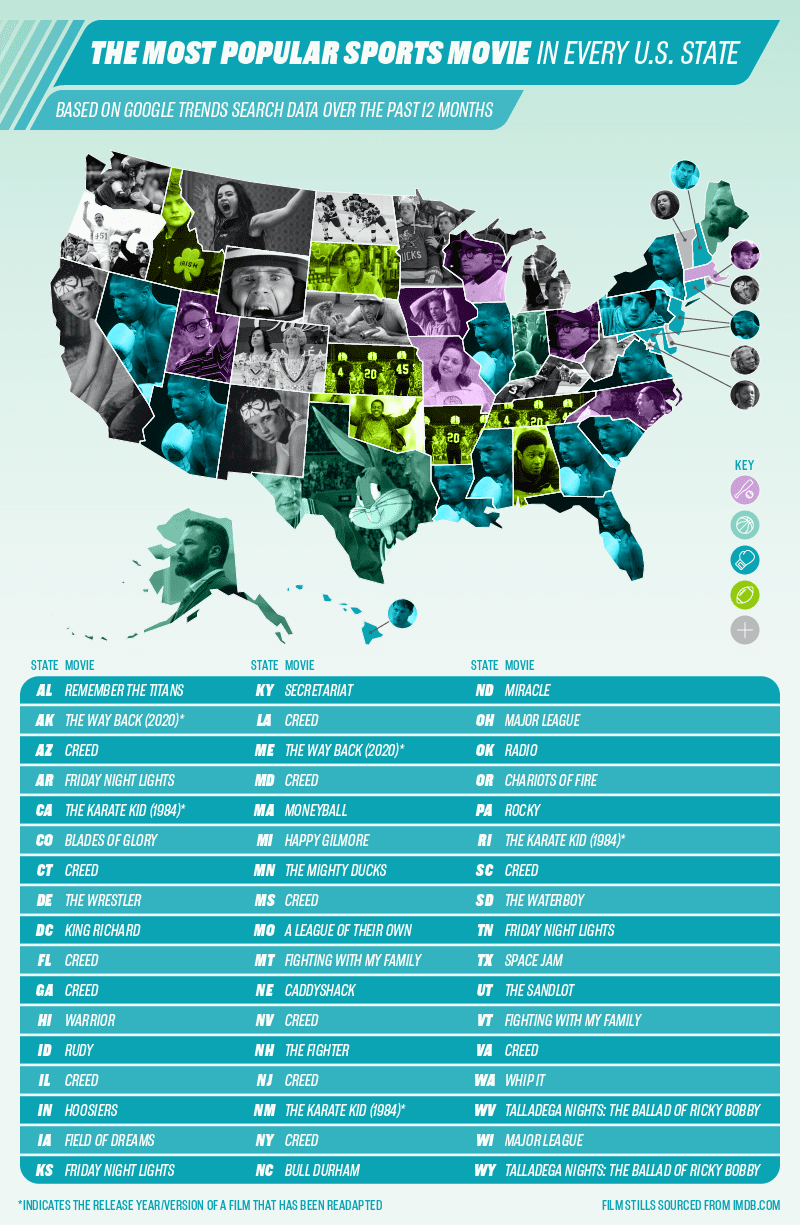 They say America is considered the melting pot, and it turns out so are its movie choices. There are 31 different movies that came up in the most popular sports movies across America. You might recognize some of the more well-known movie classics such as Remember the Titans, Creed, The Karate Kid, Space Jam, Talladega Nights: The Ballad of Ricky Bobby, and The Mighty Ducks. A few are a little less well-known but still worth watching if you haven't already, such as Bull Durham, Caddyshack, Chariots of Fire, and Major League.
Some notable states to mention are Kentucky and Pennsylvania. Kentucky's most popular sports movie is Secretariat. It's no surprise a movie about one of the greatest racehorses of all time takes the top spot in a state with the world's most famous horse race, the Kentucky Derby. Pennsylvania's most popular sports movie is Rocky, where the movie is based and filming primarily took place in Philadelphia. The famous Rocky Steps are now a landmark around the city.
The Most Popular Sports Movie Overall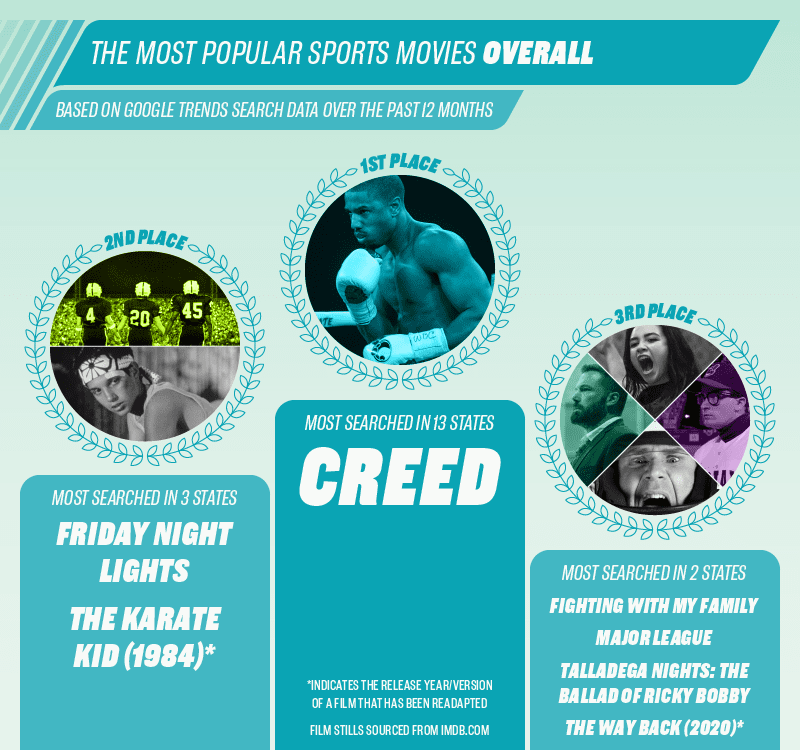 Creed takes the top spot for most searched sports movie overall with 13 states. Boasting a 95% rating on Rotten Tomatoes, starring Michael B. Jordan, and making over $173 million at the box office, it's clear this movie was widely loved by many.
Friday Night Lights and The Karate Kid tied for the second spot, each being the most searched in three states. Both movies, while older, still show that classics are classic for a reason.
Fighting With My Family, Major League, Talladega Nights: The Ballad of Ricky Bobby, and The Way Back all tied with two states each.
Take Home Message
Whether it's a classic movie or a recent box office hit, one thing is for sure: sports movies are widely loved across America. The inspiring tales of teamwork and courage translate to our own lives through ourselves or our children in sports. Sports are a fun method for improving physical health, and we have everything you need to keep up with that all-star lifestyle from vitamins supplements to healthy snacks on the go.
Methodology
We identified 52 of the most popular sports movies of all time and utilized Google Trends search volume over the past year to determine a clear winner in each state. The list of popular sports movies were pulled from lists from Vulture, IMDb, and The Vore.