This easy-to-follow recipe from Niall Kirkland is a guaranteed win for weekday dinners.
---
Talk about comfort food, these amazing chili-stuffed potato cakes are perfect for a meal that will leave you feeling warm and satisfied. Oozing with juicy chili and melted cheese, they're really something special.
Makes 6
Ingredients
800g white potatoes (peeled and boiled)
2 tbsp. butter
Salt & pepper
Handful parsley (chopped)
6 spring onions (chopped)
1 tsp. chili flakes
60g cornflour
80g whole-wheat flour
60g low-fat cheddar (grated)
250g chilli con carne
1 tbsp. MCT oil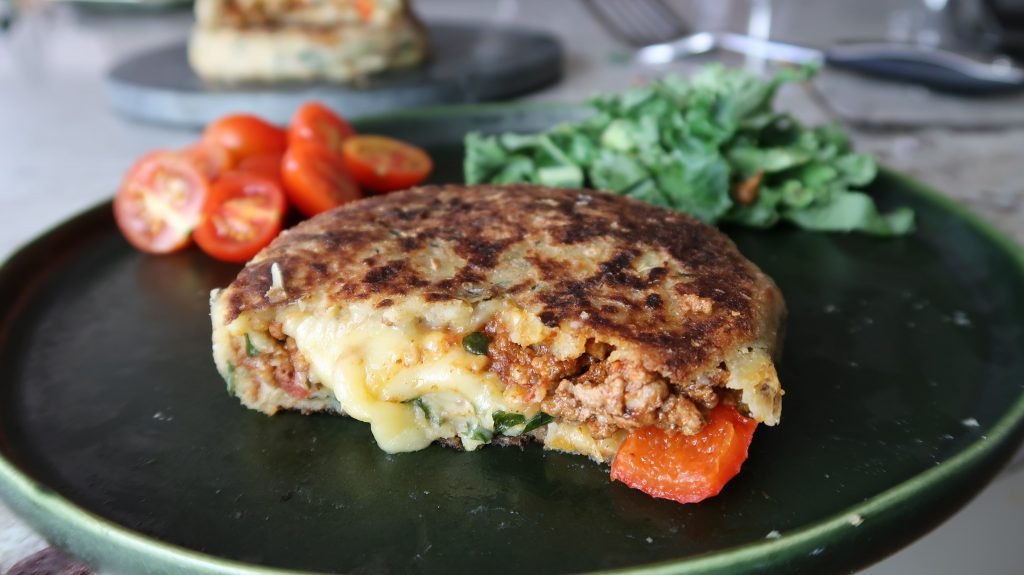 Method
Preheat oven to 400°F.
In a large saucepan or bowl mash your boiled potatoes, adding the butter along with salt and pepper to season.
Now, add the parsley, spring onions, chili flakes, cornflour, whole-wheat flour and mix in well.
Once the mixture is a smooth consistency, build your potato cakes by dividing into 6 equal balls. Before flattening each ball, take a little of the mixture from each one to use for the top of the potato cake.
Now add your chili con carne to the flattened potato cake base and sprinkle with cheese, before covering the top with bit of potato mixture you kept aside.
Reshape your cakes into patties if you need to, making sure they are sealed well.
Then, heat your coconut oil in a large frying pan and add the cakes to the pan. Fry each one for a 5-7 minutes on each side, until golden brown.
Next, place the cakes on a baking tray and bake in the oven for 20-25 minutes. Enjoy!
Tip: Your potato cakes will keep in the fridge for 3-4 days.