At Myprotein, we're constantly thinking of innovative ways to change the game. Our newest innovation does just that.
Coming this July, we're bringing you Whey Forward – a whey protein that's Animal-Free and Power-Full.
That's right – no plant sources, just whey protein without the cow. Watch the video below to learn more about Whey Forward and how its made.
Now, you might be asking yourself how we've created an animal free, dairy identical whey protein product that doesn't get it's protein from cow's milk. It's all thanks to our partnership with Perfect Day.
Perfect Day uses a a fermentation process that's a lot like how beer, yogurt, and even kombucha are made.
Here's how it goes…

Now that you've got clarity on how it's made, here's further reason to make the progressive choice in Whey Forward.
High Performance Protein
Whey Forward is designed to power high performance. It isn't made like traditional whey protein, and it fuels workouts even better. Each serving contains 20g of protein, 4.7g BCAAs and 0g of sugar. 
Fermented, Not Farmed
Whey Forward is made using Perfect Day's four-step process that uses fermentation, not cows. During this process, organisms called microflora convert plant sugars into a nature-identical milk protein.
Fermentation is an ancient technique used to make sourdough bread, beer, wine, kombucha, kefir and many other types of food and drink.  
Fewer Emissions & Less Water
Whey Forward is made using Perfect Day's protein. This is better for the planet as it cuts the greenhouse gases emitted by livestock and water used during the production of conventional whey.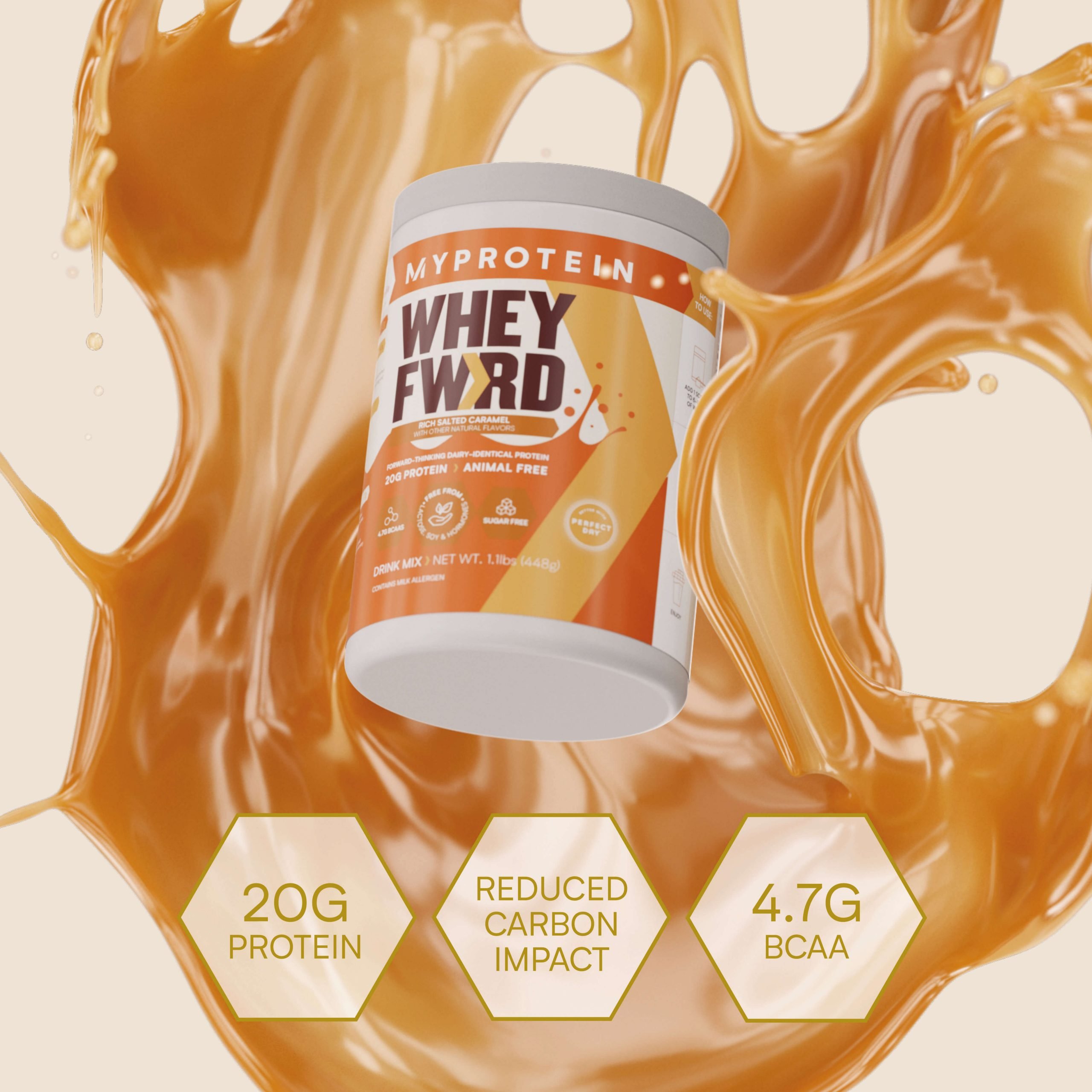 No Compromises
You take athletic performance in and out of the gym seriously. But, you also want to do your part in getting your protein from more sustainable sources.
However, plant proteins often don't have the amino acid profile you're looking for and taste a little…well, grainy.
Whey Forward makes no compromises. It has a superior protein and amino acid profile perfect for fueling your toughest gym sessions and comes in 3 delicious flavors – Rich Salted Caramel, Decadent Chocolate Brownie, and Creamy Mint Chocolate Chip.
Take Home Message
Whey Forward is the future of whey protein technology.
By partnering with Perfect Day, we've created a whey protein that ensures you get the most out of performance and do your part to choose products with reduced carbon impact, without compromising on taste.