Crispy chicken burgers with sticky sweet chili… who could say no to such a classic combo?
Now, thanks to this super-simple recipe from @niallkirkland you can make your own irresistible stack in virtually no time at all. It's a great go-to for weekday dinners when you need something juicy to bite into at the end of a long day.
Plus, by using our innovative Sugar-Free Sauce, you don't have to worry about how much sweet chili goodness you slather over burgers — as well as being sugar-free, it's low in fat and has just 5 calories per serving. As if you needed telling twice to squeeze generously.
Makes 3
Ingredients
For the crispy chicken burger:
3 chicken breast
30ml Sugar-Free Sauce (Sweet Chili)
50g plain flour
50g breadcrumbs
1 egg (beaten)
1 tbsp. olive oil
For the toppings:
2 tbsp. light mayo
3 tbsp. Sugar-Free Sauce (Sweet Chili)
½ cucumber (peeled into ribbons)
½ carrot (grated)
3 sesame seed buns
2 tomatoes (sliced)
Handful mixed leaf salad
Method
Firstly, cover your chicken breasts with parchment paper and flatten them with a rolling pin or mallet.
Then, transfer them to a mixing bowl, add the sweet chili Sugar-Free Sauce and mix well.
If you have time, leave the chicken breasts to marinate for an hour, but if not, then go straight to coating them.
Coat each breast in plain flour, then dip it in the egg wash, and then your breadcrumbs — make sure the whole surface of the chicken breast is covered in breadcrumbs.
Now, heat the olive oil in a large frying pan and add your coated chicken.
Fry each chicken breast for 5-6 mins before flipping, then fry for another 6-10 mins, making sure the chicken is cooked through before removing.
Prepare your sweet chili mayo by combining the light mayo and Sugar-Free Sauce and mixing together.
Prepare your garnishes by peeling your cucumber into ribbons and grating the carrot.
Build your burger! Start with sweet chili mayo on the bottom bun, then the carrot and cucumber, chicken burger and a little more Sugar-Free Sauce to top it all off.
Enjoy this recipe? Check out these next: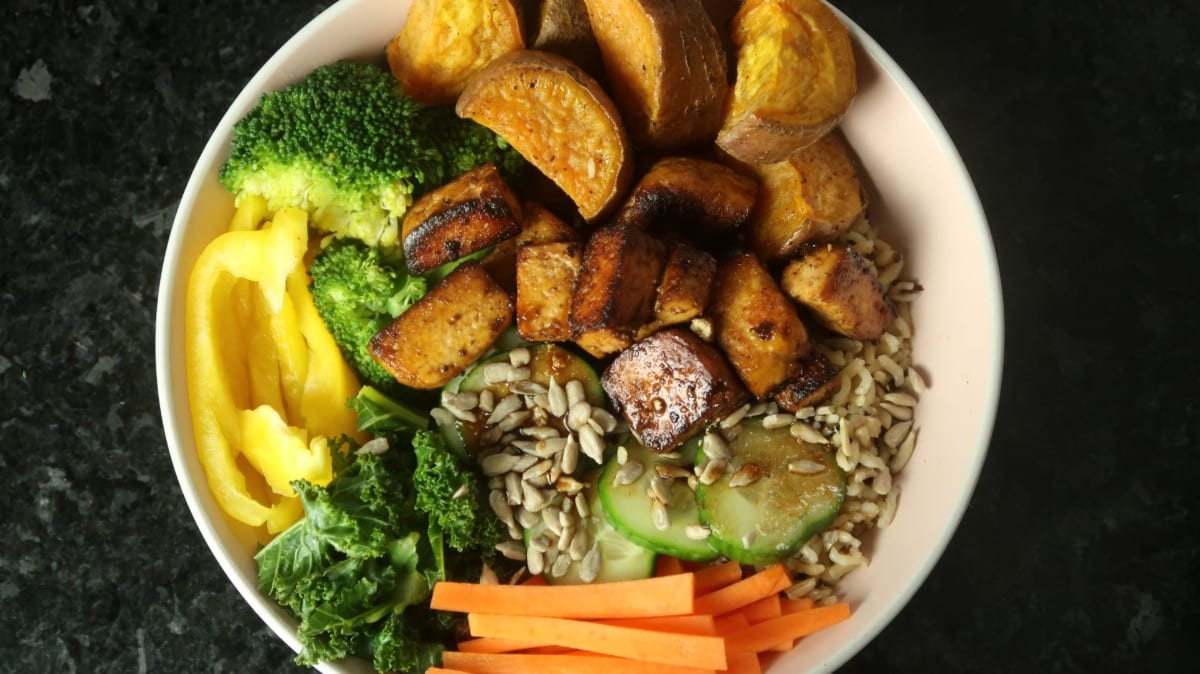 A super-easy way to get a generous helping of greens and grains into your diet.
Crispy Sweet Chilli Chicken Burgers
Nutritional Facts
Amount per serving
| | | |
| --- | --- | --- |
| Calories | 497kcal | 117 Calories from Fat |
| | | |
| --- | --- | --- |
| | | % Daily Value * |
| Total Fat | 13g | 20% |
| Total Carbohydrates | 51g | 17% |
| Protein | 42g | 84% |