Our Nutrition Bestsellers
Myprotein's bestselling nutrition products are like the secret ingredients in the recipe for success in the world of health and fitness. From the pure and potent Whey Protein Isolate, perfect for muscle recovery and growth, to the energy-boosting Creatine Monohydrate, these products are the fitness enthusiast's trusted companions. With Myprotein, you're not just buying supplements; you're investing in your fitness journey. Their commitment to quality, innovation, and an unwavering passion for helping individuals achieve their goals make these products a must-have for anyone serious about their health and well-being. Whether you're looking to sculpt a chiseled physique or simply striving for better overall health, Myprotein's bestselling nutrition products are the secret sauce that adds flavor and vitality to your fitness endeavors.
Our New Products
Myprotein has unveiled a fitness revolution with their exhilarating array of new products, a symphony of innovation for every workout enthusiast. Picture this: a protein-packed paradise where taste and performance collide in a whirlwind of sensational flavors. Their latest protein bars are a tantalizing treat for your taste buds, promising a burst of energy and muscle-nourishing goodness with every bite. And let's not forget about the sleek, newly formulated protein powder that effortlessly blends into a smooth, creamy concoction, delivering a protein punch that'll leave you feeling invincible in the gym. Dive into the future of fitness with Myprotein's cutting-edge supplements, designed to transform your workouts into epic adventures of strength, stamina, and sheer delight. Get ready to elevate your fitness journey and redefine your limits with these game-changing additions to the Myprotein family.
MP Women's Contrast Rib Seamless Sports Bra & Leggings
Women's aysmetric sports bra & leggings.
Elevate your workout with our Contrast Rib Seamless Sports Bra. Designed with contouring textures and ribbed seamless fabric for the ultimate blend of comfort and function. The removable moulded bra cups allow for customisable support. Stay cool and dry with sweat-wicking and quick-drying properties.
Designed with contouring textures and ribbed seamless fabric, these Rib Seamless leggings are training essential. Made with a supportive waistband to flatter your figure and offer a secure silhouette. Stay cool and dry during workouts with sweat-wicking and quick-drying properties.
Key benefits: Designed with contouring textures, Ribbed seamless fabric, Flattering high-waist fit, Supportive waistband, Sweat wicking & Quick drying.
Our Vitamins & Minerals Bestsellers
Embark on a wellness voyage with Myprotein's remarkable vitamin and mineral products, a treasure trove for those seeking vitality and balance. Imagine a world where your daily dose of essential nutrients comes in a delightful variety of forms, from chewable gummies bursting with fruity flavors to easy-to-swallow capsules that unlock a wellspring of vitality. Myprotein's new vitamin and mineral offerings are like the superheroes of the supplement world, swooping in to fill any nutritional gaps and bolster your immune system. Picture yourself feeling invincible, armed with the power of a well-nourished body and mind. With Myprotein's commitment to quality and potency, you're not just taking supplements—you're investing in a vibrant, healthier you. Get ready to embrace the day, equipped with the secret weapons of well-being from Myprotein
Our Bundles
Myprotein's bundles are the superhero teams of the fitness world, joining forces to maximize your gains and make you feel like a legend in the making. Imagine diving into a treasure trove of tailored combinations, each bundle a strategic alliance of supplements, snacks, and fitness gear, meticulously designed to fuel your progress and elevate your performance. It's like having a fitness mentor in a box, guiding you through your journey to greatness. Whether you're a seasoned pro or just embarking on your fitness odyssey, these bundles are your personalized arsenal, ensuring you have the power, energy, and style to conquer any challenge that stands in your way. With Myprotein's bundles, you're not just investing in products; you're investing in your own legacy of strength, endurance, and unmatched determination. Get ready to unleash your inner fitness champion with these power-packed, meticulously crafted bundles.
Whey Forward Iced Coffee
Animal-Free. Power-Full with added caffeine
Whey Forward Iced Coffee is our animal-free and environmentally friendly protein powder with an added caffeine kick.
It delivers the same nutritional benefits as Whey Forward but with coffee, caffeine, and Dynamine® - combining the best of animal-free whey protein and our unique coffee boost.
With 21g of protein, 150mg caffeine, 75mg Dynamine®, Sugar-free & Same taste and texture.
Whey Forward is completely animal-free, thanks to Perfect Day's four-step fermentation process. Tiny organisms called microflora are fed simple plant sugars, which they convert into dairy-identical protein.
With three rich, coffee shop-inspired flavors, Spiced Dirty Chai, Toasted Café Churro, and Roasted Chocolate coconut it delivers on indulgence.
Our Clothing Bestsellers
Step into the world of fitness fashion, where Myprotein's clothing bestsellers reign supreme, adorning the modern athlete with a blend of style and function. It's a catwalk of performance wear that doesn't just look the part—it walks the talk. Imagine slipping into leggings that hug you in all the right places, showcasing your hard-earned gains, or a moisture-wicking, breathable training top that feels like a second skin, pushing you to give that extra rep. Myprotein's clothing bestsellers aren't just garments; they're confidence boosters, affirmations of your dedication to the grind. Crafted with precision and designed for the bold, these bestsellers fuse fashion-forward aesthetics with technical prowess. From gym to street, Myprotein's clothing line celebrates your fitness journey in every stride, proving that fashion and fitness can indeed be the best of friends. Join the style revolution and redefine your workout wardrobe with these must-haves.
Our Accessories Bestsellers
Unveiling Myprotein's accessories bestsellers—a symphony of functionality and flair that turns every workout into a performance worth applauding. Picture a stage set with the finest accessories, each playing a crucial role in enhancing your fitness experience. From durable, stylish gym bags that carry your ambition to the gym, to futuristic shaker bottles blending your protein concoctions flawlessly, these accessories are the unsung heroes of the fitness world. And let's not forget the sleek, ergonomic gym gloves that protect your hands as you conquer the weights. Myprotein's accessories bestsellers aren't just tools; they're your entourage, ensuring you have the support and style needed to dominate any fitness arena. Embrace the spotlight and elevate your workout game with these essential accessories, setting the stage for your fitness success story.
MP Men's Leg Day Graphic Sweatshirt & T-Shirt.
Men's leg day graphic sweatshirt & t-shirt.
Wear your motivation and don't skip leg day. Crafted with soft-touch cotton, the graphic print to the back adds a distinctive touch to your wardrobe. Made to fit oversized, this sweatshirt is a no brainer when it comes to choosing the right pump cover.
Key benefits:, Don't skip leg day' graphic to back, Updated relaxed fit, Oversized makes the perfect pump cover & Cotton touch fabric.
Our Bars, Food & Snacks Bestsellers
Myprotein's Bars, Food & Snacks Bestsellers are the tantalizing trio that will have your taste buds doing a victory dance. Picture a snack sanctuary where flavors collide and nutrition thrives. Whether you're crushing your workout or simply battling that midday slump, these treats are your savory and sweet sidekicks, ready to fuel your journey. Imagine sinking your teeth into a protein-packed bar that's like a gourmet dessert, or savoring a guilt-free snack that's low in calories but sky-high in taste. These bestsellers aren't just food; they're a taste revolution, transforming mundane moments into delicious victories. Myprotein has conjured up a menu of delights that make staying on track with your goals a joyful experience. So, indulge in the flavors of success with Myprotein's Bars, Food & Snacks Bestsellers, and let every bite propel you toward your fitness aspirations.
Take-Home Message
In this gift guide, we've curated a selection of thoughtful and unique gift ideas for October. Whether you're celebrating a special occasion, showing appreciation, or simply spreading some seasonal joy, our carefully chosen gifts are sure to make your loved ones feel cherished. From cozy autumn-inspired bundles to fitness essentials, there's something for everyone.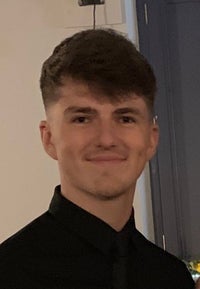 Josh has been involved in sports since a young age. Josh has a passion for football, playing for his local team from the age of 6 years old. He has recently used this passion to help motivate himself to create his own football club, specifically for him and his co-workers. Throughout the years he has developed an interest in boxing and MMA, which he loves to watch regularly.