You know what they say - couples who travel together grow stronger together. Life often gets busy. You may be able to schedule some quality time on weekends or off-days, but sometimes it's not enough. Carving a week to escape from work mode allows you to take a break from regular routines and spice it up.
One of the easiest ways to show someone you care is by spending time together—so why not go on a fitcation? A fitcation is a getaway that incorporates fitness, whether it's planning one physical activity or making the whole trip revolve around health.
Exercise makes you a happier person because of endorphins, so don't do it alone. We've rounded up the top 20 cities in the US for a fitcation, looking at various factors like the number of hiking trails, yoga studios, bike rental places, spas, gyms and more. We promise bottomless mimosas taste so much sweeter after a good workout, so read on to find out which city to break a sweat in first.
The 20 Best U.S. Cities for a "Fitcation"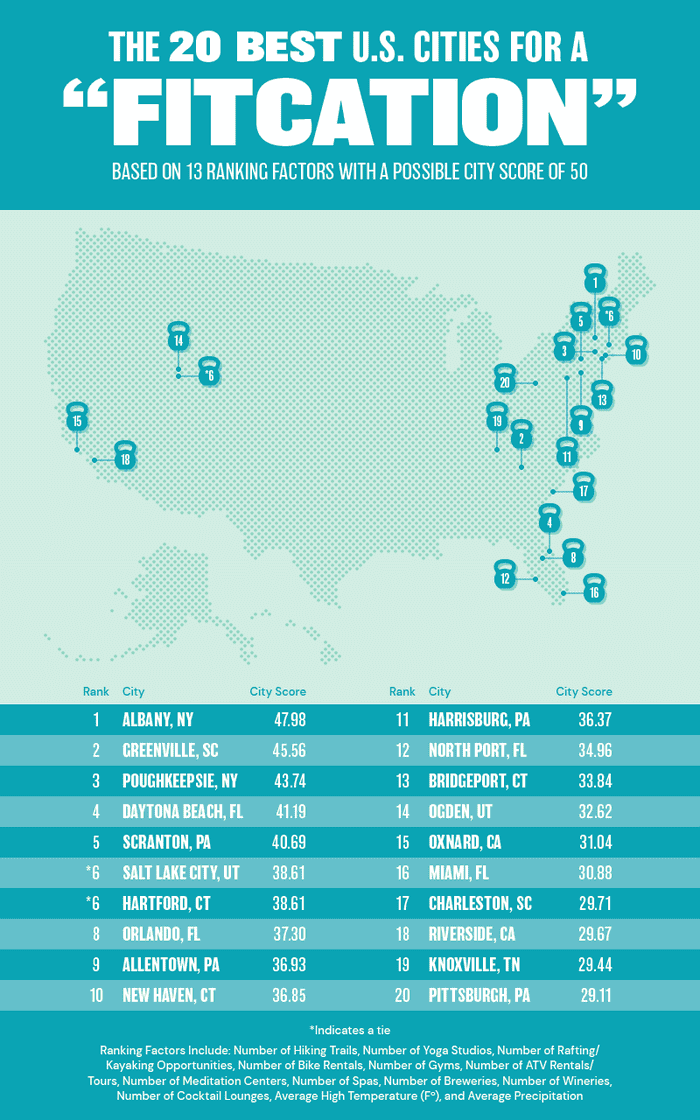 Fitcations with your partner offer the best of both worlds. Instead of getting in shape for your vacation, why not keep up with your healthy routines, or even start your fitness journey while on vacation? There's no reason you can't bring your good habits along!
Couples looking to stay fit on the road should visit these eight states: New York, South Carolina, Florida, Pennsylvania, Utah, Connecticut, California, and Tennessee. Each active city earned a score higher than 40 out of the possible 50-point score. Miami, Charleston, Riverside, Knoxville, and Pittsburgh also ranked high on our list with each state scoring above a 29.
Despite not being the state with the best fitcation city, the Sunshine State had the most cities on the list, including Daytona Beach, Orlando, North Port, and Miami.
The Top 5 "Fitcation" Getaway Spots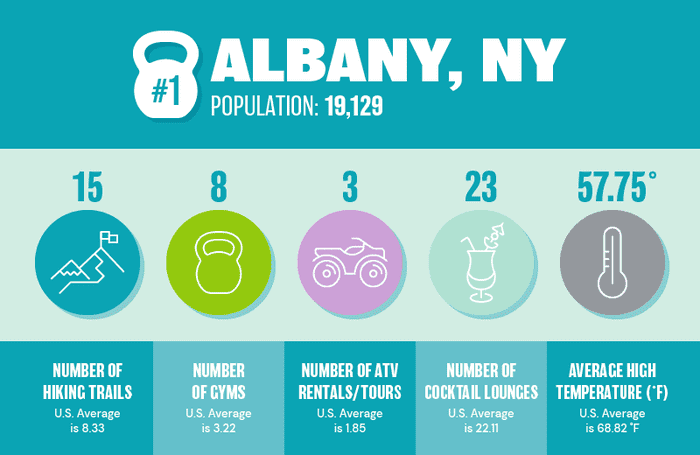 Start packing your bags; the first destination to explore is Albany, New York. Whether you bike ride downtown or kayak through the Hudson River, your trip will make for an unforgettable outdoor experience with plenty of trails to choose from (15). The state capital overflows with history, culture, and natural spaces, earning it the top spot for a fitcation.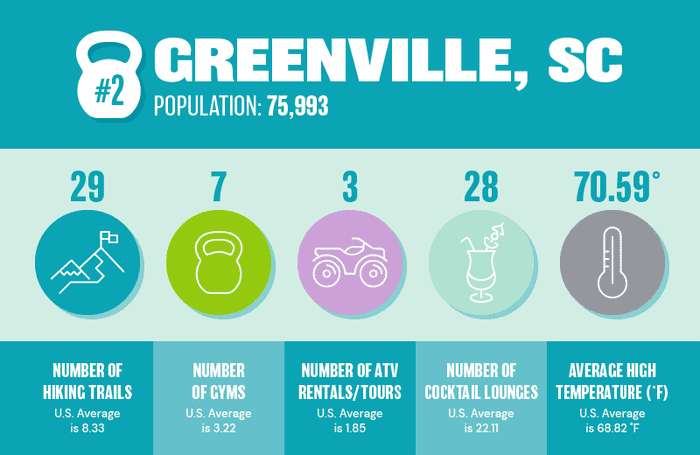 Next stop: Greenville, South Carolina. Set among the foothills of the Blue Ridge Mountains, Greenville is tucked perfectly between North Carolina and Georgia. The beautifully charming city is an outdoor adventure hub, with 29 scenic hiking trails fit for you and your partner to explore.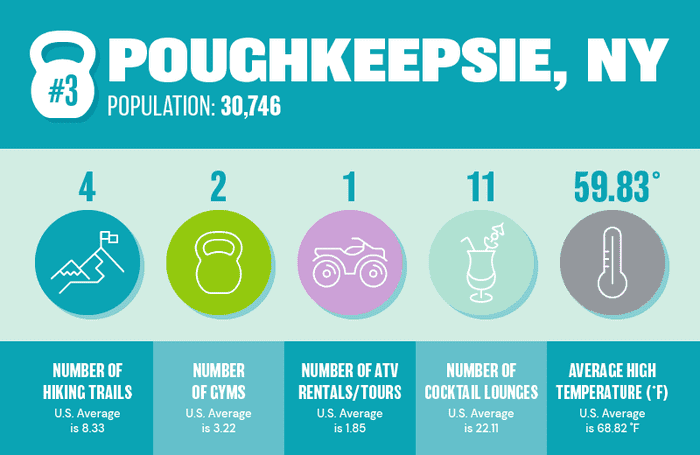 Poughkeepsie isn't just fun to say; it's fun to visit. Located in the Hudson River Valley, this city is a perfect spot to relax with your loved one in Upstate New York. "The Queen City of the Hudson" is the perfect vacation for a laidback explorer with four hiking trails.
The "F" in "Fitcation" stands for Florida. Daytona, the fourth rated city, has the most gyms, and with an average temperature of about 87 degrees, we see why. It's called the Sunshine State for a reason. Treat yourself to a chilling cocktail after you break a sweat in Daytona's heat, or one of its 23 gyms.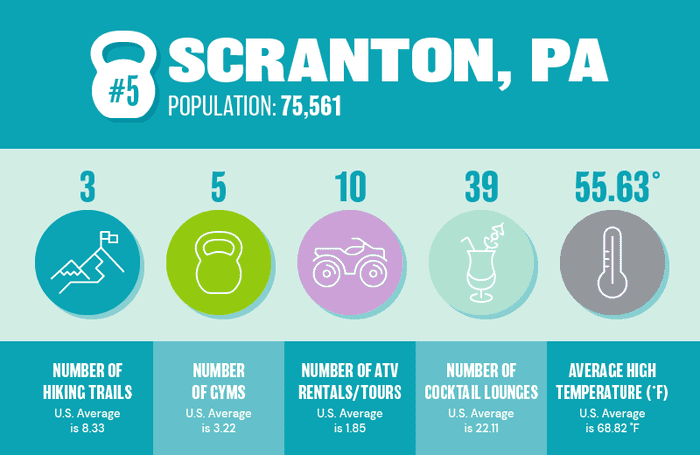 Blow off some steam in Scranton, Pennsylvania. You may not have thought so before, but riding an ATV is a great way to get some exercise. If you and your partner are looking for a less traditional activity, ATVing puts you in touch with nature differently. The Electric City offers the most ATV tours and rentals (10).
Take Home Message
There's a lot to get done in a day. It's easy to get carried away by life's busy schedule, so it's essential to prioritize quality time as a couple. Exercise is a form of intimacy. If you feel like you don't get enough time with your partner, a couples workout may be the perfect solution.
If you can't catch a fitcation flight soon, that's okay - you don't have to wait for a special occasion to get in your best shape. Start your workout journey with your partner at home, at the gym, or explore local trails. Find plenty of training tips and advice in The Zone to get you started, or check out our new environmentally friendly whey protein powder, Whey Forward, to ensure essential recovery and nutrition after your workouts.
Methodology
We compared 100 cities across the U.S., gathering data across the following criteria: number of hiking trails, yoga studios, rafting opportunities, bike rentals, gyms, ATV rentals, mediation centers, spas, breweries, wineries, cocktail lounges, and average weather temperature. Each of these ranking factors were weighted using the following metrics.
Fitness - (Worth 7.5)
Number of Hiking Trails Worth 1.0 Source: AllTrails
Number of Yoga Studios Worth 1.0 Source: Yellow Pages
Number of Rafting/Kayaking Opportunities Worth 1.0 Source: Yelp
Number of Bike Rentals Worth 1.0 Source: Yelp
Number of Gyms Worth 2.0 Source: Yellow Pages
Number of ATV Rentals/Tours Worth 1.0 Source: Yelp
Number of Meditation Centers Worth 0.5 Source: Yelp
Couple Getaway - (Worth 2.0)
Number of Spas Worth 0.5 Source: Yellow Pages
Number of Breweries Worth 0.5 Source: Yellow Pages
Number of Wineries Worth 0.5 Source: Yellow Pages
Number of Cocktail Lounges Worth 0.5 Source: Yellow Pages
Weather - (Worth 0.5)
Average High Temperature Worth 0.25 Source: U.S. Climate Data
Average Precipitation Worth 0.25 Source: U.S. Climate Data