Need something a bit different from another day of chicken & rice?
---
Mix up your meal prep with a Mediterranean classic — this spiced lamb is full of smoky, rich flavour and the bulgur wheat side is a boosted with fresh, crunchy cucumber and tangy feta.
Bulgur is a whole grain wheat, packed with fiber as well as a few vitamins and minerals, making it a great nutritious carb to get into your diet. This is the perfect recipe to enjoy on summer evenings with the extra portion kept aside for a lunch you'll look forward to all day.
Serves 2
Ingredients
1 tbsp. oil
1 red onion (sliced)
1 tbsp. ras el hanout
3 tbsp. tomato puree
250g lamb mince
Salt & pepper to taste
125ml boiling water
130g bulgur wheat
100g feta (cubed)
½ cucumber (sliced into chunks)
Fresh mint leaves to garnish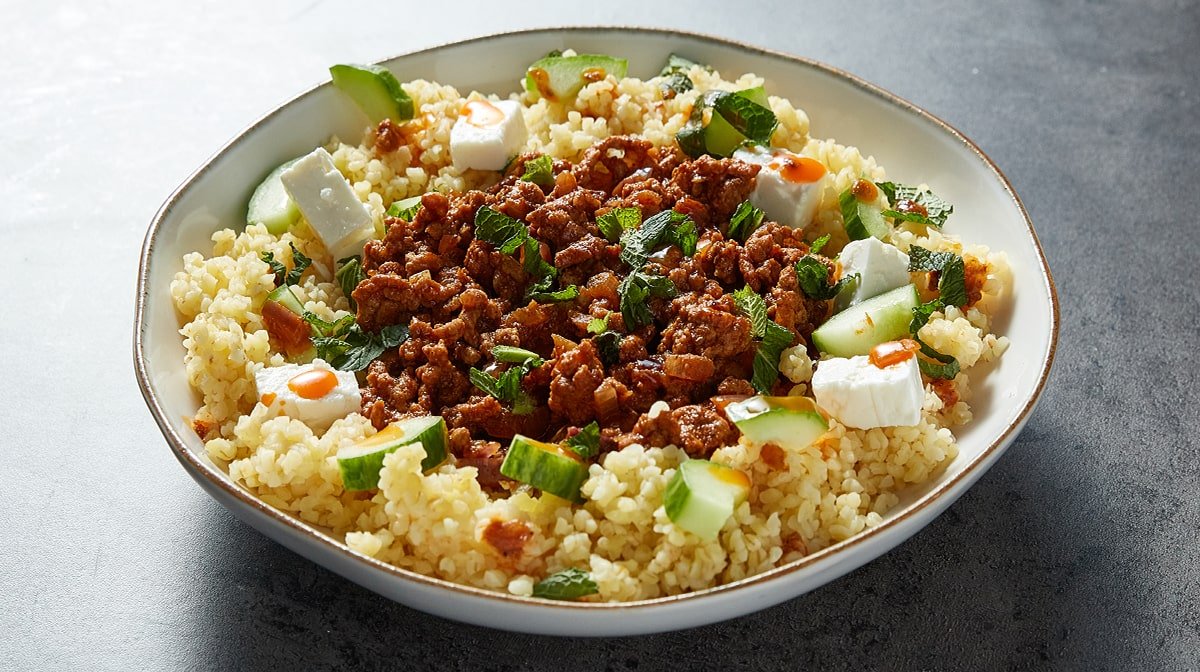 Method
1) First, heat the oil in a large frying pan and cook the onion for a few minutes until softened. Add the ras el hanout and tomato puree and stir until everything is evenly coated.
2) Now add the lamb mince and break up into pieces, stirring to combine with everything else. Season with salt & pepper to taste and let cook for 5-10 minutes or until no longer pink.
3) Add the boiling water and leave to simmer for a further 10 minutes so that the liquid reduces and the sauce thickens.
4) Meanwhile, add the bulgur wheat to a pan of boiling water and cook as per the pack instructions. Once cooked, fluff up with a fork and add the cubes of feta and cucumber, mixing through the bulgur.
5) Build a bed of feta bulgur on a plate and add a few spoonfuls of the lamb mixture on top. Garnish with a few fresh mint leaves and then serve up! Alternatively, portion up into meal prep containers and store in the fridge for up to 3 days.