Bounty lovers, it's time to come out of hiding.
---
These incredible chocolate-coated coconut squares of goodness are definitely worth trying, trust us. They're made by healthy recipe creator, Flo, using only natural ingredients and two of our best-selling products — Impact Whey Protein and our indulgent milk chocolate Protein Spread.
The result is a rich and gooey treat that provides an impressive 10g of protein per serving — talk about a tasty way to support your training goals (and satisfy your sweet-tooth).
Makes 9
Ingredients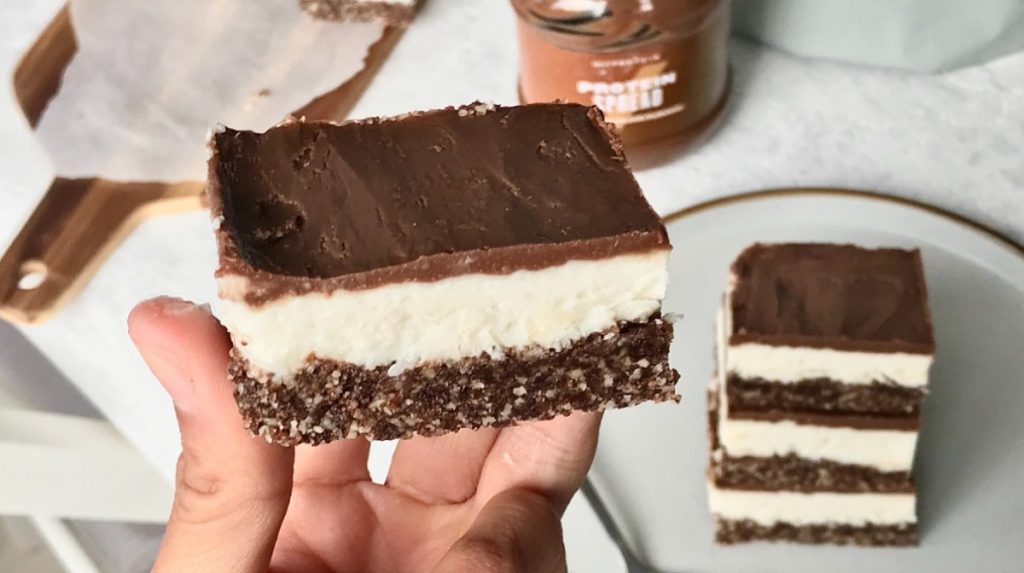 Method
1) Add the almonds, dates, cacao powder and milk to a food processor and blend until you get a well-combined mixture.
2) Then pour the mixture out into a small baking tin or Tupperware food container. Use the back spoon to create an even, flat layer. Set aside.
3) Next, in add the yoghurt, desiccated coconut and protein powder into a small bowl and mix together until fully combined.
4) Now pour the coconut yoghurt mixture on top of the base layer already in your baking tin or container. Use a spoon to smooth it evenly out and then freeze for 2 hours.
5) Once the 2 hours are up, prepare your final layer by melting the Protein Spread — you should do this gradually using a glass bowl over a pan of boiling water.
6) Pour the melted chocolate Protein Spread over the top of the frozen coconut yoghurt layer and smooth out so that it's evenly covered. Place in the freezer for 1 hour.
7) When ready to eat, remove from the freezer and cut into squares. Enjoy straight away and store any remaining squares in the fridge for up to 5 days.