That's right — the fan-favorite you know and love just got a serious upgrade with nostalgic, FRUCHEWY® flavors!
Introducing two new limited-edition MIKE AND IKE® flavors of Clear Whey Isolate – Screamin' Sour Cherry and Strawberry.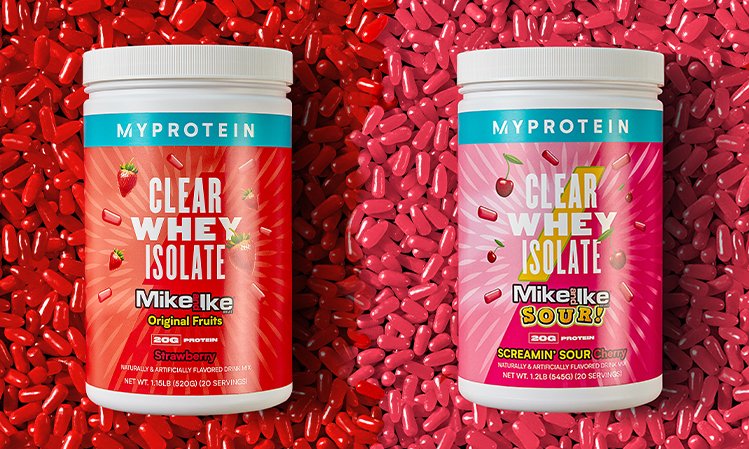 If you're like us, you grew up snacking on these tasty candy treats, at birthday parties, or at the movies — so we're beyond excited to deliver this news to you.
Now that you know why we're so enthusiastic, here's why MIKE AND IKE® has decided to partner with Myprotein:
"We're always looking for new ways to innovate our iconic and familiar flavors in a way that makes sense to our loyal fanbase."
Said Keith Domalewski, Director of Marketing and Consumer Engagement for Just Born Quality Confections.
"We're thrilled to be collaborating with Myprotein on this limited-edition whey isolate, and look forward to seeing how our fans enjoy this new offering!"
Partnering with MIKE AND IKE® provides the perfect blend of sweet and sour candy flavors as well as a healthy nutritional profile to fuel your workout routine, in a way that's downright delicious.
Packed with 20g of protein and 4g of BCAAs, MIKE AND IKE® Clear Whey Isolate helps you grow and maintain muscle mass with each scoop from its limited-edition protein tub.
With 0g sugar or fat, this protein powder doesn't have any milky taste or texture.
Instead, MIKE AND IKE® Clear Whey Isolate has been designed to taste more like a light and refreshing juice than a traditional protein shake, which tends to be thicker.
This makes MIKE AND IKE® Clear Whey Isolate the perfect alternative for those looking for a lighter protein drink.