Going to watch your favorite sports team play can be an unforgettable experience – depending on the result of course! But in the age of social media, if you didn't post about it, did it really happen?
It doesn't matter who you support, one thing that all fans have in common is a love of sharing pictures of themselves at the game. But which teams have the most snap happy fans?
We turned to Instagram to find out. Looking at every major stadium currently used by teams in the NBA, NHL, NFL, MLB, MLS and CFL, we analyzed millions of photos to see which locations are being tagged in the most posts.
These are America's most Instagrammable stadiums.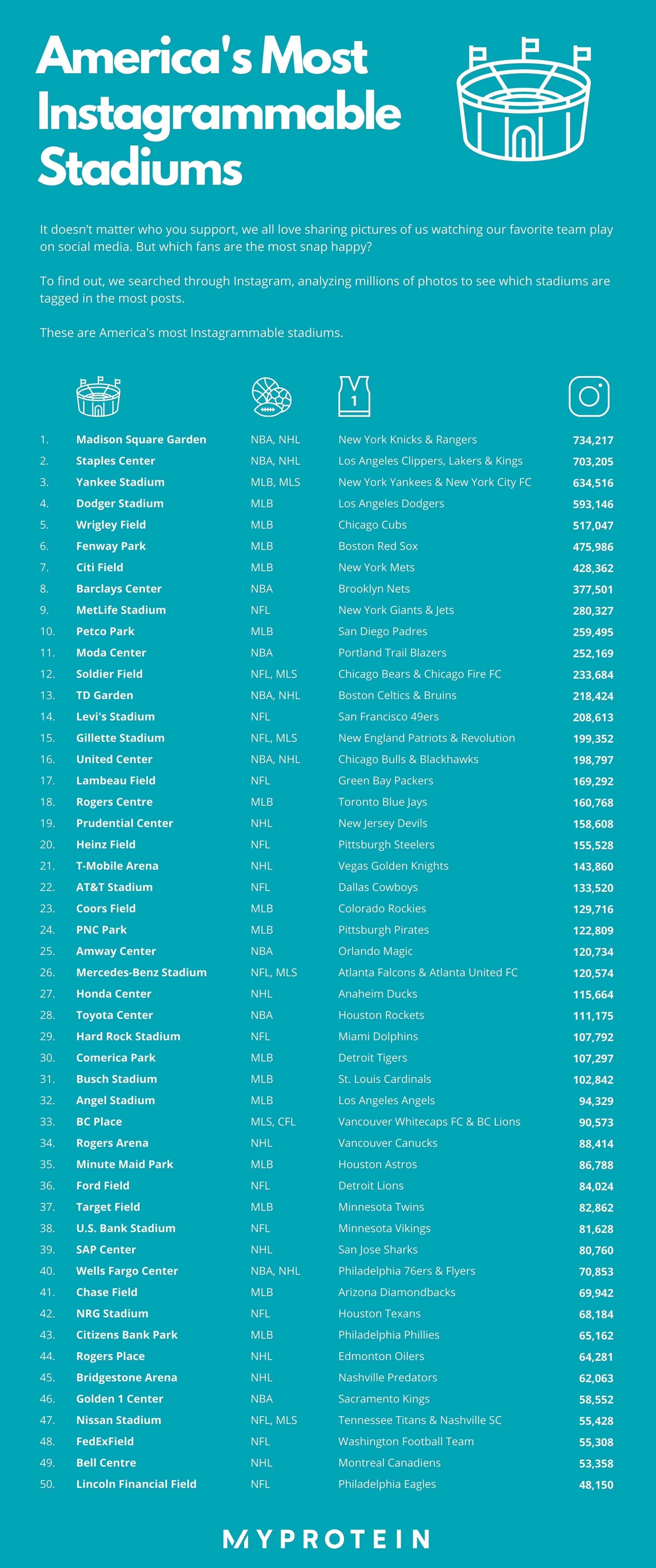 1.     Madison Square Garden
Taking the title of America's most Instagrammable stadium is New York's Madison Square Garden, which is tagged in a whopping 734,217 photos.
Home to both the New York Knicks and the New York Rangers, the iconic venue has played host to a wide range of other sporting events over the years, including wrestling, boxing and mixed martial arts. Historic bouts fights held in The Garden include Muhammad Ali vs. Joe Frazier, Anthony Joshua vs. Andy Ruiz Jr., Connor McGregor vs. Eddie Alvarez, and Jorge Masvidal vs. Nate Diaz.
Madison Square Garden is also a popular concert venue, with legendary artists including Elvis Presley, John Lennon, the Rolling Stones, Bob Dylan, Madonna, Elton John, Stevie Wonder and more all having performed here.
2.     Staples Center
Coming in second place with 703,205 photos is Los Angeles' Staples Center.
Another multi-purpose arena, Staples Center is home to the Los Angeles Kings of the NHL, as well as the NBA's Los Angeles Clippers and Lakers – making it the only NBA arena shared by two teams, and one of only three North American professional sports venues to host two teams from the same league.
In the entertainment world, Staples Center has been the home of the annual Grammy Awards since 2000, and also hosted the 1st Latin Grammy Awards in 2000, as well as the 2012 MTV Video Music Awards.
3.     Yankee Stadium
Taking bronze in third place is Yankee Stadium, which is tagged in 634,516 photos.
Located in the Bronx, Yankee Stadium is home to both the New York Yankees and New York City FC, and replaced the original Yankee Stadium in 2009.
The construction of the new stadium faced many controversies, including the high public cost and the loss of public parkland. However, these controversies didn't seem to impact the Yankees themselves, who won the 2009 World Series at the end of their first season in the new stadium.
4.     Dodger Stadium
Fourth places goes to Dodger Stadium, with a total of 593,146 tagged photos on Instagram.
Unlike the previous stadiums in our list, Dodger Stadium is only used by the Los Angeles Dodgers, rather than being shared by multiple teams.
Opened in 1962, Dodger Stadium is the oldest MLB park west of the Mississippi River and the third-oldest overall, after Fenway Park in Boston and Wrigley Field in Chicago. It also holds the title of the world's largest baseball park, with a seating capacity of 56,000.
5.     Wrigley Field
Rounding out the top five is Wrigley Field, which has been tagged in 517,047 posts on Instagram.
Opened in 1914, the stadium was originally called Weeghman Park and was home to the Chicago Whales, who folded after the 1915 season.
The Chicago Cubs played their first game here in 1916 and have called it home ever since. Chewing gum magnate William Wrigley Jr. bought the Chicago Cubs in 1918 and renamed the park Wrigley Field in 1927.
Take Home Message
With so many exciting games and other events happening at stadiums across the country, it's no surprise to see them filling up our Instagram feeds. And while they're exciting to watch as a fan, taking part can also be a fantastic form of cardio. If you're feeling inspired to get back into your favorite sport, our range of whey protein and vegan protein are a great way to fuel your training.
Methodology
We compiled a list of every major stadium currently used by teams in the NBA, NHL, NFL, MLB, MLS and CFL. We then looked at the number of photos on Instagram which featured the stadium name in a hashtag (e.g. #MadisonSquareGarden, #StaplesCenter etc.). All data accurate as of August 2021.