Sometimes you need a little bit of change in the diet to switch things up and bring variety and fresh ideas into the meal plan. One of the best ways to switch things up is to start using a blender and get a little creative with some protein smoothies. The combinations are infinite and you can easily add a tremendous amount of flavor and nutrients by adding a few simple ingredients into your shake!
Making smoothies is incredibly fast, and besides convenience, protein smoothies provide high volume meals that will fill you up and keep you energized throughout the day.
Protein smoothies are also a great boost of protein at any time during the day, without packing unnecessary sugars or excessive calories. They go well for breakfast, as a post-workout replenishment, and as a high-protein meal before the bedtime.
Note: To ensure smoothness and creaminess of the shakes try to blend the ingredients for anywhere from 15-45 seconds, depending on your blender.
---
Whey Protein Recipes
1. Peanut Butter Banana
A great way to boost your protein intake along with some fast acting carbs and healthy fats. For some reason, the flavors of a peanut butter just go well with a banana and there's no question that this is probably one of our all-time favorite protein shakes. You can experiment with a variety of protein flavors, however, one of the favorite ones are a banana, vanilla, or natural chocolate whey.
Ingredients
? 1 and a half bananas
? 2 scoops of vanilla, banana, or natural chocolate Impact Whey protein
? 1 tbsp of Peanut Butter
? 2 cups of almond milk
? ¼ – ½ a cup of Instant Oats
---
2. Double Berry Vanilla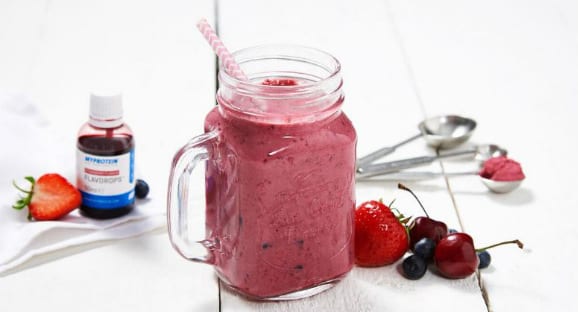 Nothing can jump-start your day better than a vitamin and nutrient packed smoothie in the morning! You can use a handful of different combinations of either frozen or fresh berries such as strawberries, blueberries, raspberries, and such. You can also buy packets with pre-mixed frozen berry mixes that are a little more convenient if you're ever in a rush. Our recommended protein flavor would be either a vanilla or a strawberry cream.
Ingredients
? 1 serving of blueberries
? 1 serving of strawberries, raspberries, or blackberries
? 1 ½ scoops of Impact Whey protein
? 6-8 oz of water
? 6-8 oz of plain Greek yogurt, blend well and enjoy!
 3. The Chocolate Bomb
One of the great reasons for adding smoothies and protein shakes into your diet is the amount of volume and flavor they provide, while keeping you full for a long period of time. When you feel like having a cheat meal, a good protein shake can satisfy the craving and fill you up at the same time.
Ingredients
? 2 scoops of Natural Chocolate or Chocolate Brownie Impact Whey
? 8-10 oz of a 2% milk or an almond milk
? 1 tbsp of 100% cocoa powder
? ½ tbsp of an almond or Peanut Butter
---
Take Home Message
These protein smoothie recipes are not only super-satisfying and filling, but also packed with protein that help build or maintain muscle mass.
Protein shakes and smoothies are great for breakfast, pre- or post-workout or as a late night snack.