Swimming in the wilderness is a perfect way to exercise – whether with friends, family, or by yourself. But if you're new to wild swimming, it can be hard knowing where to begin.
We've analysed over 1,500 wild swimming spots from all over the US to see where you should take a dip. We've taken into account each location's Tripadvisor rating – focusing on those with a rating of four and above – number of reviews and water quality details, sourced from United States Environmental Protection Agency.
So, let's dive into the data to see the results.
The best outdoor swimming spots across the US
To find the best spots to visit, we looked at the locations with the highest number of reviews and the best water quality. Most of the best swimming spots can be found in the warm, sunny states of Florida, California, and Hawaii, with the three states making up 9 of our top 10 locations.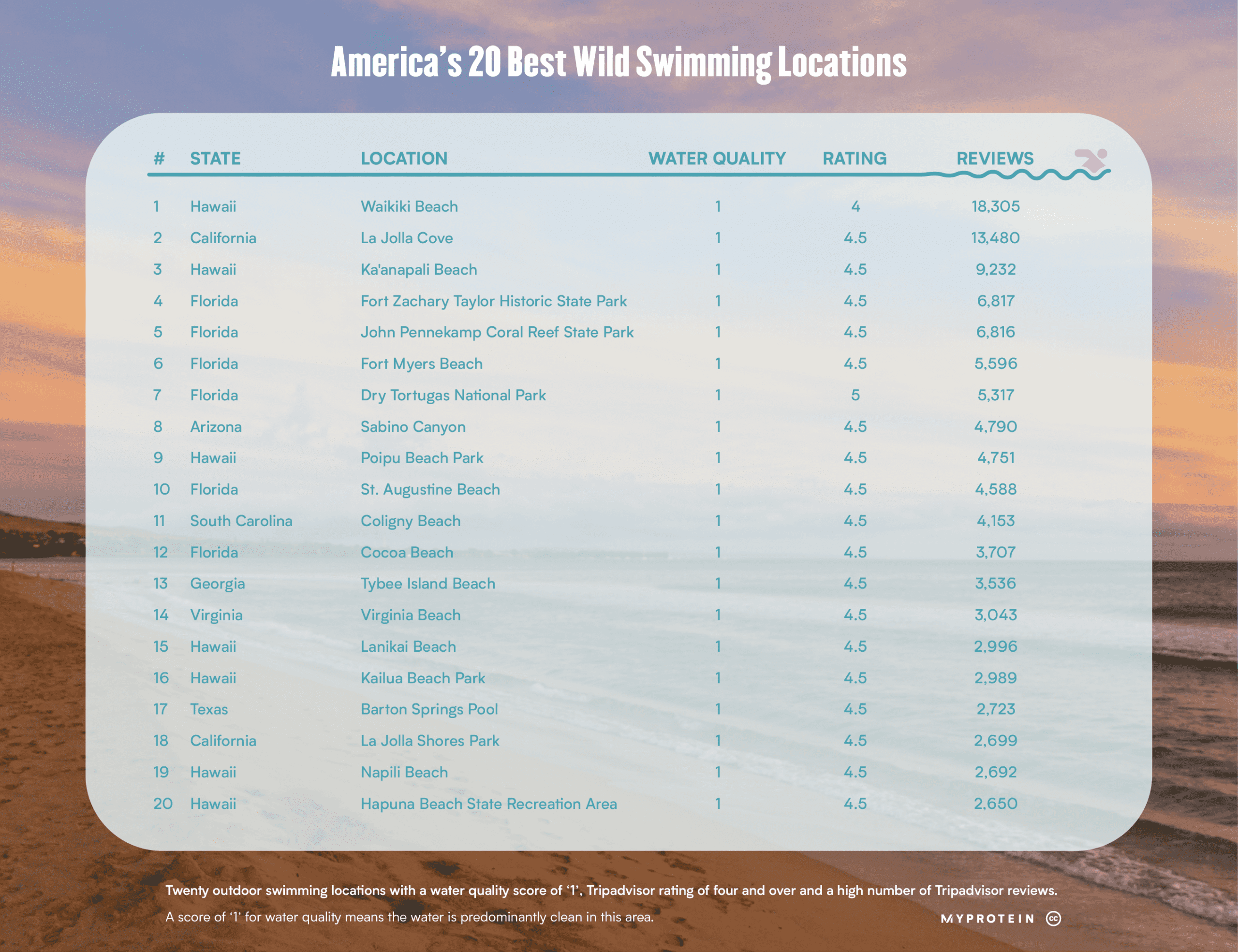 Coming in first place is Waikiki beach in Hawaii. Located on the south shore of Honolulu, there's a good reason why Waikiki beach is so popular. Turquoise waters, white sandy shores, and mountainous backdrops make for the perfect tropical getaway. The calm ocean at this beach has helped some of the world's best surfers grow their skills and offers safe swimming for families with children too.
In second place is La Jolla Cove in California – a little slice of paradise on the coast near San Diego. This cove is loved by locals and tourists alike for its breathtaking views, stunning sunsets, and activities like snorkeling. If you hang around long enough you may even spot a sea lion or two as well!
The third best wild swimming spot is Ka'anapali Beach. This stretch of coast on the Hawaiian island of Maui boasts three gorgeous miles of white sand and some of the best waters to swim. A little way down the beach at Black Rock, you can experience cliff jumping and snorkelling as well as a whole host of other exciting activities.
The US states with the best and worst water quality
When you're wild swimming, you want to be confident that the waters you're swimming in are of a good quality.
That's why we've looked at the overall water quality of the outdoor swimmings spots in each state. For this we used data from the United States Environmental Protection Agency, marking locations that have mostly good quality as '1', those that were a mixture of good and impaired as '2' and those that were mainly impaired were as a '3'. If there was no data available, the location would be marked as '0'.
When discussing water pollution, we don't just mean that the water quality is affected by man-made chemicals. It can also refer to naturally occurring organisms such as bacteria or algae. Swimming in or consuming polluted water can cause a range of different health conditions so make sure you're following local guidelines and advice when looking for a wild swimming location.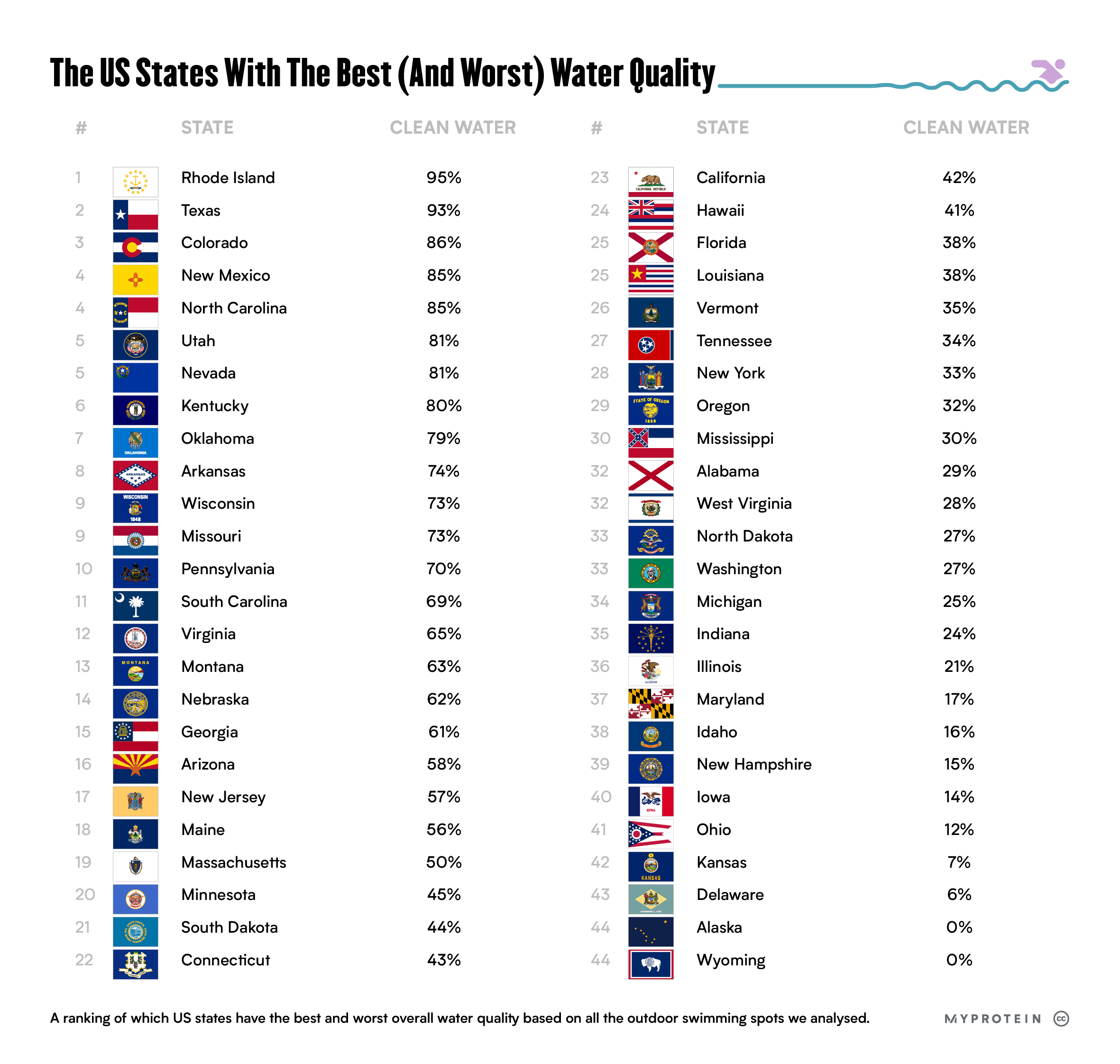 The state that boasts the cleanest water is Rhode Island. Around 95% of the wild swimming spots in this state have clean water, so you can swim without worry. Next on the list is Texas and in third place we have Colorado.
Wyoming and Alaska have the worst water quality, with 0% of the swimming spots we analysed in either state rating as good. Delaware follows closely behind, with a score of just 6%.
Hidden gems – The top 10 least visited clean wild swimming spots
If you're heading somewhere with lots of positive reviews, you can be sure it's a popular place to swim. However, what about when you're looking for a quieter spot?. To find America's wild swimming hidden gems, we looked into the locations that had the fewest number of reviews but the best water quality.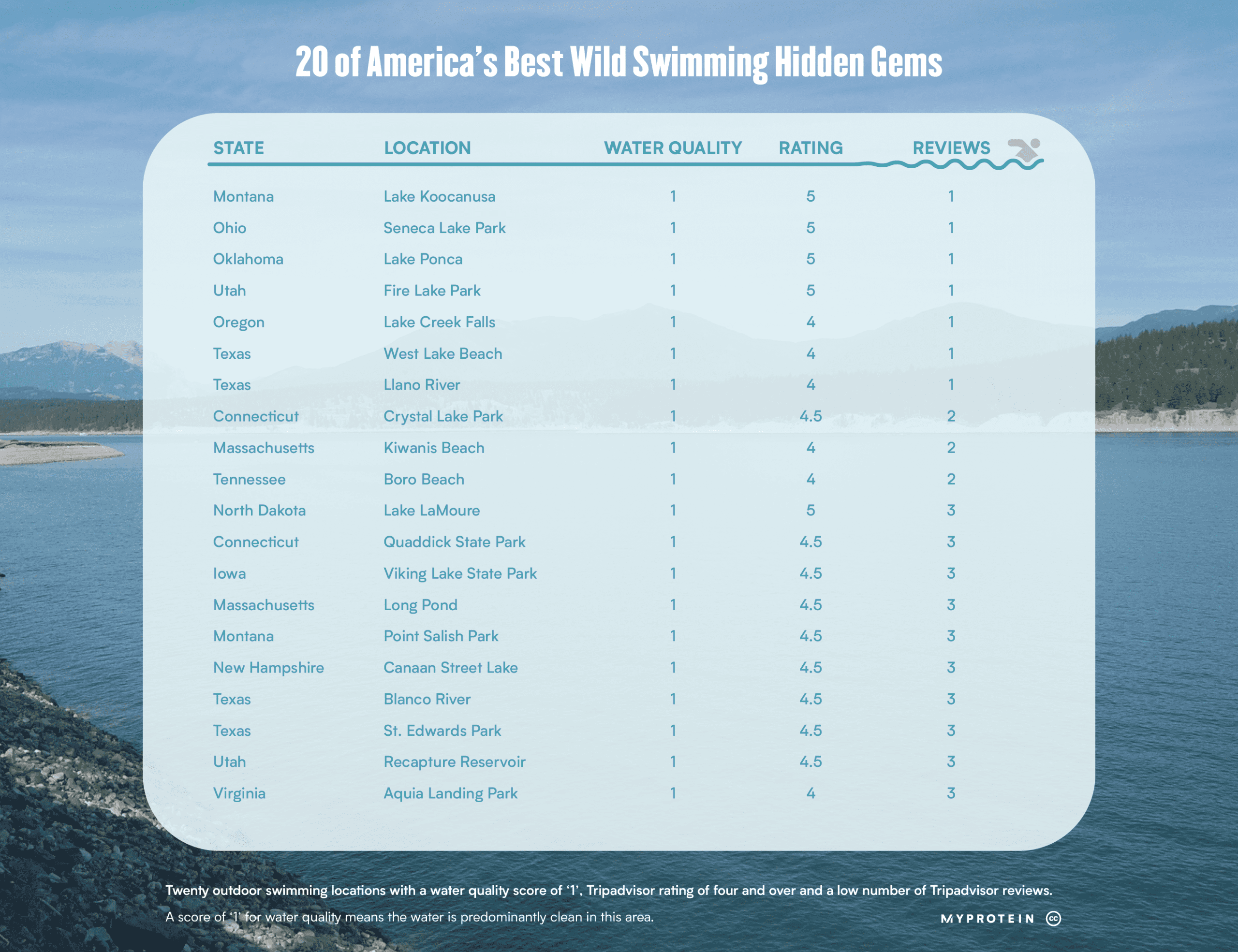 Montana is the fourth largest state in the US and is called the 'Treasure State' because of its immense mineral wealth. It also takes the top spot on our 'hidden gems' list, living up to its name. Montana's Lake Koocanusa is host to sandy beaches and sparkling blue waters. In summer, the water is usually around 75°F, making it the perfect place to enjoy a warm swim in peace.
Second on the list is Seneca Lake Park in Ohio. This is another location with great water quality and five-star reviews, and is known as a top spot for picnics by locals. It's Ohio's third-largest waterway, meaning you have plenty of space to enjoy an undisturbed swim.
Oklahoma pinches third place with Lake Ponca. A clean, quiet spot, visitors can enjoy bike trails, camping and fishing amongst other wholesome activities nearby!
The most visited swimming locations with the worst water quality
Unfortunately, just because somewhere is a popular location to visit, doesn't mean the water is the cleanest. Here are the most visited wild swimming locations with the worst water quality.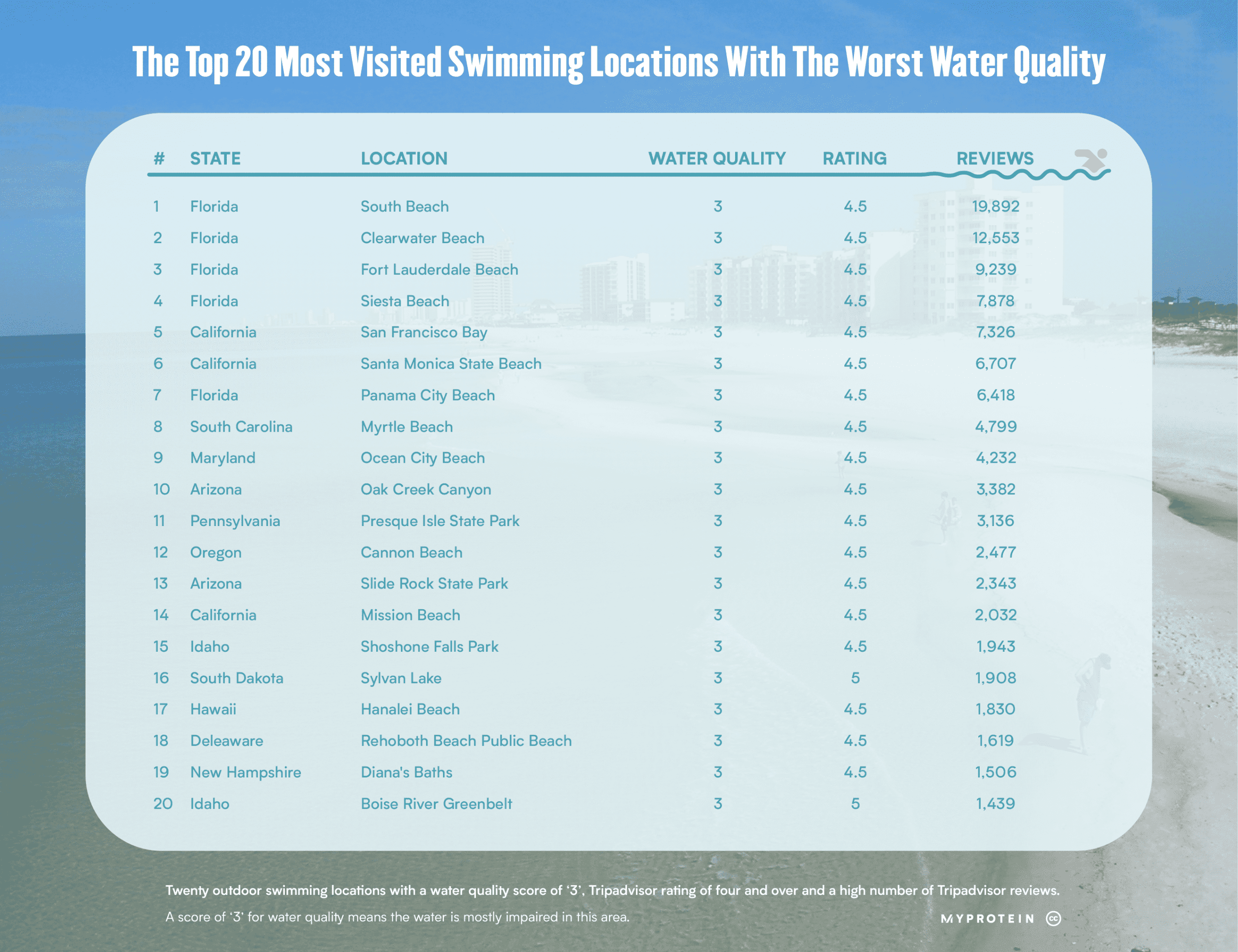 Four of the top five most visited and most polluted wild swimming locations can be found in Florida, with South Beach taking the top spot. All of these places received the same low score for water quality – listing it as bad, however overall, they all received a review score of 4.5, so many people still rated them as good places to visit.
South Beach itself is wide and sandy, perfect for spending your days relaxing with friends and family. However, because of the warm, shallow waters, algae and other organisms are able to grow which might be why this location has such a low score in terms of water cleanliness.
Clearwater Beach on the western shore of the Floridian peninsula is second on our list of top visited locations with the worst water quality. The wide, sandy beaches are a sun-bather's paradise, the warm, shallow waters are, again, a possible reason why the water quality is a little lacking.
If you're planning on spending your summer swimming and enjoying nature, hopefully these recommendations will help you find the perfect spot to visit. Remember, if you've got a long swim scheduled in, make sure your nutrition is on point and your night-before-meal is healthy and balanced.
Disclaimer: Remember to stay safe when visiting an area and ensure you're not trespassing on private property when on your quest for a good swimming spot!
Methodology
We scraped Tripadvisor for the term 'wild swimming and outdoor swimming' under Tripadvisor's bracket of 'things to do' in every US state. This gave us a large dataset of 1,548 outdoor swimming locations. Once we had this we filtered out non-relevant entries, then we filtered the results so they only highlighted the swimming spots with ratings of four stars and over.
We then filtered to which swimming spots had the most reviews, this, paired with the star rating, gave us our best swimming spots.
We then filtered for least reviews, this, with the star rating, gave us the best hidden gems. Looking at water quality we used state information from the United States Environmental Protection Agency. Under the swimming tab, we searched for each swimming spot. Those that came up as mostly 'good' were marked as '1', those that showed up as partially 'good' and 'impaired' were marked as a '2' and those that came up as mostly 'impaired' were marked as a '3'. All those with 'unknown conditions' were marked as a '0'.
For the water quality percentage – we've taken the number of locations labeled with a specific water quality number (0, 1, 2 or 3) divided by the total number of locations in that state. This gives us a percentage of the whole state which got that score (normalising the data and making it comparable).