In the pursuit of burning fat, whether it be to fit into your swimsuit, to finally see your abs, or to eventually compete in a bodybuilding show, cardio is probably the most important way to get there along with a calorie deficit.
At first we don't even need cardio to burn fat on a diet, but eventually our calories get so low that we need some kind of cardiovascular session to keep that deficit alive and be able to eat enough food to satisfy us. The issue with cardio is that it is, let's admit it, boring for the vast majority of us.
30 minutes of incline walking or dying on the stairmaster can't be saved by motivational audio books or bass pounding music. The solution to this? Upping the intensity of our cardio sessions to burn the same amount of calories in a shorter, more interesting and rewarding way, i.e. HIIT (high intensity interval training).
What Is A HIIT Workout?
The premise of HIIT is working up to (as close as possible to) max effort for a short period of time, usually between 15-20 seconds, and recovering for around twice that time with a low-intensity form of the exercise, followed by repeating the max intensity for multiple rounds.
Besides halving the time needed for your cardio sessions (they usually don't last more than 15-20 minutes when done right) and burning a heck of a lot of calories, HIIT workouts are theorized to even up the number of calories you burn after the workout.
Most forms of cardio though (especially high intensity) are notorious for causing injuries and being not so good for joint health. This is where HIIT swimming workouts come in, as they give you all the benefits of HIIT running but eliminate the stress on your joints since you are not touching any solid surface the entire workout! This means anyone who is recovering from an injury or has joint issues such as arthritis can swim with no repercussions (assuming they have good form).
Beyond this benefit, swimming is actually a full-body workout, utilizing muscles from your shoulder, chest, back, core, glutes, hamstrings and arms, meaning along with burning an impressive amount of fat it will also grow your muscles much more than most other forms of cardio.
What Would a HIIT Swimming Workout Look Like?
Unlike running, biking, elliptical-ing or most other forms of cardio, swimming is definitely unique. Different techniques and strokes make it hard to decide which should be used but in all actuality, any technique that you can push yourself to maximum effort with can be used for HIIT swimming.
Whether you do freestyle, butterfly, breaststroke, backstroke, or any other stroke you want, this workout will be equally as effectively and calorically burning. A good ratio of effort to active rest would be one to one or one to two, meaning one lap (25 meters or so) of full out max intensity freestyle as fast as you possibly can, followed by another lap or two (25-50 meters) of a slow pace, maybe change it up to a breaststroke to recover just enough to be able to perform the max effort again.
Depending on your cardiovascular endurance you might only be able to do three or four rounds of high then low intensity until you need to rest which is okay, because it takes time to be able to work up to 15-20 minutes of continuous laps of HIIT. At the end of your workout you should be gasping for air, and hopefully, endorphin-filled your mood.
Finally, if you enjoy low intensity running or spinning class a few times a week, you can always swap out one of your weekly cardio sessions with swimming to give your joints a break or mix up the way you work your muscles. HIIT swimming can easily fit into any type of fat burning training routine as a fast and effective cardiovascular exercise.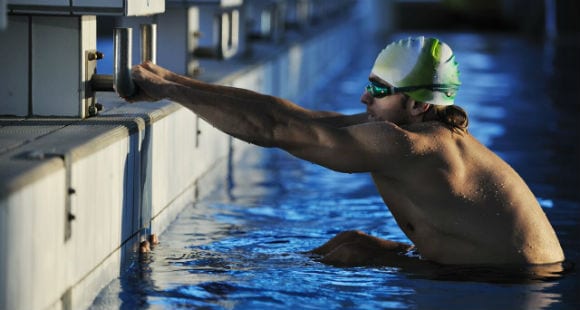 Take Home Message
Unless you do cardio for fun (nothing wrong with that of course), we are always looking for new ways to invigorate our sessions for maximum calorie burn and new stimuli. High-intensity swimming checks all those boxes and then some, including its zero impact on the body which makes it extremely unlikely to injure yourself or cause unnecessary wear and tear on your joints.
Whether you do it four times a week or once every two weeks, swimming for intervals at max effort will build your body, burn your fat, and up your cardiovascular endurance extremely effectively. Don't be afraid to give it a try the next time you are dreading the treadmill for the third time this week!