Leave a plate of these healthy peanut butter blossom cookies for Santa to guarantee a spot on the nice list.
These healthy peanut butter blossom cookies are a classic for the holidays, minus all the guilt. They're packed with protein and low in carbs and calories.
When you make these cookies, take a snap and upload to Instagram – remember to tag @myproteinus for a chance to feature on our Myprotein US Instagram page.
Click to jump straight to the nutritionals.
 Ingredients
1 scoop Cookies & Cream Impact Whey* (30g)
1/2 cup canned white beans (125g / 4.5 oz)
1/4 cup canned pumpkin (60g / 2 oz)
3 tbsp. egg substitute or egg/egg whites (46ml)
Splash milk
1 tbsp. peanut butter (16g / .5 oz)
1/2 tsp. baking powder
Sweetener of choice (4-5 packets)
10 chocolate kisses* (optional)
Method
 1. Drain and rinse beans.
 2. Puree beans, pumpkin, egg, and milk.
 3. Add milk slowly until the mixture is smooth.
 4. Stir in the remaining ingredients (except chocolate kisses).
 5. Unwrap chocolate kisses and set aside.
 6. Pour batter on cookie sheet (use parchment paper or baking mat).
 7. Bake at 350°F for 12 minutes.
 8. Press a chocolate kiss into the center of each cookie as soon as they come out of the oven.
 9. Immediately place the cookies in the freezer for 5 minutes so chocolate does not melt. Once the 5 minutes is up, remove from the freezer and allow to cool completely. Store in an airtight container in a cool, dark place for up to 5 days.
 Notes:
*Works great with Vanilla, Chocolate, Chocolate Mint, and Cinnamon Roll protein too
*Feel free to leave off the chocolate kisses for a more nutritionally friendly cookie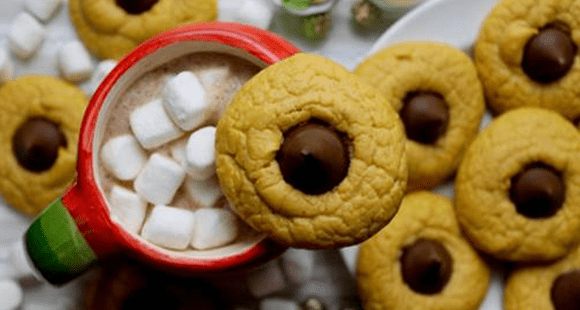 ---
Nutritional Information
Per cookie (with chocolate kiss)
Calories: 58       Protein: 4.3 g          Fat: 2.3 g          Carbs: 5.6 g