Air fryers seem to be the appliance of the moment right now — and for very good reason.
If your kitchen doesn't have an air fryer yet, this recipe is sure to make your mind up about investing in one. They're ideal for helping you to create delicious meals and snacks without needing anywhere near the same amount of cooking oil or fat to help you get that irresistible crunch.
Niall's spicy chicken and courgette fries are the perfect lower fat and lower carb alternative to fast food — ideal for helping you stick to those New Year's resolutions without having to miss out on flavours & textures that you love.
Both components are ready in little more than 15 minutes each, making this minimal-effort recipe a winner for any night of the week.
Give it a go now!
Serves 3
Ingredients
For the spicy chicken:
400g chicken breast (cut into strips)
30g cornflour
1 egg (beaten)
100g panko breadcrumbs
Salt and pepper to taste
1 tsp. chilli powder
1 tsp. smoked paprika
For the courgette fries:
2 courgettes (cut into thick chips)
30g cornflour
1 egg (beaten)
100g panko breadcrumbs
Salt and pepper to taste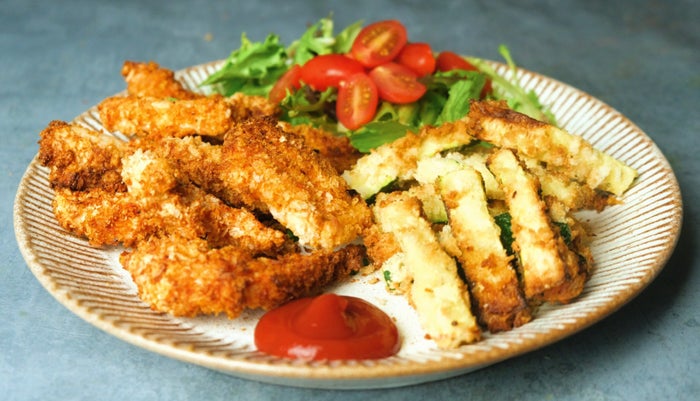 Method
1) For the spicy chicken, prepare 3 separate bowls with cornflour, egg and panko breadcrumbs. Season the breadcrumbs by adding salt, pepper, chilli powder, smoked paprika and mixing in well.
2) Coat each piece of chicken in the cornflour, egg wash and then the panko breadcrumbs. Set aside.
3) Transfer the chicken pieces to your air fryer and brush each piece with a little coconut oil. Air fry for 15 minutes — all air fryers are slightly different so check the chicken is cooked through before serving. Garnish with chopped chives.
4) For the courgette fries, prepare cornflour, egg and seasoned panko breadcrumbs just like you did for the chicken. Dip each strip of courgette into the cornflour, then egg, then breadcrumbs.
5) Transfer coated courgette to the air fryer, brush with a little coconut oil and air fry for 10-15 minutes. Serve immediately with your favourite sauce — we strongly recommend our Sugar-Free Sauce in either sweet chill or BBQ.
Try these tasty recipes next:
Nutritional info per serving:
| | |
| --- | --- |
| Calories | 497 |
| Total Fat | 8g |
| Total Carbohydrates | 56g |
| Protein | 47g |
Lauren is an English Literature graduate originally from the South. She's always loved swimming, has discovered the power of weight training over the past few years, and has lots of room for improvement in her weekly hot yoga class. On the weekends she's usually cooking or eating some kind of brunch, and she enjoys trying out new recipes with her housemates – especially since shaking off student habits, like mainly surviving off pasta. Above all, she's a firm believer in keeping a balance between the gym and gin. Find out more about Lauren's experience here: https://www.linkedin.com/in/lauren-dawes-b4416aaa/