Americans love sports. It's estimated that the US sports market will be worth an incredible $83.1 billion by 2023. But while we may all agree on our overall love of sport, we certainly don't agree when it comes to the teams we support!
Using Google Trends, we analyzed search data from the past 12 months, looking at every team in the NBA, NFL, NHL, MLB and MLS, to discover the most popular sports team in each U.S. state.
Here's what we found: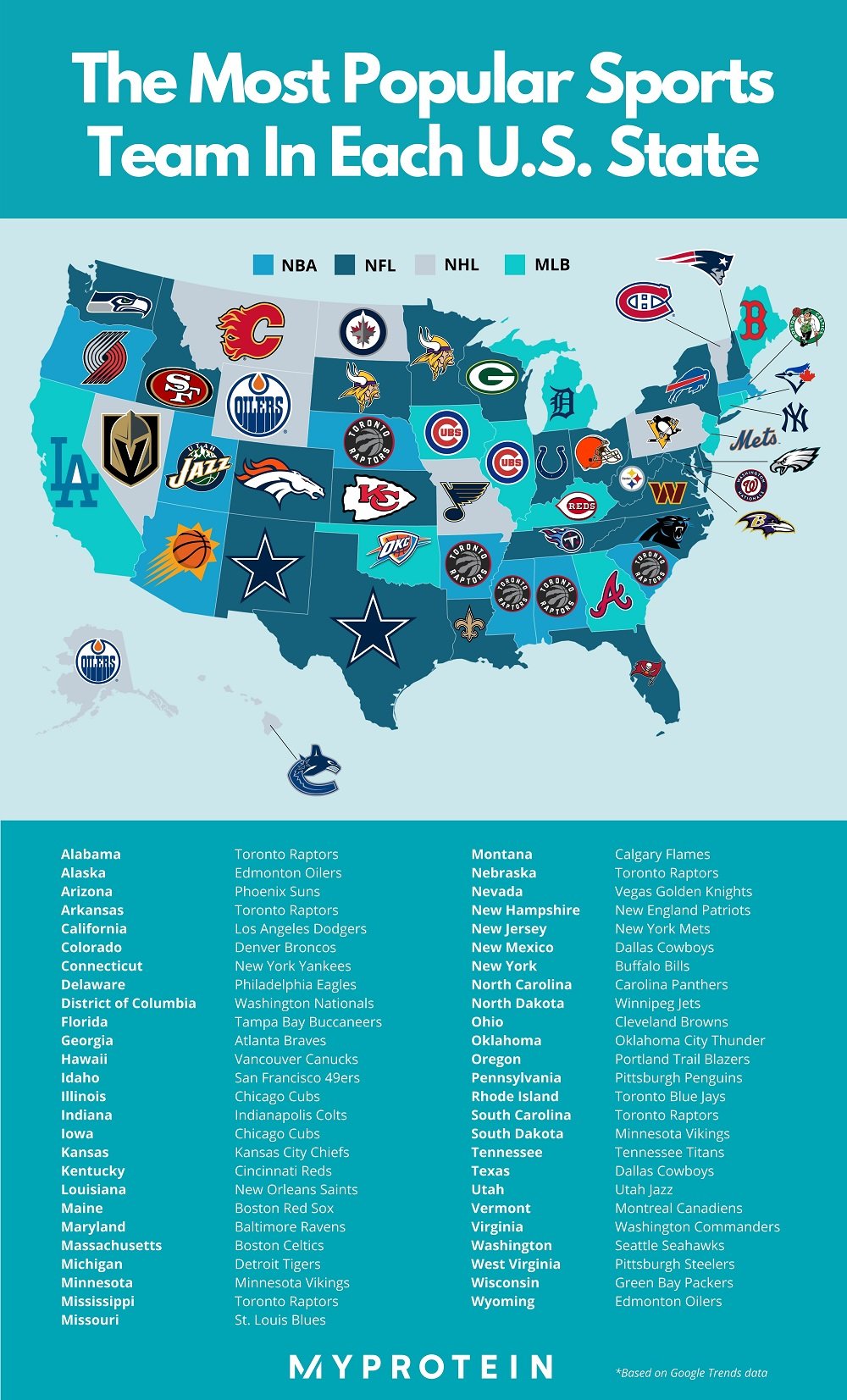 Football and baseball are leading the way, while soccer lags behind
NFL teams topped the charts in 21 states, including Colorado (Denver Broncos), Florida (Tampa Bay Buccaneers), New York (Buffalo Bills), Texas (Dallas Cowboys), Washington (Seattle Seahawks) and more.
Baseball came in second, with 12 states having MLB teams as their most popular franchise, including California (Los Angeles Dodgers), District of Columbia (Washington Nationals), Kentucky (Cincinnati Reds) and Oklahoma (Oklahoma City Thunder).
Finally, basketball and hockey teams were the most popular in nine states each. NBA teams came out on top in Arizona (Phoenix Suns), Massachusetts (Boston Celtics), Oregon (Portland Trail Blazers), Utah (Utah Jazz) and more. Meanwhile, NHL teams came out on top in Alaska (Edmonton Oilers), Hawaii (Vancouver Canucks), Missouri (St. Louis Blues), Nevada (Vegas Golden Nights) and more.
No states had an MLS team as their most popular franchise, showing that while soccer may be increasing in popularity, it still has some way to go to compete with the more established sports.
Do we all support our home town heroes?
It's almost always the case that the most popular sports team in each state is based there. This makes perfect sense. But what about the states that don't have any NBA, NFL, NHL, MLB or MLS teams?
Well, according to our research, lots of fans are looking north, with 12 states choosing a most popular sports team from Canada, rather than the U.S. The Toronto Raptors were the most popular out-of-state team, coming out on top in Alabama, Arkansas, Mississippi, Nebraska and South Carolina.
Take Home Message
If you enjoy playing sport as much as watching it, giving your body the right fuel is key to maximizing your performance. Our creatine supplements, like creatine powder and pre-workout, can help boost your body's ability to produce energy quickly while also aiding post-workout recovery.
Methodology
We compiled a list of every team in the NBA, NFL, NHL, MLB and MLS before using Google Trends to track the search volume of each over the last 12 months. We then split this data down to a state level, to find the most popular sports team in each state.