Spice up your meat-free Mondays with these zingy tacos.
---
Whether you're committed to the plant-based lifestyle or you're just trying to cut down on your meat consumption a couple of times a week, this recipe is the perfect way to keep the flavor while cutting the animal products.
Drenched & roasted in plenty of irresistible buffalo sauce, this cauliflower is far from that soggy, overcooked stuff you used to have to endure with your school dinners or Sunday roasts. Trust us, you'll be all over these crunchy florets.
Make the perfect flavor explosion in your taco shell by piling in some crunchy red cabbage, sliced avocado, and smooth vegan sour cream.
Makes 6
Ingredients
For the buffalo cauliflower:
100ml buffalo sauce
1 tsp. garlic powder
Salt & pepper to taste
4 tbsp. olive oil
1 cauliflower (cut into florets)
For the tacos:
6 soft shell tacos
Crunchy lettuce leaves
½ red cabbage (shredded)
Vegan sour cream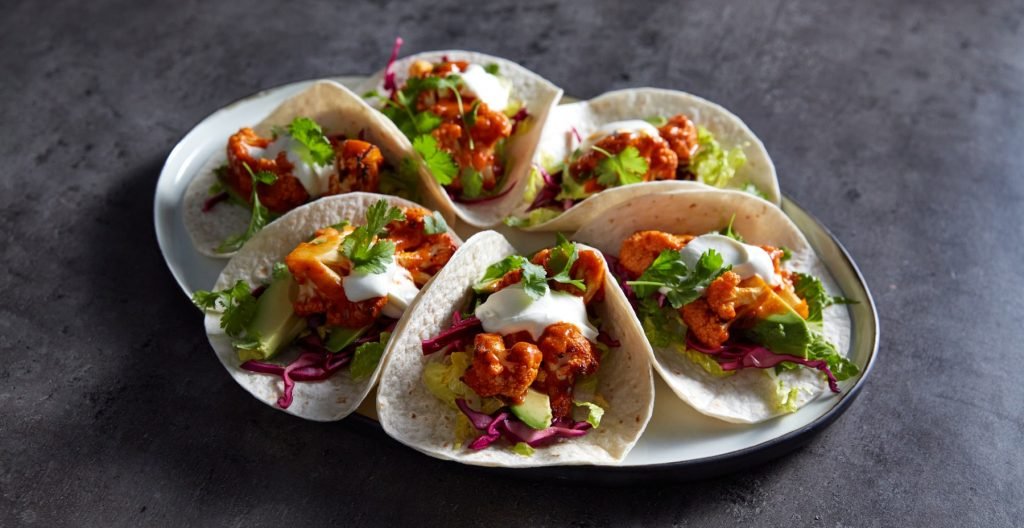 Method
Preheat oven to 360°F
In a bowl, mix together the buffalo sauce, garlic powder, salt, pepper, and olive oil. Add the cauliflower florets and stir so that they are completely coated in the sauce.
Transfer the cauliflower pieces into a baking tray – making sure to keep any remaining sauce in the bowl for later – and bake for 20 minutes.
Meanwhile, prepare your taco shells by making a bed of lettuce leaves and shredded crunchy red cabbage.
Once cooked, remove the cauliflower from the oven and pour any remaining sauce on top.