Getting enough protein in day-to-day can sometimes be tricky, but it's essential to maintaining and building muscle. An easy way to avoid having to frantically chug a couple of protein shakes before bed when you realize you're 40g under your protein target, is to get a big dose of protein first thing in the morning. Although, sometimes it's hard to get creative with breakfast, and plain old protein porridge can get a bit boring. 
If you're looking for some tasty, high-protein breakfasts to help you reach your muscle building goals, these are the recipes for you. Sweet, savoury, and always delicious, there's something on this list for everyone. 
1. Breakfast Bagels
Bagels have been taken to new heights with this recipe. Egg, cheese, bacon. What more do we need to say? And you can switch out the bacon for veggies if you're not a meat-eater. These also serve up 20g of protein and over 40g of carbs, making these a great pre-workout breakfast. 
2. Breakfast Omelet 
Who doesn't love an omelet? They've got to be one of the most classic "fitness foods" too, as they're packed with protein. Mike Thurston showed us his go-to breakfast omelet, and it's pretty epic. Bacon, spinach, tomatoes and BBQ sauce. Delicious. And a whopping 37g of protein, what're you waiting for? It's time to break a few eggs. 
3. Breakfast Pudding 
This no-cook breakfast pudding is great for anyone who has a bit of a sweet tooth in the morning but not a whole lot of time. This recipe uses crisp bakes, a common Italian ingredient that adds texture, and combined with chocolate Impact Whey Protein and creamy greek yogurt, this recipe is a winner. 
And if that isn't enough for you, this Breakfast Pudding offers up a massive 38g of protein, over 40g of carbs and is low in fat, making this a great lean-bulk breakfast option. 
4. Chocolate Baked Oats 
If you've not yet tried one of the latest trends in the breakfast world...the time has come. Baked oats are a must-try if you're not a savory fan, because these oats taste like warm, gooey chocolate cake. But instead of the usual macros of a chocolate cake, you'll be starting your day with over 20g of protein. 
5. Protein Oats
Ok, ok, we know we said plain old protein porridge gets a bit boring, but this isn't plain old protein porridge. We've got 3 ways you can mix up your porridge and make it a little more appetizing (and interesting). 
Choose from chocolate orange, peanut butter and blueberry, or banana and almond butter oats. All of which have around 30g of protein each. So whatever your flavor, you'll be starting your day off right. 
6. Breakfast Tacos 
If you really want to mix up your usual breakfast, these tacos are the way to go. Sausage meat, scrambled eggs, creamy avo, cheese, and a whole lotta seasoning, these will definitely set you up for a good day. 
Each taco has 10g of protein, and we're certain you'll be wanting more than one of these. 
7. Crispy Sweet Potato Rosti 
These sweet potato rostis will have you drooling...Crispy on the outside, soft and sweet on the inside, these rosti cakes paired with a couple of poached eggs is the breakfast of dreams. They make the perfect Sunday morning companion, and a great pre-workout breakfast with 20g of protein and 60g of carbs to keep you going all morning. 
8. Chia Seed Pudding 
Chia Seeds have been coined as a bit of a "superfood" in recent years, and we can see why. They're packed with protein, amino acids, and healthy fats as well as a tonne of vitamins and minerals. As we come into summer and (hopefully) warmer weather, starting your day with chia seed pudding is the perfect refreshing breakfast, along with 20g of protein. 
Check out the full recipe, 3 different chia pudding flavours and full macros here. 
Want even more breakfast ideas? Watch this next. 
Take Home Message
We certainly agree that breakfast is the most important meal of the day. Especially if you're looking to start a lean bulk or you're just working on gradually building muscle, getting enough protein, carbs and healthy fats in on a morning is key. 
With that in mind, it's easy to get bored of eating the same breakfast every morning, so switch it up and try a few new things, all whilst keeping your protein high. Life is too short not to eat tacos for breakfast.
Enjoyed these recipes?
CHECK THESE OUT NEXT: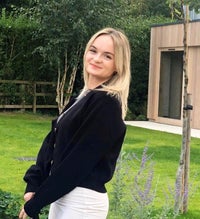 Originally from South London, Monica graduated from the University of Leeds with a degree in Philosophy. After discovering a love for the gym whilst studying, Monica was drawn to weight training which helped her hugely through stressful times as a student. From writing for a popular student site, Monica developed her skills as an author, writing trending feature pieces regularly. She is thrilled to be able to combine her love for writing with her passion for the gym. In her spare time Monica loves to cook, try out new restaurants with friends and explore new walking trails.