You know you feel your best when you're fueling your body right. Eating healthier is a goal many of us have, but it can be overwhelming. If you're struggling with incorporating the right foods into your diet, Myprotein ambassador Cohnan Kotarski is here to help. Cohan is giving us three hacks that'll make it more convenient to eat healthy than to fill yourself with food that isn't nutritious. Let's check them out.
1. Get Rid of the Junk
Cohnan's first tip is to get rid of all the sweets and junk food in your house. The fitness pro explains that this will limit your cravings and make it harder to cheat or binge eat. We all know that when you eat sugar, you start craving it more and more. Reducing your intake will help control your cravings. Plus, sometimes we eat not because we're hungry but for other reasons like boredom or anxiety. Removing foods that do not serve you nutritionally from your house will make it significantly easier to avoid eating the wrong foods for the wrong reasons. As Cohnan says, out of sight, out of mind.
2. Stock Up on Healthy Food
Once you remove food that isn't nutritious, it's time to stock up on healthy snacks that are high in protein and fiber. Filling your home with nutrient-dense foods will make it easy to snack on these when you don't know what to eat. The goal is to have some healthy options that you can grab for a quick bite, so that you don't go off track simply because you don't have time to prepare a healthy meal. Think protein bars, fruits, vegetables, etc. Plus, having healthier food in the house all the time might even inspire you to start cooking healthier and preparing more nutritious meals for yourself.
3. Don't Drink Your Calories
Cohan's final tip? Don't drink your calories. This is an easy one. Drinking your calories, especially with sugary drinks, can throw you off your macros without you even realizing it. To avoid this, Cohnan advises mainly drinking water throughout the day. You can have a black coffee or tea in the morning to change it up. And if you really have a sweet tooth, go for diet sodas or any other 0-calorie drink. This way, you won't use up your calories on drinks that are just empty carbs, plus you'll get more water in, which is always a good thing.
Take Home Message
Eating healthy doesn't have to be difficult. Use these hacks to make it easier for yourself to incorporate nutrient-dense foods into your diet and avoid the ones that aren't serving your health. You got this.
Want more from Cohnan?
READ THESE NEXT: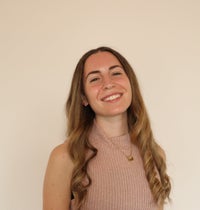 A Rutgers University Honors graduate, Jamie grew up on the Jersey shore and double majored in Comparative Literature and Anthropology in college. Jamie is an experienced writer in the health and wellness, biotech, and eCommerce fields. She loves writing with a purpose and has even written for the Department of Justice.
Jamie became drawn to exercise during her time in university and began to notice the physical and mental benefits of moving your body daily. Today, Jamie enjoys Pilates, light weight training, and going on long walks in nature daily.
Jamie is also passionate about eating right and prioritizing gut health and immunity. She is always trying the next innovation in health and wellness. When she's not writing articles, Jamie enjoys reading, playing guitar, and finding dogs to play with.