Baking can be a fun pastime, as well as a great way to make delicious treats. However, many recipes are loaded with calories, fat and sugar. So how does a health-conscious gym goer also become a star baker? Here are our favourite swaps to add nutritional value to your home baking and lower those calories.
Healthy Baking Swap #1: Butter for Avocado
Butter is often a cornerstone of baking. It is the fat that helps to bind everything together. However, it is high in calories, sodium (and fat, of course). Swapping butter for pureed avocado helps to boost the vitamins, minerals and antioxidants you'll get from your bake. This is also a good substitute if you are looking to make vegan treats.
Swap your measurements equally when baking. So a recipe that calls for 2 cups of butter will need 2 cups of avocado puree.
OR: Prune Puree. This baking swap is a fat-free alternative to butter. It is fairly thick and sticky, so should be used in half measures – so 1 cup of butter would be ½ a cup of prune puree.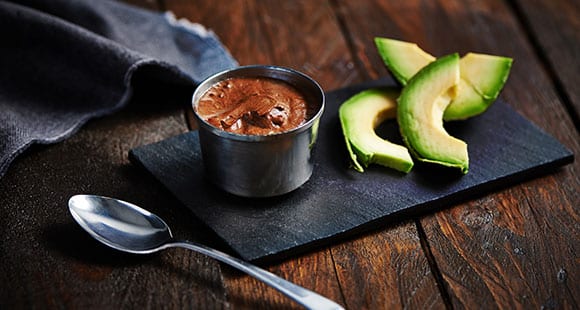 Healthy Baking Swap #2: Crumble Topping for Rolled Oats
The traditional crumble topping is made from white flour, butter and sugar. This makes it high in calories and fairly low in nutritional value. Swap this for rolled oats, coconut oil and flavor with a sprinkle of cinnamon and vanilla extract. This boosts the fibre content of your dish so it will keep you full for longer. It will also help to balance out the sugar content in your apples, so your energy is released more evenly.
OR: Chopped Nuts. Adding some crunch to your crumble with nuts is a high protein, healthy substitute for the traditional crumble topping. Pecans, hazelnuts and walnuts are particularly effective.
Healthy Baking Swap #3: Flour for Black Beans
If you're making a gooey treat like brownies, pureed black beans make a great substitute for flour. You can use them in the same amounts (1 cup flour = 1 cup beans). They're ideal for gluten sensitive or intolerant bakers. Black beans offer a boost in fibre, as well as potassium, folate and vitamin B6.
OR: Whole Wheat Flour. Whole grains are always a healthier choice than their processed counterparts. The nutrients provided are far more beneficial. You get a far better dose of fibre, plus a serving of antioxidants in each bake.
Healthy Baking Swap #4: Sugar for Vanilla Extract or Flav Drops
Vanilla Extract or Flavdrops make excellent lower calorie swaps for sugar. For a cup of sugar, substitute for 10 teaspoons of flavouring. This can dramatically alter the calorie content of your bakes. Plus, it allows you to add extra flavour to your recipes.
OR: Stewed Apple. Stew apples without any sugar or flavourings and you'll soften them up into a smooth sugar substitute. This will give your bakes an apple hint of flavour which is great for fruity bakes. It also means you'll benefit from lower calorie count, increased fibre and a host of vitamins and minerals. You can swap them in equal measures, so 1 cup of sugar is 1 cup of apple.
Healthy Baking Swap #5: Icing for Meringue
Meringues are simply egg whites and sugar, which you can substitute for sweetener if you prefer. These snowy peaks make an exciting topping for cakes and are much higher in protein than classic icing or frosting.
OR: Fresh Fruit. Adding fresh fruit to your cake will create flashes of colour and decoration whilst bringing a host of vitamins to your bake. For extra flavour and a syrupy texture, decorate with frozen fruit. As it defrosts, it will seep fruity liquid into your creation.
Healthy Baking Swap #6: Peanut Butter to Powdered Peanut Butter
Powdered peanut butter is far lower in calories than regular nut butter. However, it works just as well when giving your bakes a nutty flavour. Simply make up the powder to create your required nut butter measurements and you're good to go.