We're in the thick of summer, and that means hotter temperatures and outdoor workouts. It's time to replace those long sleeves and jackets with fitness wear that compliments the nice weather. Check out these Myprotein women's favorites, perfect for getting your summer workouts in.
MP Women's Tempo Skort
The short length and sweat-wicking fabric make this skort perfect for summer workouts and activities. This piece will add style to your outfit while allowing for movement and flexibility. Shorts and a skirt in one, you can't go wrong with a classic skort. Plus, it has pockets!
MP Baseball Cap
The Myprotein Baseball Cap is the perfect final touch for any summer fit. The adjustable strap makes it a great fit for everyone and with plenty of colors to choose from, it'll be your favorite accessory for your workout fits. Our cap even comes with stay-cool ventilation to keep you from overheating. Keep your hair and the sun out of your face with this summer staple.
MP Women's Tempo Rib Seamless Unitard
If you want a workout fit you can just throw on, this unitard is for you. Contouring textures at the waist give this piece a flattering and sculpting fit, and the stretch fabric allows you to move comfortably and effortlessly. Walk with confidence this summer.
MP Women's Rest Day Lounge Short
Need a rest day? We got you covered. These super-soft lounge shorts are made with a cotton-rich fabric and drawstring waistband for easy adjustment, allowing you to feel super comfortable on your day off. The stylish shorts come in purple and pink, perfect for a bright summer's day. Plus they're so soft, you won't want to take them off.
Try the matching top to complete your rest day look.
MP Women's Curve Crop Short Sleeve T-Shirt
Nothing says summer like crop tops. This short-sleeve crop will help you with any workout. The T-shirt comes with a supportive under-bust band and stretchy Nylon fabric, allowing it to move with your body. This seamless piece provides minimal irritation and will have you looking and feeling your best. Prepare to walk into the gym like you own the place.
Want the matching set? Get the booty shorts for the complete fit.
MP Women's Power Cross Back Sports Bra
It wouldn't be summer without a sports bra. This classic cross-back bra comes with removable cups and an under-bust band for extra support. The sports bra also features a breathable mesh back and sweat-wicking material, so you won't overheat in the summer sun. Get it in Blue Lagoon to brighten up your summer.
Want the matching set? Try the Power Booty Shorts for a functional and flattering summer fit.
MP Women's Training Energy Vest
The Women's Training Vest will complete any summer look. This sleeveless top provides a flattering cropped fit and soft-feel fabric to keep you comfortable during movement. Add this classic to your closet for an easy fitness top that can go with anything.
MP Women's Power Short Sleeve Crop Top
Last but not least, this short sleeve crop top can be paired with any workout fit. The sweat-wicking material will keep you cool throughout your session and the twisted front makes for a stylish and flattering fit. You can never have too many crop tops in the summer.
Try pairing it with high-waisted shorts or leggings for a complete look.
Take Home Message
An important part of working out is having the proper clothes to support you, no matter the season. Try these summer classics to work out in style and comfort, and stay cool while doing it.
Want more summer inspo?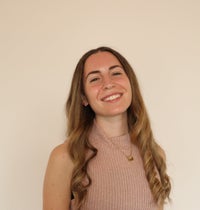 A Rutgers University Honors graduate, Jamie grew up on the Jersey shore and double majored in Comparative Literature and Anthropology in college. Jamie is an experienced writer in the health and wellness, biotech, and eCommerce fields. She loves writing with a purpose and has even written for the Department of Justice.
Jamie became drawn to exercise during her time in university and began to notice the physical and mental benefits of moving your body daily. Today, Jamie enjoys Pilates, light weight training, and going on long walks in nature daily.
Jamie is also passionate about eating right and prioritizing gut health and immunity. She is always trying the next innovation in health and wellness. When she's not writing articles, Jamie enjoys reading, playing guitar, and finding dogs to play with.