The USA is home to some of the most exciting sports leagues in the world, and its roster of world-class athletes is always growing. With stars constantly hitting the headlines for their actions both on and off the pitch, it's no surprise to see fans turning to the internet to find out more. But which athletes have we been searching for the most?
We analyzed Google search volume data for over 4,000 of the biggest names in American sport to see which ones we just can't get enough of. Here's what we found.
1)    Aaron Rodgers & Tom Brady – 2,740,000 monthly searches
Sharing the top spot as the most Googled athletes in America are NFL stars Aaron Rodgers and Tom Brady, who both get an average of 2.74 million searches each month.
Two of the greatest quarterbacks of all time, it's no surprise to see Rodgers and Brady at the top of our leaderboard, especially after the impressive season they both just had. And with Brady announcing his retirement and rumors surrounding a potential trade for Rodgers, fans are keen to know what the future holds.
2)    LeBron James – 2,240,000 monthly searches
Following close behind is LeBron James, who Americans are searching an average of 2.24 million times each month.
Widely considered one of the best players in NBA history, James is often in the press thanks to his on-court skills. However, this year saw him earn even more coverage thanks to his starring role in Space Jam 2.
3)    Tiger Woods, Stephen Curry & Simone Biles – 1,830,000 monthly searches
Tiger Woods, Stephen Curry and Simone Biles share the third spot in our leaderboard, with each generating 1.83 million monthly searches on Google.
While Curry generated interest thanks to a record-breaking season, Woods and Biles found themselves in the public eye for different reasons.
Woods spent most of the last year recovering from traumatic injuries he gained in a major car accident in February 2021. Meanwhile, Biles was in the press following her decision to withdraw from the Summer Olympics, citing mental health concerns.
4)    Conor McGregor – 1,500,000 monthly searches
Fourth place in our ranking goes to Conor McGregor, who sees an average of 1.5 million searches each month on Google.
2021 was a year of ups and downs for McGregor. He was ranked as the world's highest paid athlete by Forbes, earning a reported $180 million, but also endured the first knockout loss of his career in his fight with Dustin Poirier. He also suffered a broken tibia in a separate bout with Poirier later in the year.
5)    Patrick Mahomes & James Ennis – 1,220,000 monthly searches
Rounding out the top five are Patrick Mahomes and James Ennis, who both see an average of 1.22 million monthly searches on Google.
Mahomes ended a relatively strong season with the Kansas City Chiefs on a high with an impressive playoff performance. Meanwhile, Ennis has spent the start of his season as a free agent, signing 10-day contracts with the Brooklyn Nets, Los Angeles Clippers and Denver Nuggets.
The Most Googled Athlete in Each US State
As well as looking at the most Googled athletes nationwide, we also split our results out regionally to see who different states are searching for.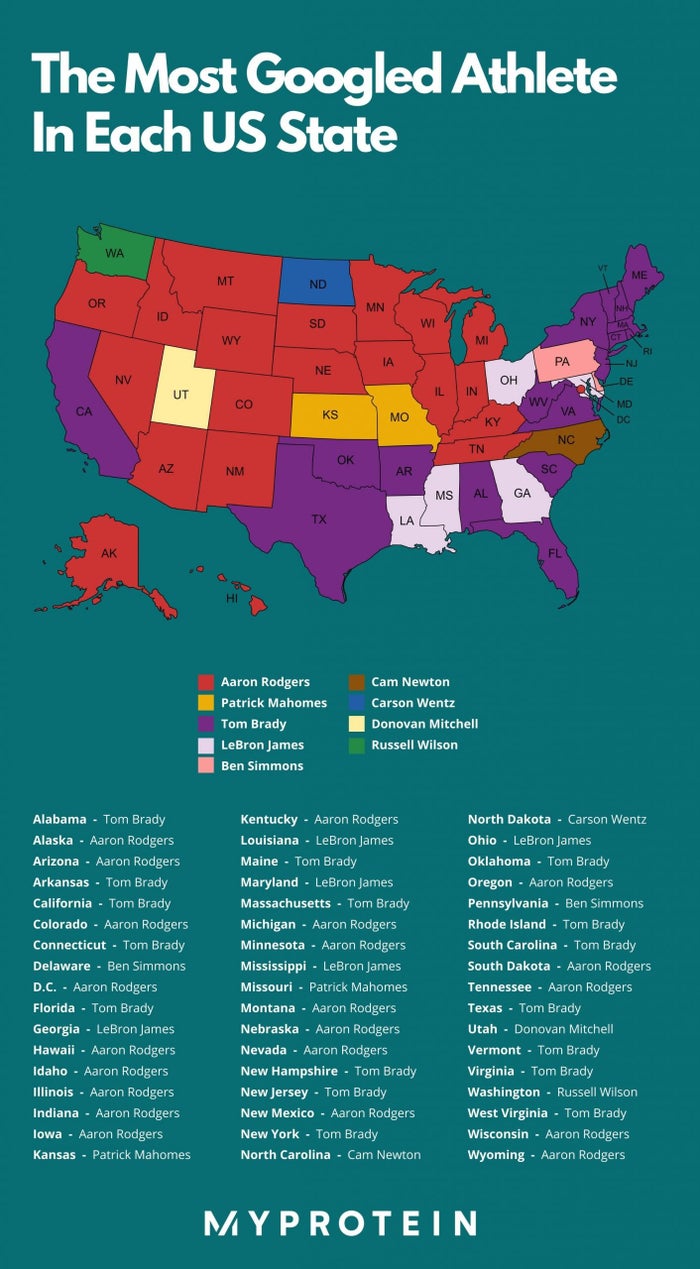 On a state by state level, the battle between Aaron Rodgers and Tom Brady rages on, with Rodgers topping the charts in 21 states, from Alaska and Arizona to Wisconsin and Wyoming — and plenty more in between. Meanwhile, Brady takes the lead in 17 states, including California, Florida, New York, Texas and more.
Next is LeBron James, who was the most Googled athlete in five states, coming out on top in Georgia, Louisiana, Maryland, Mississippi and Ohio.
Ben Simmons and Patrick Mahomes both came out on top in two states, with Simmons the most Googled athlete in Delaware and Pennsylvania, and Mahomes taking the top spot in Kansas and Missouri.
Finally, Cam Newton and Carson Wentz claimed the top spots in North Carolina and North Dakota, while Donovan Mitchell and Russell Wilson were the most Googled athletes in Utah and Washington.
Take Home Message
Love them or hate them, millions of us are turning to Google each month to find out more about some of the nation's biggest sporting stars.
If you're feeling inspired and want to increase your performance in your favorite sport, take a look at our range of creatine supplements, including our creatine powder and pre-workout. A popular supplement with athletes, creatine boosts your body's ability to produce energy quickly, while also helping aid recovery after a workout.
Methodology
We compiled a list of over 4,000 athletes from across the NBA, NHL, NFL, MLB, MLS, NWSL and UFC, as well as some of the biggest names in athletics, gymnastics, tennis, golf, boxing and more. We then used Google Keyword Planner to compare the average monthly search volumes for each, looking first at the USA as a whole, before looking at each state individually.