It's fast approaching that time of year where you're beginning to ask yourself, what do I buy them for Christmas?! We've all been there, desperately searching the internet to find something!
Is the person you're looking for interested in fitness? Then relax! We've got you covered with this Ultimate Fitness Christmas Gifts Guide, helping you to choose the right gift for the fitness enthusiast in your life.
It could not be simpler. Take a look through the the ideal fitness supplements, accessories and clothing, and then take your pick.
---
Christmas Supplement Guide
Protein is extremely important to aid muscle recovery and growth. Myprotein's Impact Whey contains up to 20g protein per 25g serving, making it a quick and convenient pre or post workout shake. Impact Whey is also available in a great variety of flavors, so you can get them something you know they will love. Impact Whey has a Grad A rating on supplement review site Labdoor, so you know you're buying a quality product.
Creatine Monohydrate is one of the most well researched products within the sports nutrition industry. Creatine has been proven to help strength and performance. Taking just 5g of creatine a day can benefit your training, making this the ideal gift for any fitness enthusiast to help them reach their goals.
? BCAAs
Branches Chain Amino Acids are essential amino acids, meaning they cannot be created by the body and must be consumed through your diet. It can be difficult to maintain the desired levels from food alone, but with Myprotein BCAAs you can make sure you're consuming the optimal concentration of BCAAs on a daily basis. This will help to maximize recovery, which is the main reason why BCAAs are becoming increasingly popular among regular gym goers. Available in a variety of delicious flavors, you can make sure this is a gift they'll love!
Carbohydrates are an incredibly important part of an individuals diet, and become even more important if they take part in regular exercise. Oats are a healthy form of carbohydrates and instant oats are a great source of healthy carbohydrates delivered in a convenient fine powder. This means that they can be taken as a shake with water or milk, to act as a great source of slow release energy.
Every heard the fitness enthusiast in your life complain their feeling too tired to go to the gym? Help them never feel like this again by getting them pre-workout. MYPRE is one of the most prominent pre-workout formulas on the market, with over 400mg of caffeine per serving. Caffeine helps improve cognitive function, giving the energy boost needed to aid your training regime. With the cold winter months set to continue it can be easy to say no to the gym, but with MYPRE you'll be making sure that their always saying YES. Available in 7 great flavors, this is another perfect gift for any fitness enthusiast this Christmas.
If you have a fitness enthusiast in your life you would have heard them say in the morning before they have had breakfast: 'I'm starving!' When you train regularly you breakdown muscle and the body has to work hard to repair torn muscle fibers and bring about growth. When you go to bed you don't consume any food for around 6-8 hours (depending on how long you sleep), and this deprives your body of nutrients to aid growth.
Micellar Casein is a milk based protein source, meaning it is a slow release protein source. The perfect time to take casein is in a shake with milk or water 30 minutes before bedtime to offer 24g of protein to contribute to growth and maintenance of muscle mass during sleep. This is a great addition to any fitness enthusiasts supplement stack and might even be something the fitness enthusiast in your life hasn't tried before, making it a unique and well-thought gift.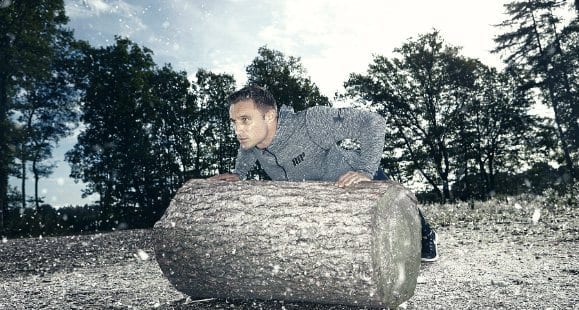 ---
Christmas Fitness Accessory Guide
When you train regularly one of the most important things to get right is hydration. If you don't drink enough water you will feel tired and lethargic and this will directly impact your ability to train. It can be difficult to drink enough water when you're on the go, but with the half gallon hydrator you'll be must more likely to drink the amount of water you need to feel great and increase your productivity, not just in the gym, but at school, college or work.
You'll probably have noticed that if you're a fitness enthusiast then you've got a lot of gym gear. Shaker, gym clothes, supplements, towel…and you need something to carry these around in. The Myprotein Barrel Bag is the perfect accessory to keep all your other gym accessories in.
? Shaker
There's no point buying whey protein, creatine, BCAAs, instant oats, MYPRE and Casein if you don't have something to shake and drink them from. The Mixmaster shaker is the perfect supplement taking accessory.
? Klickbox 
If you're training regularly then one of the most important things to get right to make sure you're making results and meeting your goals is diet. But when you're on the go at college, school or work it can be difficult to cook meals and make sure you're meeting your macros and eating the right foods. The best way to make sure you're doing this is to do meal prep and then put these meals in a convenient container so you can carry them around and eat your meals on-the-go. The Myprotein Klickbox allows you to do just that. So give the budding fitness enthusiast the tools to get their training regime right!
Pushing yourself in the gym is the main way to make progress and put on mass, but sometimes when lifting heavy weight your grip gives out before your muscles do, hindering progress. Lifting straps alleviate this problem, meaning you can focus on working your muscles to fatigue, instead of having to drop the weight because your grip gives out first.
---
Christmas Fitness Clothing Guide
Men's
Let's be honest, looking good in the gym is important, and so is making sure that the clothing you wear does not restrict your ability to train. The men's stringer vest is the perfect upper body attire to wear in the gym, allowing you great mobility and a full range of motion when performing working sets. This can be a great stocking filler for any gym goer this Christmas!
? Performance Short Sleeve Top
The performance short sleeve tops greatest quality is it's versatility. You can wear it in the gym when weight training, wear it for any outdoor sport or wear it casually. With so many options on when and where to wear it, this performance top is a safe bet when it comes to Christmas presents.
It's winter, and this means it's COLD. When going to the gym and coming back it is important to keep warm. Walking into the gym cold will damage your ability to train to your full potential and walking out the gym in just a stinger vest or t-shirt will not help your recovery. Make sure that the fitness enthusiast you know is taking care of themselves. With the Myprotein sweatshirt you can make sure they are dressed appropriately for the conditions and are aiding their training.
Women's
Leggings are the women's staple piece of gym wear. You really can't go wrong with a pair of leggings, as they allow you to do any form of exercise from running on the treadmill to squatting with the barbell. They give you great comfort and a full range of motion. If you know a fitness crazy women then you really cannot go wrong getting them a pair of gym leggings this Christmas! We're pretty sure it was Mrs Claus' who said, 'You can never have too many pairs of gym leggings!' But don't quote us on that…
You can add the Triometric Gym Bra to your leggings so you are matching!
Comfort is important when you're training and with the Myprotein power bra this is exactly what you will get. With a selection of power and sports bra's you can find one to match your leggings or create contrast, so your not just looking good in the gym, but feeling good as well.
The women's performance vest can be worn over the Myprotein Power Bra, which can be great for when you're warming up and aren't yet feeling the heat. It can  be worn throughout your whole workout if necessary, as it offers a great range of mobility. It can also be worn for your outdoor sporting activities like running in the snow – if you know someone who's brave enough to face the cold!
---
Take Home Message
So if you were struggling to get the perfect Christmas gift the panic should now be over! Make sure you give the fitness enthusiast in your life what they really want this Christmas and help them with their training in the New Year!