How Much Do You Spend Preparing for Summer?
The average American spends $883 on trying to achieve their summer fitness goals (that's $221 per month).
Buying 'healthier food in your grocery shop' is the most popular area of spending for summer body prep, with this accounting for an additional $247 each summer.
On average, Americans spend 4 months preparing for their summer fitness goals with 66% doing it to 'attract a partner'.
Based on our survey results, summer fitness spending is costing us $53,863 over a lifetime!
---
In a nation-wide survey, conducted by Myprotein, with 1,194 respondents aged from under 18 to over 60, results showed that the average American spends $221 per month (approximately $883 across the length of an average summer preparation time) trying to meeting their summer fitness goals. Our respondents had a range of summertime goals, from losing weight to building muscle or simply wanting a six-pack.
The results found that people are willing to spend more on preparing for their summer fitness goals than a 21-day pass to Disneyworld for a family of 4 (costing $2,120).
Do you spend more on your summer body than your summer holiday?
The average cost of preparing your body for summer ($883) was found to be significantly higher than what most American's are prepared to spend on a summer holiday, both domestic and abroad. In fact, the average national expenditure for preparing for a summer fitness goal was 1.6x the average cost of venturing outside the US on a holiday overseas ($540). This suggest that Americans prefer to focus on their own wellbeing and explore their resident country rather than holiday abroad, which is supported by the fact that people will spend approximately $143 more on a domestic holiday than a holiday abroad.
Despite this, the older generation of respondents (51+ years old) were actually more likely to spend a higher amount to travel abroad than within the US ($854 and $665 respectively).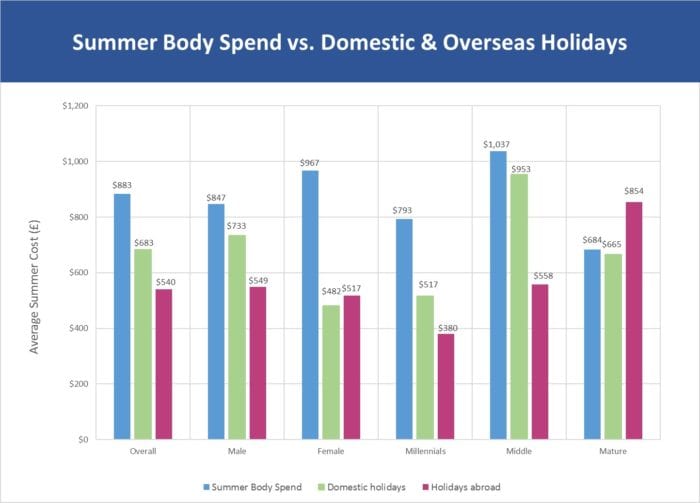 How much does it cost to prepare for your summer body goal?
Whilst the older generations splashed out more for their summer holiday, they spent the least when it came to preparing for summer ($684) whilst middle aged respondents (30-50 years old) were the biggest spenders ($1,037). Millennials however had the greatest discrepancy between how much they are willing to spend on their summer fitness goals compared to holidays, forking out $793 on average; 1.5x a domestic holiday cost ($517) and 2.1x a holiday abroad ($380).
These results support the idea that millennials are more focused on their physical wellbeing whilst older generations prioritize travel and new experiences. Middle-aged generations spend the most overall on summer fitness preparation and domestic holidays, which suggests they are somewhere in between the younger and older age cohorts in terms of their summer priorities. Millennials are also more likely to have a lower disposable income than 30 to 50 years olds which may explain lower spending overall.
Where does your summer spending actually go?
Out of 8 spending categories surveyed, the area people spend the most is in including healthier items in their grocery shop. On average, Americans will spend $247 alone on simply adding healthier food into their shops in the run up to summer.
 
Over half of Americans prioritize protein for summer
When opting for healthier food in the summer months, Americans prioritize eating more protein (56%), less sugar (55%) and fewer carbs (45%).
Interestingly, a whopping 68% of millennials try to include more protein in their diets in the run up to summer. Generally, 58% of all participants who said they had been successful in meeting their fitness goals in the past said they also opted for more protein during their summer preparation.
---
It might seem surprising how much people spend in an attempt to achieve their desired summer look, but more and more people are prioritizing health and fitness in their lives. The easier access to healthy recipes online and the growing popularity of diets such as veganism go hand in hand and partly explain why people may spend more on healthy food ingredients to help achieve their fitness goals.
– Jennifer Blow, Myprotein Nutritionist
---
Do men and women differ when it comes to budgeting for their summer goals?
Overall, women spend $120 more than men in preparation for summer, that's an average investment of $967 compared to the $847 spent by men.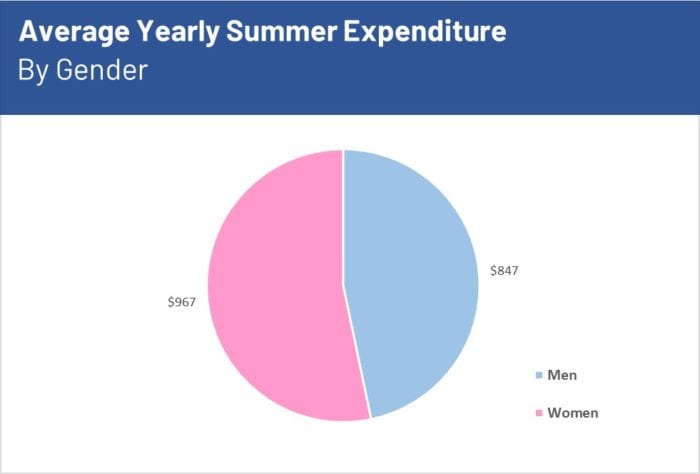 Each year, women will spend an average of $107 on beauty preparations (e.g. hair salons, tanning, hair removal etc.), approximately $52 more than their male counterparts. In addition, women were found to spend $168 on new clothes for the summer with 21% spending over $80 per month in the run up to summer.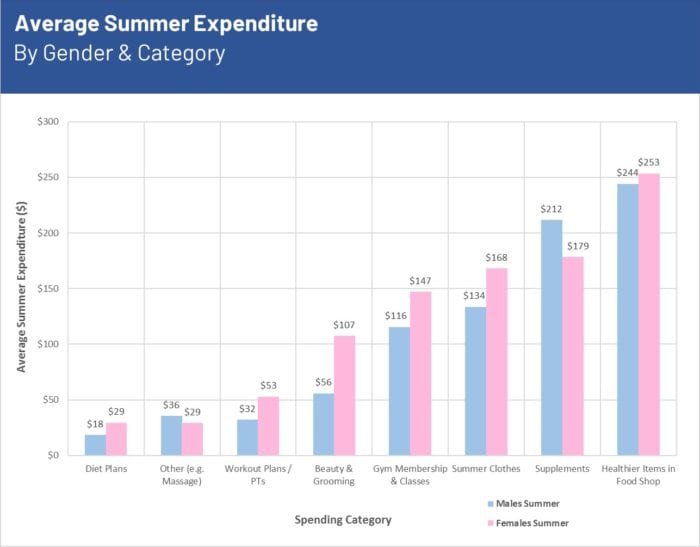 Men, on the other hand, prefer to splurge on supplements, spending $33 more than women ($212 compared to $179 respectively). In fact, supplements and "other" additional spends (e.g. massages) were the only two out of eight categories surveyed in which men spent more than women.
It's worth noting that women also spend just over 3 weeks more on average preparing for their summer fitness goals than men, meaning in reality it is likely that they spend even more each year!
What is the most expensive summer fitness goal?
Results showed that, depending on your summer fitness goal, you could be spending more than others. For example, if you are wanting to 'build a booty' you will likely splash out $982 on average in a year, whereas those wanting to simply 'improve their physical fitness' will spend approximately $840.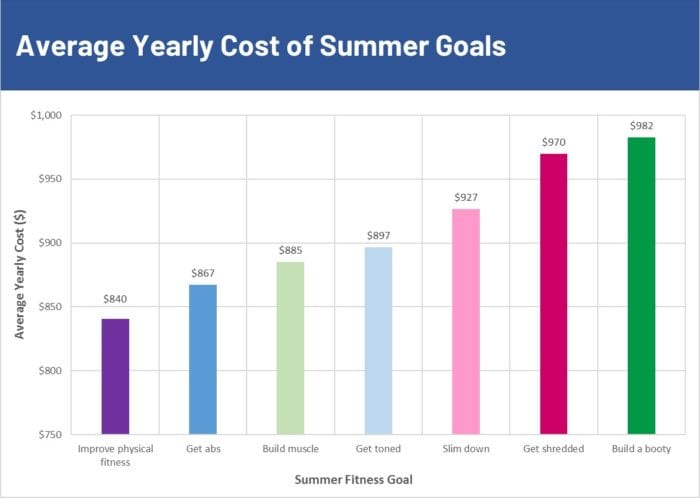 What does it really cost to successfully achieve a summer fitness goal?
When surveying Americans who aimed to lose weight to achieve their summer fitness goal, the results showed that the average person want to lose 16lbs, whilst those looking to gain weight aim to put on approximately 12lbs.
But do you need to spend more to be successful? Respondents who said they had worked towards their summer fitness goal before and succeeded were found to spend $74 more on average than those who were unsuccessful, suggesting you need to fork out the cash if you want to see those results.
As well as spending money, Americans also spend a large amount of time trying to achieve their fitness goals. In order to slim down, the average person will train more in preparation to summer compared to normal – 7.5 hours per week compared to the 6.5 hours per week respectively. Americans also typically spends 4 months trying to achieve their summer fitness goal – that's a third of the year!
When to start preparing for summer & why?
In preparation for summer, Americans spend an average of 4 months trying to meet their fitness goals, however women will prepare for approximately 1.5 months longer than their male counterparts (4.6 months vs 3.8 months respectively). On average, respondents said they spend 7.5 hours a week training in the run up to summer, with 50% of Americans saying they try to keep focused on their fitness all year round!
Based on these preparation habits, the average cost of working towards a summer fitness goal would hypothetically cost a hefty $53,863 in a lifetime!*
When it comes to why we try to achieve a summer fitness goal, it seems that Americans are mostly concerned with trying to find love. The majority of respondents said their main incentive to prepare for their summer fitness goal was 'to try to attract a partner' (66%).
While the majority of age groups agreed with the national average, over half of millennials admitted that they only try to achieve their summer goals 'to show off their hard work' (69%) and 'to look good in pictures' (57%), emphasizing the influence of social media and the popularity of Instagram in people's lifestyle.
For those aged 51+, the main reason for trying to get this this summer was simply 'to get fit' and improve their overall fitness (46%).
---
 Instagram has contributed a massive amount to the fitness sector as people, particularly millennials, find inspiration and advice on how to improve their overall fitness and desired aesthetic. People are willing to spend more on workout plans and supplements because they see the positive results that others share on social media and this motivates them to achieve their own personal goals.
–  Tom Pitfield, Myprotein Personal Trainer and Fitness Consultant
---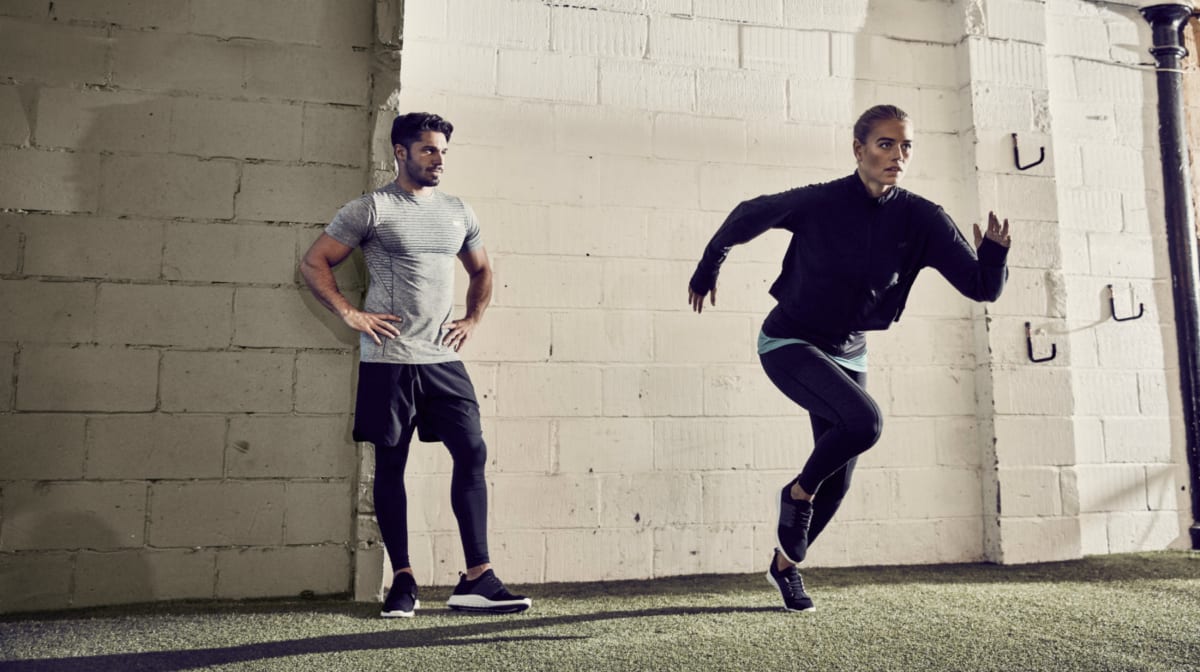 Take Home Message
The total amount that people spend trying to achieve their summer fitness goals might seem high, especially when compared to the cost of an actual holiday, but we're prioritizing our health more than ever. Regardless of goal, be it to lose weight or hone some abs, Americans spend a significant amount of money to achieve their desired look or fitness level. Out of all spending categories, healthy food was the biggest wallet-buster and millennials in particular are the most eager when it comes to changing-up their nutrition with 68% opting for a higher-protein diet for the summer.
Whilst the average person in the nation spends money in the hopes of finding love and a partner this summer, millennials admit that one of their primary reasons to change up their routine is simply to ensure they look good in pictures to show off their hard work.
Ultimately, if you want to be successful in achieving your summer fitness goal, you can expect to start preparing about 8-9 months in advance and be willing to part with those pounds!
*Lifetime costs based on an average summer preparation time of 4 months and the average adult life expectancy in the US (The World Bank).