Fitness Report 2021
2020 has been the year of staying at home, but how has this impacted the fitness industry? In the year when at-home workouts and YouTube videos have reigned supreme, we've conducted a full analysis into how Americans have been keeping fit and their preferred workouts from this testing year, to forecast the future for the industry.
We've used YouTube search data to reveal everything from the most popular workouts in America to the most inspiring celebrity fitspiration that have been trending, and inspiring, over the last 12 months.
The Most Popular Workouts 
Using YouTube search volumes, we have gathered the most popular workouts of 2020 to see what will continue to be big in 2021. With most of us spending more time at home, there is continued popularity for workouts that can easily be done in our own space, including resistance bands and jump rope workouts.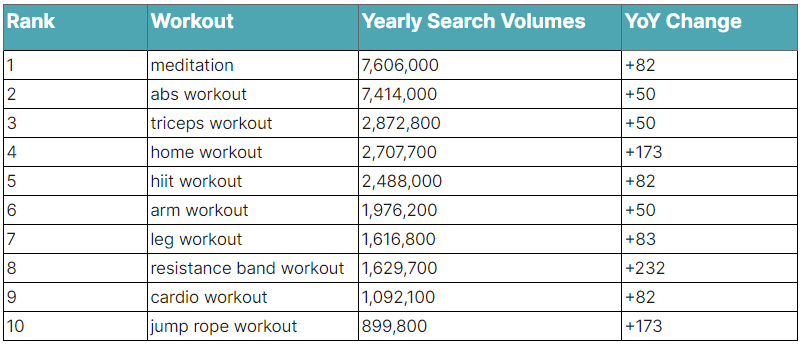 Surprisingly, mental stamina has been at the top of American's lists, as topping the table is people looking for meditation workouts with over 7.6 million searches. Looking after our mental health has become more important than ever, and with an 82% increase in searches compared to last year, it's clear we're looking for new ways to wind down. 
Abs are the most popular body part trained by Americans. With a 50% increase on last year, there have been over 7.4 million searches for ab workouts online. Working on core muscles will help improve your compound movements, and there are hundreds of thousands of ab workouts available on YouTube  – great if you're looking to fit in a quick workout that's easy to do at home.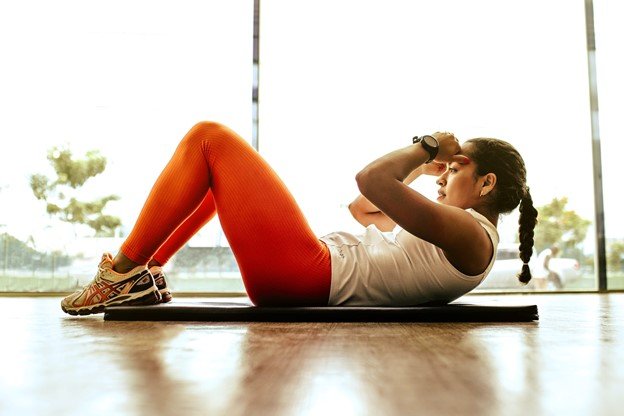 Closely following abs is triceps. With 2.8 million searches and a 50% increase, it's clear that in the US we love building arm muscles. Our favourite tricep exercises include tricep dips and a close grip bench press.
As we all find ways to work out and keep it interesting at home, there have been 2.7 million searches for home workouts in 2020 on YouTube, putting them in fourth place. HIIT workouts have been continuously growing in popularity over the last few years, coming in at number five with an 82% increase. Alongside this, other high intensity workouts such as cardio and jump-rope exercises have seen an increase in searches.
HIIT workouts can also be done easily at home, and are perfect if you're looking for a quick workout which will burn maximum calories
Finally, legs and arms have been a big focus in the US. We recommend compound upper and lower body exercises, supplemented with protein to target and build muscle.
The Fitness Trends of 2020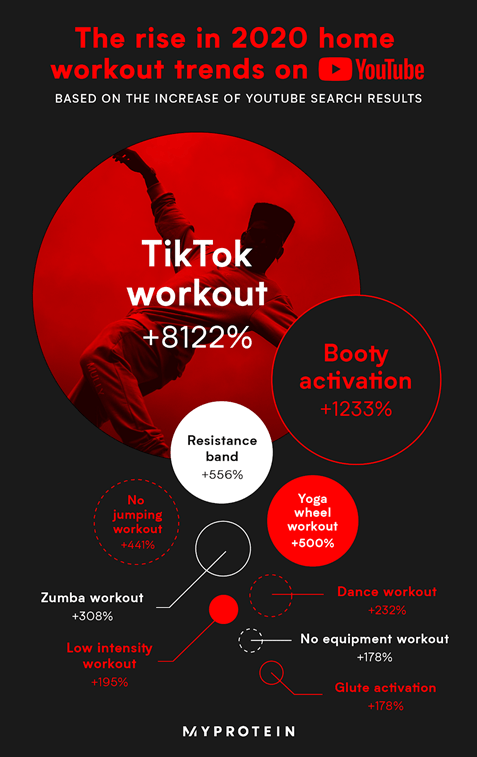 Our analysis of YouTube searches reveals exactly what has been trending in 2020. By analyzing the change on last year's results, we can identify exactly which workouts have caught our attention more than usual.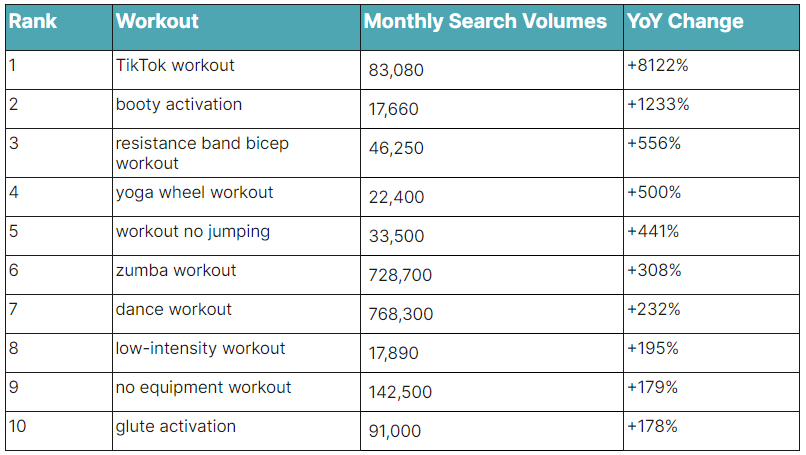 It appears that TikTok has been the biggest driver of fitness in 2020, as thousands of Americans search for 'tiktok workout' inspiration. With the increasing popularity of the platform, there has been a rise in TikTok content creators making dance and workout videos which have become a key trend. Searches have seen an 8,122% increase this year with a total of 83,000 searches a month!
Also trending this year has been booty activation with a 1,233% increase, and glute activation with a 178% increase on last year's searches. Activating your glutes before a leg workout is a great way to increase the burn and improve mind to muscle connection. We recommend trying a few booty burners using a resistance band before your compound and isolation exercises to maximize your workouts.
Resistance band workouts have also been trending across the industry as American's reach new lengths to tone their muscles. Resistance band bicep workouts in particular have seen the most growth, with a 556% increase and over 46,000 monthly searches. Our longer resistance bands are great for getting in bicep workouts at home! Try using them to perform bicep curls or preacher curls for an isolated burn.
Americans have also been trying new trends this year with yoga wheels seeing a 500% increase. The circular yoga prop can help relieve tension and add a new, fun element to your usual yoga routine.
It's clear that there has also been an increased interest in low impact workouts, with 'no jumping' workouts increasing by 441%. Low impact workouts are a great way to burn calories if you have joint issues or would rather avoid those killer burpees.
Americans have also been looking for something different with dance and zumba workouts taking off this year. They're both great for doing exercise that's active but fun, while low-intensity workouts are ideal for those who enjoy something more chilled. Finally, 'no equipment' workouts have seen a 179% increase with us all looking for ways to keep fit without our usual gym equipment.
Forecasted Trends 2021
So based on the look back at trends in the last year, what is the fitness industry going to look like in 2021? We predict how we're going to workout next year, from fitness plans and at home workouts to new platforms.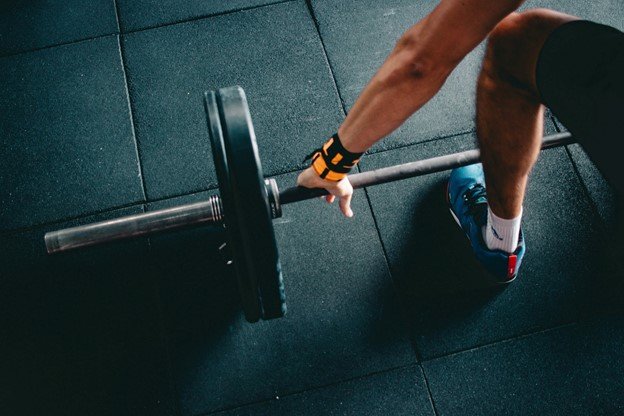 Fitness Apps
In 2021 we expect to see the current use of fitness apps increase. Many fitness influencers and content creators have now made their workout plans available in app format, including everything from gym plans, exercise videos, live workouts and nutrition plans. We predict that apps will take over the fitness space, with notepads for tracking sets, reps and weights a thing of the past and nutrition guides becoming more tailored to each individual.
TikTok
As we have already seen, fitness on TikTok is already increasing in popularity, and we expect a new batch of fitness content creators to take over the space. With news TikTok is also increasing the video length of posts to three minutes, expect new exercise guides, leg day routines, nutrition tips and live workouts.
Outdoor Bootcamps
As we continue to find new ways to workout safely during the coronavirus pandemic, we expect outdoor boot camps and classes to increase in popularity. Whilst military boot camps have been popular for fitness junkies in previous years, working out outdoors can cover our usual routines with upper body days, HIIT workouts and cardio cycling routes all available.
As more trainers take their classes outside, we predict virtual personal trainers will also be pivotal in 2021.
2020 Celebrity Fitspo
As millions of American's turn to YouTube for their fitness inspiration – which celebrities are pushing us to hit new limits? 
Our new data reveals exactly which male and female celebs we've been using for fitspo this year. 
The Rock is the top male celebrity fitspiration in America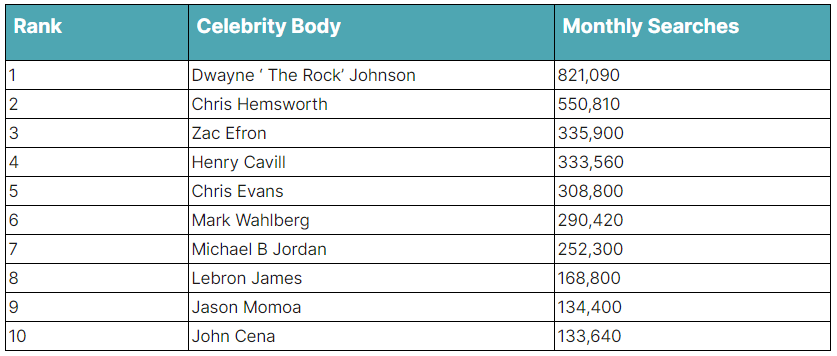 Topping the chart with the most searches is Dwayne 'The Rock' Johnson. The wrestler turned movie star is known for his physique, and he's clearly an inspiration for Americans looking to get fit as 'the rock body' was searched for on average over 821,000 times a month.
Thanks to his starring role as Thor in the Avengers franchise, Chris Hemsworth takes second place for inspiration with over half a million searches each month for his workout tips. Playing Thor is a role which requires a ripped physique and the searches highlight just how many of us are looking to replicate the superhero look.
Fellow actor Zac Efron takes third place with over 335,000 searches. Interest in Efron peaked this year after starring in his own Netflix series which followed health trends across the globe, where he talked about the lengths he went to to maintain his lean physique in previous years.. 
Actors also dominate the rest of the list, most probably due to their fitness-heavy roles with Chris Evans, Mark Wahlberg, Michael B. Jordan and Jason Momoa all making the top ten. 
Nabbing the final spot is John Cena, who like the Rock is a wrestler turned actor. Known for his physique, the star has been inspiring Americans across the country to pump that iron.
Kylie Jenner's body is the most inspiring to Americans
Stealing the top spot for the women is Kylie Jenner, with 'kylie jenner body' being searched for over 370,000 times every month. The Kardashian klan feature multiple times as Kylie's sisters Kim and Kendall also feature in the top ten. 
The family is known for their dedication to fitness, and whilst we can't all afford Kim's personal trainer or Kourtney's gym, we can look to them for exercise inspiration. Kim comes in at number four with almost 310,000 searches, followed by model sister Kendall Jenner who sits at ninth place.
Taking second place is Cardi B with almost 360,000 searches, closely followed by fellow female rapper Nicki Minaj who is just shy of 322,000 searches. 
Singers Dua Lipa, Beyonce and Ariana Grande also make the top ten, with Dua claiming the highest position out of the three with over 252,000 searches. The 'Let's Get Physical' singer is known for her sculpted abs and it's clear we've been looking to her for core workouts.
Actresses Jennifer Aniston and Scarlett Johansson finish off the list. Aniston's look became iconic in the 90s whilst featuring in hit show Friends, and with over 230,000 searches last year she's still on our radar. Johansson just claims 10th with 220,000 searches.
Starting your fitness journey in 2021?
Thinking about your fitness for the new year or how you can take it up a gear? 
Use our goal selector for personalized recommendations based on your diet and fitness goals, and check out our top workouts and advice to keep you up to date and motivated.
Methodology
All search volumes for the fitness trends and most popular workouts of 2020 have been pulled from American YouTube search data.
Search volumes for the celebrity fitspiration have been pulled by collating YouTube and Google search volumes for Americans looking for 'body' and 'workout' advice related to celebrities.
To calculate this, over 300 celebrity names were analyzed. We then pulled Google and Youtube search data for "Celebrity workout' and 'Celebrity body' to find out which names were getting the most searches, these were then collated together and ranked in number order to find which ones were the most influential.
The data for workout trends in the report were found by analyzing search volumes of different workouts that are popular in the country. Different tools were used to find the most popular workouts online including the keywords most used in conjunction with top workout terms. This was then put through our keyword search tool that gives the total number and also the percentage increase since last year – which led to the highest growing % increases (trend) and the most popular results.