L-Arginine is one of 20 amino acids which naturally occur in the human body. Due to its involvement in the production of nitric oxide, it's been researched to determine if L-Arginine supplementation may benefit sporting performance and lead to other general health benefits. The following article will discuss the benefits, possible side effects and the potential dosage required for its benefits.
Jump to: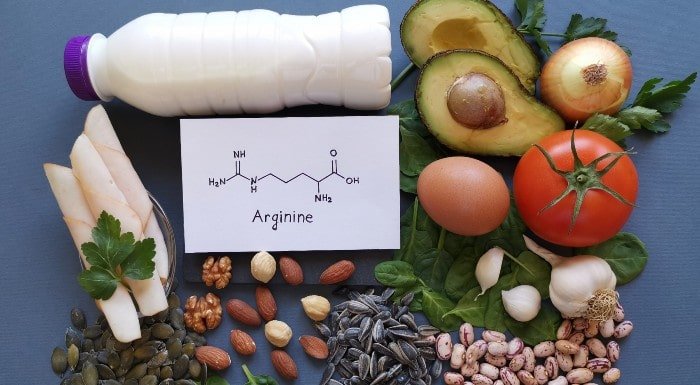 What is L-Arginine?
L-Arginine is a naturally occurring amino acid found in red meat, poultry, fish and dairy products and can also be supplemented in powder form. 
As an amino acid, one if its main biological functions is its role as a substrate in protein synthesis – the body's production of protein.1 Another key function is the role it plays it in the production of nitric oxide.1 Nitric oxide is a vasodilator (opens up blood vessels), which helps blood circulation. This will allow more blood to enter the muscles and make them more oxygenated, which is good for both performance and the 'pump' feeling.
What does L-Arginine do?
Arginine plays a number of biological roles. The main functions appear to be: helping remove waste from the body, maintaining immune and hormone function, and expanding relaxing arteries. As an amino acid it will also contribute to protein synthesis.1
Here's our list of the best L-Arginine supplements…
What are the benefits of L-Arginine?
Athletic performance enhancement
Blood sugar regulation
Improved blood flow
Athletic performance
Arginine increases the production of nitric oxide which is a vasodilator. Because of this, arginine supplementation increases the blood flow and oxygen supply to the muscles. 
Studies have shown that this has led to increase performance in time to exhaustion trials, improved mean power output, and exercise capacity at a moderate intensity.2 This may mean arginine supplementation may be beneficial for those competing in endurance sports. 
Blood sugar regulation
Arginine has also been studied to see whether it can help with blood sugar regulation and evidence has suggested that long-term arginine supplementation, combined with exercise and a controlled diet, may help improve glucose metabolism and insulin sensitivity in those with type II diabetes.3
Blood pressure
As arginine contributes to improved blood flow, research has investigated whether arginine supplementation can help with high blood pressure. Whilst some findings suggest that it may reduce blood pressure slightly in healthy individuals4, it's important to consult with a GP for treating medical conditions.  
How does L-Arginine work?
In the body, L-Arginine is converted into the chemical nitric oxide. This acts as a vasodilator, relaxing and opening up blood vessels which leads to an increased blood flow. This improved blood flow may lead to numerous health benefits.
Side effects of L-Arginine
Although generally considered safe, high doses of L-Arginine has reported side effects such as nausea, diarrhoea and bloating. It has also been reported that arginine can worsen asthma symptoms. When taking arginine, a GP should be consulted first
L-Arginine dosage
In clinical studies, the dosage used can vary substantial with high doses sometimes used for research purposes. For markers of endurance performance such as increased time to exhaustion and exercise capacity at a moderate intensity, a short-term dosage of 6-10g a day for 7 days has shown to be beneficial.2 In a study investigating the effects of glucose metabolism and insulin sensitivity, a dose of 8.3g a day was used.3
Take home message
Arginine has a number of potential benefits thanks to its role in nitric oxide production. 
When it comes to sporting performance, those in endurance sports are most likely to see benefits although the current evidence is limited. 
While there's some evidence to suggest arginine may help with glucose metabolism, insulin sensitivity and blood pressure, a GP should always be consulted before looking to treat medical conditions via arginine supplementation.