There are a few things that separate great workouts from average workouts. But nothing will derail an effective workout more than poor nutrition. And I'm not just talking about your daily nutrition. I'm talking about your pre-workout nutrition. You know, what you consume before you hit the gym.
One of the best ways to give your body the fuel it needs for your workout is to down a protein shake about 30-45 minutes before your workout starts. Why? Firstly, the protein in the shake will give your muscles the building blocks they need to kick-start the muscle building frenzy. And second, if you mix it with some simple carbs, you'll give your body an extra boost of energy to push you through even the most gruelling of workouts.
---
Protein for Strength & Gains
Amino acids are the building blocks of muscle. But your body has to convert the protein you consume into amino acids. This process takes awhile if your main protein source is coming from whole food sources. That's why you turn to a fast acting protein source like Whey Protein Powder for your pre-workout nutrition.
When you consume protein in a liquid form, your body doesn't have to spend time breaking it down, and it's more easily digested and readily available for your body to use. Which means you'll have a steady supply of amino acids in your bloodstream that your muscles can make use of.
---
How To Mix Your Protein
One thing I spend a lot of time talking to my clients about is "not consuming liquid calories." Especially, if their goal is fat loss. Liquid calories are empty calories. And that doesn't do much in the way of providing satiety.
But most people don't like how protein powder tastes with just water. I've found Myprotein's Cinnamon Roll Impact Whey is the best protein powder I've ever had mixed with water. If mixing with water isn't ideal for you, and you need to keep calories low, opt for sugar-free Almond, Soy, or Cashew Milk.
Also, don't forget to grab your MixMaster Shaker bottle so that you can mix your favorite protein powder with your favorite liquid before you step into the gym.
Now, if you can fit some liquid calories into your overall nutrition for the day, or you're bulking, then you can opt to use skimmed milk. Using skimmed milk actually provides you with another bonus as well: carbs.
---
You + Carbs + Protein = Best Workout Combo
Consuming a quick digesting source of carbs in your pre-workout shake, provides your muscles with a quick energy source to fuel your high intensity or strength focused workout. But it also helps your body shuttle the amino acids from your protein shake into your muscles via insulin.
For optimal performance, and to take advantage the power of carbs with protein, make sure your shake contains 25 to 40 g of protein with 20 to 40 g of carbohydrates about 30-45 minutes before you begin exercising.
For your carb source, I'd recommend using instant oats. You could also add a tablespoon of honey, dextrose, the natural carbs in skim milk, or even a banana or handful of berries. In this instance, it depends on what you like the most.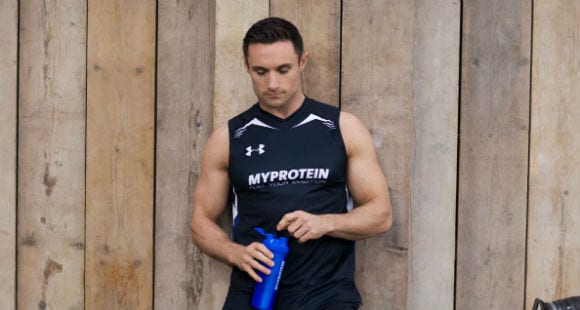 ---
Supplemental Ingredients
There are two other ingredients you can add to your pre-workout. One is a supplement that can help you build more lean muscle mass, retain strength while dieting, and even has cognitive benefits. I'm talking about creatine monohydrate.
The other helps with digestion and provides an energy source second only to glucose: L-glutamine.
Adding both of these to your pre-workout shake will give you an additional boost of energy. But they also provide your body with what it needs to recover and begin the muscle building process.
---
Take Home Message
Nutrition is the main driver to your fitness success, whether your goal is fat loss or muscle gain. And if you're not providing your body with the proper fuel it needs, not only will your workout suffer, but so will your ability to burn fat and build more lean muscle. Make sure your pre-workout nutrition is on point. Power up your workouts with a combination of a Whey Protein Powder, quick digesting carbs, and then add in some creatine and glutamine.