Fries with a Chinese might be a little controversial — but we're here for it.
---
This incredible fakeaway favorite from Niall Kirkland is here to help you make that guilty pleasure a reality in your own kitchen. It's actually surprisingly simple and by baking the fries yourself instead of deep-fat frying, you'll be cutting out some of the calories. Easy win.
Want to treat yourself to the full fakeaway experience? Why not pair with our Sticky Asian Wings or Garlic Chili Chicken recipes.
Serves 2 
Ingredients
450g Maris piper potatoes (peeled and cut into thick chips)
1 tbsp. coconut oil
Salt and pepper to taste
1 small onion (chopped)
1 green bell pepper (thinly sliced)
2 red chilies (deseeded and finely sliced)
Aromatic spice blend:
1 tsp. Chinese five spice
1 tsp. ground white pepper
½ tsp. garlic granules
1 tsp. fine salt
1 tsp. chili flakes
To serve:
Spring onions (chopped)
Chilies (chopped)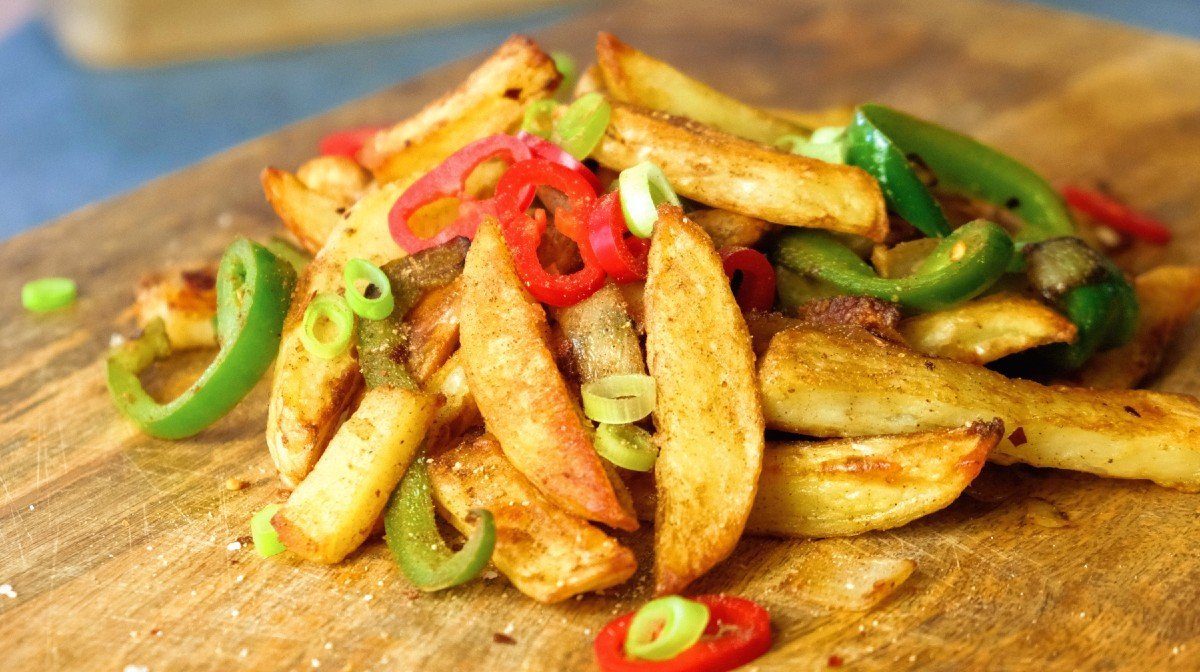 Method
Preheat oven to 190°C/ 375°F and boil a large saucepan of water. Peel and cut your chips, lightly salt your boiling water, then add the chips to the pan. Parboil for 10 mins before draining.
Leave the parboiled chips to steam for 2 minutes — this releases moisture and helps them crisp up in the oven.
Transfer chips to a large baking tray and add coconut oil. Season generously, make sure each fry is coated in oil and then bake for 40-45 minutes, flipping once or twice whilst baking, until golden and crispy.
Meanwhile, mix all the spice blend ingredients together in a small bowl.
When the chips are nearly ready, heat a teaspoon of olive oil in non-stick pan and add the onion, pepper, and chilies. Stir-fry for 5 minutes until soft and slightly charred.
Once chips are ready, pat down any excess oil and add them to pan with onion, pepper, and chili. Stir well and then add 1-2 teaspoons of your spice blend (you will have some leftover for another time).
Mix together until all fries have a light coating of aromatic spice blend. Then garnish with chopped spring onions and chilies. Heaven.