Why Oreos may not be as vegan as you thought
Wait, what?!
Okay, so you might want to sit down for this revelation. We hate to be the bearer of bad news, but we thought we needed to clear up a very common misconception amongst the Oreo lovers out there.
Oreos are not actually vegan. Mic drop.
We know, we know – they're often proudly proclaimed to be, and even feature on many "foods you may not know are vegan" lists (not to point fingers at anyone in particular), but when you turn to the official Oreo website it's laid out plain and simple that they're not.
If you head to the FAQ section of their website you can see for yourself, ladies and gents – Oreos have cross contact with milk and are therefore not suitable for vegans.
This, unfortunately, means that even though there aren't actually any animal products used as ingredients in Oreos, small amounts of milk may have come into contact with either the cookies themselves or the equipment used in the making of them.
Does this mean a clean break for you and your Oreo love affair? Well, that, of course, is totally up to you. If you're like many other vegans who aren't really bothered by the possibility that a teeny, tiny amount of milk might have made its way into your favorite snack, then hey – who are we to judge? But if you're serious about the small print, and have found yourself with a sudden Oreo-shaped hole in your life – don't worry, we're on hand with tasty substitute ideas that are 100% certified vegan.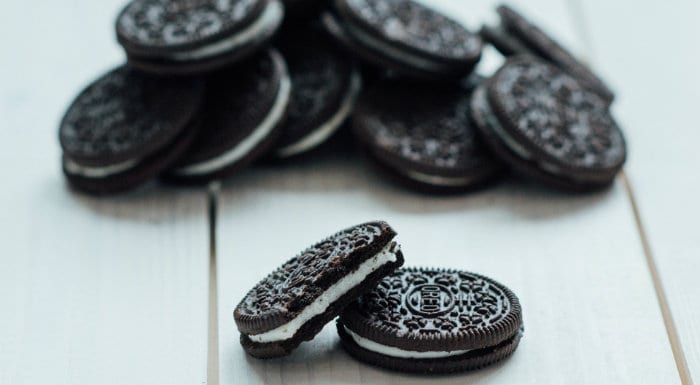 Vegan-Friendly Alternatives
First up, we need to introduce you to our up-and-coming Baked Cookie.
It's a truly delicious, on-the-go snack – crafted with premium dark chocolate to form a rich dough that's made with coconut oil and stevia to sweeten. We've included a generous amount of dark chocolate chips, and pea protein to support your green gains as you tuck into a treat.
Baked with quality, animal-friendly ingredients – you can trust it'll satisfy your sweet-tooth, without having to worry about your lifestyle choices or dietary requirements. Stay tuned, they're on their way!
Another way to truly make sure you know exactly what's in your snack options is to get making them yourself! Check out some of our amazing, totally vegan recipes below for inspiration for delicious home-made treats.
---
Don't give up dunking
TRY THESE RECIPES: