Top Ten Foods High in Protein
So you're looking to increase the amount of protein in your diet… but what foods are highest in protein? In this article we'll tel2l you the top ten foods highest in protein so you can start changing your diet for the better.
1. Poultry
First on the list is poultry! Poultry includes birds that are kept for their eggs or for their meat. When aiming to build muscle or lose weight/fat increasing your intake of poultry is a great way to start. The best sources of protein from poultry are chicken and turkey breast. The breast is the leanest part of the bird and contains the least fat and in one chicken breast, around 100g of chicken or turkey you can get up to 30g of protein!
2. Lean Red Meat
Lean sources of red meat contain a huge amount of protein with 28g for every 125g you eat (4oz). If you're a lover of red meat it's important to watch your intake and the type of red meat you are consuming. Eating grass fed beef means you'll be able to consume red meat of a higher quality that offers a greater nutritional value with a healthier fat profile! Red meat is also important to consume due to its high iron content, whereby iron in the blood is what helps to carry oxygen around the body.
3. Seafood
What's really under the sea? A protein wonderland that's what! Eating seafood is a great way to start increasing your protein intake, where there is a range of different varieties that are particularly beneficial when it comes to losing weight and gaining muscle. If you're looking for lean sources of protein seafood such as cod, haddock, plaice, tuna fish and shrimp are low in fat and high in protein, providing around 20g for every 3oz- and not to mention delicious! But before you go trying to cut the fat in your diet, remember the importance of healthy fats and the awesome omega 3! Fatty fish such as salmon, sardines and mackerel are packed full of essential fatty acids- essential meaning we NEED to consume them in the diet to live! Omega 3 fatty acids have a range of benefits including lowering cholesterol and the risk of cardiovascular disease as well as helping to take care of our joints and increasing weight loss! So eating fatty fish such as salmon can not only give you a huge serving of protein, with 22g per 3oz, but also the added benefits of omega 3!
4. Eggs
How do you like your eggs in the morning? Well even without the smile and the kiss consuming eggs is a great way to increase your protein intake. When it comes to our health, many people avoid eating eggs due to their saturated fat content and levels of cholesterol. But unless your stuffing 12 boiled eggs a day into your lunch box you needn't worry, especially since the cholesterol we find in eggs is the healthy type HDL. In 100g, just under 4oz, of eggs there is 13g of protein, with one egg providing around 75 calories…If you're looking to lose weight rather than gain muscle consuming just the egg white will still give you 3.5g of protein with only 17 calories and no fat! Making dishes such as egg white omelettes is a great way to start increasing your protein.
5. Greek Yogurt, Cottage Cheese & Quark
The wonders of dairy! Consuming low fat dairy products such as Greek yogurt, cottage cheese and quark are amazing for increasing your protein intake! In one serving of cottage cheese- around 30g you can get around 6g of protein- and even more from products such as quark. Greek yogurt is also an amazing way to increase the protein of breakfast foods, desserts and snacks where 100g can give around 9g of protein! The perfect sweet high protein snack is a serving of Greek yogurt, cottage cheese or quark with a scoop of your favorite flavored Myprotein impact whey protein- Mine's cinnamon roll or chocolate nut- the perfect high protein snack!
6. Soy
Lactose intolerance is a pain that burdens the best of us! But did you know that products such as soy also provide high levels of protein? So start adding Soy milk to your morning porridge, enjoy a healthy serving of soy yogurt and check out our Soy Protein.
7. Quinoa
If you haven't heard of quinoa… shame of you! Quinoa is a species of goose-foot, a grain crop that is grown for its edible seeds. Pronounced Keen-wa… (even though to this day I'll still say Quin-o-a), this food is an amazing source of vegetarian protein that is low in carbohydrates and fat! Quinoa can be added to meals as a replacement for rice and cous cous- so really its an awesome way to add extra protein to any meal! Adding quinoa to your meal planes will help you to reach your goals where in 100g of uncooked quinoa there is 14g of protein.
8. Beans and Pulses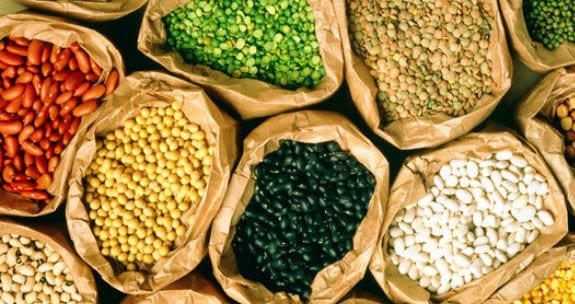 Whether your vegan, vegetarian or a steak lover beans and pulses are a great source of protein! Beans and pulses include foods such as kidney beans, butter beans, chickpeas, and lentils and are packed full of muscle building protein! In a typical 100g of beans you can get a whopping 17g of protein, as well as a good source of complex carbohydrates! Beans and pulses can be added to a range of different meals including delicious chillis and soups!
9. Nuts
Start getting nuts about nuts! If you've been avoiding nuts due to their high fat content and energy density… shame on you!! This is a mistake many people make- but unless your eating 100g of nuts a day nuts are really good for you! A 28g serving of nuts can give you around 6g of protein! What's more nuts are not just high in any old fat- they are high in healthy fats!- That's mono and poly unsaturated fats. Eating nuts as a snack is a great way to get extra protein and boost your levels of healthy fats.
10. Seeds
In terms of nutritional value seeds are very similar to nuts. They are high in healthy fats and provide around 6g of protein per serving! Consuming seeds such as sunflower seeds and pumpkin seeds is a great way to get in healthy fats that are needed to lose weight and increase muscle! Try sprinkling a serving of seeds on your favorite salad or adding to your morning porridge.
A Take Home Message
There are tons of foods high in protein but these are definitely the top ten! Adding these foods to your diet in the right quantities will take you one step closer to reaching your fitness goals. In my experience many people tend to forget about the protein content of beans and pulses and avoid essential foods such as nuts and seeds due to their fat content. But hopefully this articles gave you a reminder of those hidden gems and busted a few myths about the fat in these high protein foods.