By Myprotein Writer Seb Whitton
We all have our reasons behind starting our fitness journeys and whilst we all originate from many starting points, we tend to share certain characteristics as we progress.
One characteristic we should share is the desire to be healthy and the way in which we fuel our bodies is the main fac
tor contributing to our health, functioning and well-being.
In order to meet our fitness goals and push ourselves in the gym we need to ensure we are adequately fuelled via consumption of food.
Unfortunately food does cost money and whilst fitness enthusiasts tend to have a higher caloric need than the 'average Joe', chowing down on $1 menu's is definitely not the way to go.
We need quality fuel to produce quality results. Simple.
We want to ensure we are not just getting adequate calories in to meet our goals but also ensure an appropriate split between protein, fats and carbohydrates all whilst ensuring we are consuming an adequate amount of vitamins, minerals and fiber.
Let's start with some general tips you should use to maximise your budget and find those 'cheap eats' that won't compromise your health…
Create a grocery list
By creating a list (and sticking to it!) you will go directly to the areas of the supermarket you need to and stick within budget.
Just be aware of the many promotions presented before you and don't get tempted into buying something for the sake of it…
This is called impulse buying.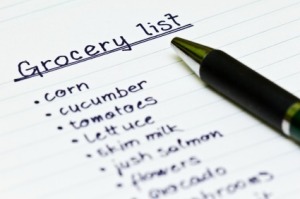 See that candy on the till desk – its not there by accident… you're at your most vulnerable to purchase products at the desk when you don't have time to make a decision, therefore the temptation takes over!
Remember that next time you are about to pick up goodies on the way out…
Look for deals 
Whilst you don't want to be tempted by many of the promotional items, healthy items often go on offer – and this is great!
If there is a deal on something that is a staple in your diet, perhaps tinned tuna is 3 for 2, then you are going to want to multi buy and reap the savings over time. Even buying bulk meat platters from butchers if they have offers on – you can save a lot of money.
This is definitely one of my most valuable tips!
Some people may begrudge the thought of buying tons of food at once as 'there would be no point,' but, trust me – it makes life so much easier to have the convenience of healthy foods in the cupboard ready to eat, especially if you're short on food and fail temptation to take outs…
Freeze foods
Frozen foods, especially frozen chicken and vegetables, are nearly always cheaper than their non-frozen compadres.
By purchasing bulk food in frozen form, you can benefit from your goods being preserved for longer – some have even argued that frozen vegetables contain more micro nutrients as they have been less exposed to external influences and decay.
It is a great tool to purchase foods, separate them into bags and place them in the freezer for ease when cooking next!
Also, if you buy a perishable food that can be frozen and its nearing its due date, simply place it in the freezer.
This strategy could also be used in relation to tip 2, as if chicken breast is on sale, you're going to need to freeze some of it.
Everything lasts so much longer and you won't be wasting quality foods by throwing it away.
Buy canned foods
Canned goods may seem like they are for doomsday preppers or campers but you can actually get some great nutrition via canned goods!
Canned tuna in particular is an excellent and cheap source of quality lean protein.
Canned vegetables are also very beneficial to save some money in addition to offering a convenient and cheaper alternative to fresh produce, all whilst packing the same nutritional benefits.
Just be aware of what (if any) the product is soaked in; for example, look for tuna in water and not tuna in oils.
Learn cheap eats
There as certain foods that are not only great for you, but also win in the price department too… it's great!
– Whole eggs
– Potatoes
– Bananas
– Oats and
– Beans
These are all staple "bodybuilding foods" that should be part of your diet too; fantastic 'cheap eats'!
Preparation time
Ensure you allocate time to cooking and preparing your food! As the saying goes, failing to prepare is preparing to fail .
In regards to eating convenience foods – they certainly have their place, however, they tend to be more expensive and nearly always pack more calories without the added satiety!
Spending one amount of time, for example, a few hours on Sunday evening to prepare food for a few days or the working week, will save you time from cooking throughout the week, save you money and stop you from snacking from convenience when out studying/working!
All of your food will be ready to eat in your fridge – making it a lot easier to be eating healthy on a budget!
Staple foods
Now that we have established some basic tips for navigating the grocery store and ensuring you get all the health without needing all the wealth, I shall outline the top foods you should add to your grocery list to ensure you're meeting your nutritional goals whilst saving your wallet.
Protein Sources:
– Frozen chicken breast
– Canned Tuna in Water
– Whole Eggs (also provide fats)
– Liquid Egg Whites
– Ground Beef
Carbohydrate Sources:
– Wholegrain/Basmati Rice
– Sweet potatoes
– Wholewheat pasta
– Oats
– Beans
– Lentils
Fats:
– Nuts & Nut Butters
– Oils, e.g. coconut oil for cooking
– Cheese
Fruits/Vegetables:
– Bananas
– Apples
– Frozen Vegetables
– Canned Vegetables
These are all nutrient dense foods that are easy on the wallet and efficient in the body.
The misconception (far too often!) these days is that eating healthy is expensive – but by sticking to the basic tips mentioned within this article, you can certainly cover your bases with quality foods within a budget!
Take home message
Of course it's unrealistic to imply that this is all you're going to eat but by enjoying the cheaper quality foods at home you can allow yourself more flexibility when eating out or fitting in treats into your nutrition.
Enjoy!