Post-workout nutrition choices are crucial to getting the best results from your training programme.
The perfect post-work out meal should contain plenty of nutrients to replace what you used up in your training session and also fuel your body to repair itself from the damage you caused in training.
It is this damage that leads to progress and muscle growth, therefore by eating strategically you can maximise the results from all the hard work that you put in while you were at the gym.
Post-workout Recovery
The most well known and essential nutrient to repair and recovery is protein. Post-work out, one of the best protein types you can consume is whey protein. This is a fast digesting protein that delivers recovery-promoting amino acids straight to the muscles so that they can begin the process of repairing themselves before your next workout.
Carbohydrates are also crucial post-work out as the body will convert them to glycogen, this is the fuel that is stored in the muscles that is essential for training and so must be replaced after exercise in order to be able to train at a high intensity in your next workout. Ideally your post work out meal should not be very high in fat, this is because fat has been shown in studies to slow digestion, and you want those precious nutrients to be digested quickly and sent straight to your muscles for repair and recovery.
Here are a few ideas for some great tasting post-work out meals that will help maximise your recovery and help you gain the most from your training session:
1) Grilled Chicken, Veg and Sweet potato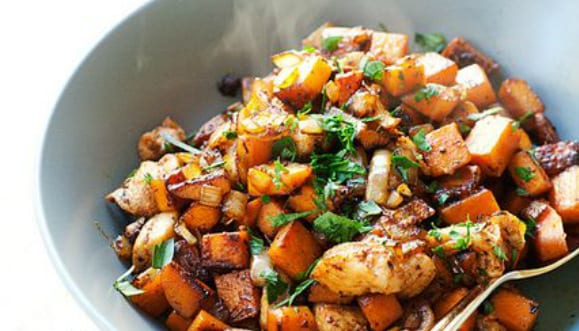 ---
This is a great post-work out meal and very easy to make, especially if you have a grill such as a George Forman.
? Simply spritz your grill with some low calorie cooking spray or a little bit of coconut oil.
? When it heats up, put in your chicken with some spices sprinkled on top and some slices of sweet potato.
I like to add in some onions cut into rings and peppers cut into slices – after a few minutes your food will be cooked and you are left with a super nutritious tasty meal that will fill you up.
2) Omelette with Potato Wedges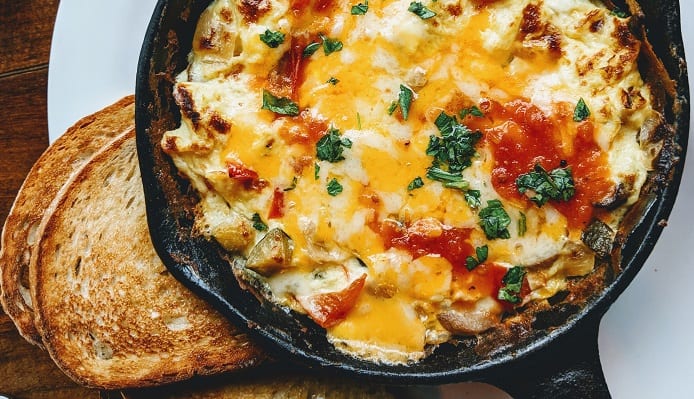 ---
Eggs are one of the best sources of protein that you can consume due to their high biological status, in addition to containing a broad variety of amino acids being used as reference standard for other protein foods by the world health organisation.
Omelettes are easy to make and you can reduce the number of yolks you include to reduce the fat content of this dish without altering the taste very much.
By making healthy potato wedges you also provide a great source of carbohydrate with this meal. You can add vegetables into the omelette to add more bang for your nutritional buck.
---
Tip: I find microwaving the wedges of potato before baking them in the oven means they can be crispy and cooked within fifteen minutes. It usually is enough time to simply microwave them for six minutes before the oven making this meal quick and easy. You can also add spices to the wedges to add some variety to this dish!
3) Turkey Mince Burgers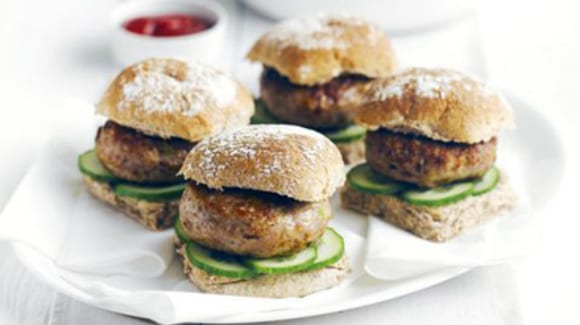 ---
Turkey mince is lean and a great source of protein – a wholemeal burger bun is also a great source of carbs!
You can also make extra patties with the turkey mince as they taste great cold and are another great option to bring to work the following day.
You can play around with different spices and seasonings to change the taste of these –
? I find finely chopping bell peppers and garlic and mixing them into lean turkey mince before forming the patties is especially tasty.
? They can be cooked in the oven or a George Forman style grill is even faster.
4) Oats and Whey Protein
---
This is one of my favourite post-workout meals although it is a great option at any time of the day. I usually add some fruit like apples or raisins just to add in some extra fast digesting carbohydrate to this tasty combination while adding in some extra vitamins and fibre at the same time.
It is also delicious to bake your oats in the oven instead of just microwaving them.
I find this meal is great if I am craving something sweet and am in a hurry, and I usually put some zero calorie syrup on it to make it taste even more like a dessert.
The added whey protein makes this option a huge success for recovery!
---
Tip: Why not  add cocoa powder and almond milk to your whey protein and oats and leave them in the fridge overnight – consume when ready!
5) Meat/Vegetable Stir Fry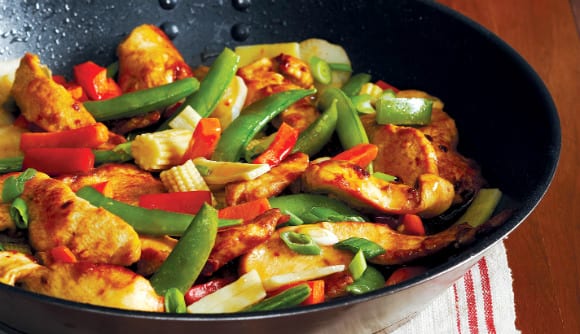 ---
Stir fry is an excellent post-workout meal and delicious when combined with rice or noodles. You can add vegetables to the stir fry which will add to the nutritional values significantly, and it is delicious to chop some garlic and ginger and add that in as you cook the rest of the food.
Add:
? Chicken
? Lean beef
? Lean turkey
? Tofu
? Chickpeas
It is also a great option to make extra portions of as this makes a great lunch to bring to work for the next day!
6) Post-workout Shake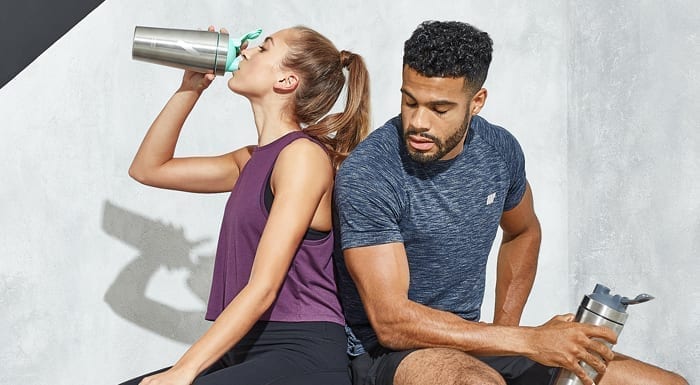 ---
?  Add 1 or 2 scoops of your favourite protein – Whey protein, Whey protein Isolate, Hydrolyzed Whey, Vegan protein, Pea, Hemp, Brown rice, Soy are all great to use as recovery-promoting BCAA's will be delivered straight to your muscles. Steer cleer of slow-digesting Casein for post-workout, as it is more suited for over-night recovery.
?  200 ml of your choice of milk/water – Almond milk is a tasty one! Even coconut, hazelnut milk etc…
?  Some fresh fruit (bananas are an excellent source of quickly assimilating carbohydrate in addition to being full of potassium!)
? Ice cubes – blend!
7) Protein pancakes
Try some delicious Coffee and Walnut Protein pancakes…
? 2 scoops Mocha flavour Whey Protein 
? 1 Whole egg, 3 egg whites
? 50g Oats
? 100g Quark
? 10g Walnuts (chopped)
a) Pre heat a frying pan with low calorie spray/coconut oil
b) Mix 1 scoop of protein with with the eggs and oats – add any sweetener/flavdrops if you have any!
c) Pour mix into pan and flip after 30-45 seconds until cooked both sides
d) Mix the quark with the other scoop of protein
e) Pour mocha cream on your pancakes!
Take Home Message
These are just a few suggestions of some really easy to make post-workout meals that will help you stay on track with your fitness goals – they can all be prepared ahead of time and stored in a lunch box in your fridge until you are ready to eat them.
It can be really useful to make extra to keep as lunches for the next day and they are all healthy options that are easy to build into any meal plan!